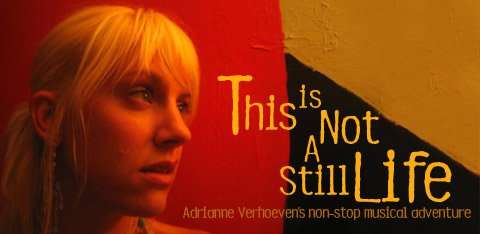 As a member of The Anniversary, Adrianne Verhoeven went directly from high school into the fast lane of rock and roll. The Anniversary toured the U.S., Europe and Japan, opening for the likes of Modest Mouse, Guided By Voices and Cheap Trick, before the band's tumultuous dissolution in 2004.
Verhoeven-Dri, familiarly-is still a woman on the go. She graduates this year from KU with a degree in music education, with plans to spend the fall touring the nation with two bands: Lawrence's country-tinged Fourth of July and the prog-folk Art In Manila-Verhoeven's recent collaboration with Omaha-based songbird Orenda Fink (of Azure Ray). Early fall also marks Verhoeven's solo debut on Lawrence's Rangelife Records. Currently she's playing shows with Coyote Bones.
Street Level joins Verhoeven in a noisy downtown coffeehouse for a chat about the slipperiness of fame, the march of time and doing the best that you can.
Subscribe to Street Level podcast in iTunes
Fourth of July. Is Brendan Hangauer a prima donna?
Verhoeven: (laughs) Totally. Brendan is one of my best friends. I love his songs; I love what he writes. It works so well. He is an absolute prima donna.
Art In Manila. What's in a name?
Verhoeven: Orenda named it. We were called Art Bell, after the radio personality. We sent him a letter, asking permission [to use his name]. He didn't respond. A friend in Omaha-her father's a lawyer-said not to use the name-we might get sued. I should ask Orenda how Art in Manila came about. The record is awesome. :Orenda and I have a relatively progressive approach. It's vocal-heavy, but I think we're a rock band.
Past Event
Saturday, April 14, 2007, 10 p.m.
Replay Lounge, 946 Mass., Lawrence
21+ / $2
How did you two meet?
Verhoeven: We met about two weeks before we played together. Azure Ray is on an indefinite hiatus. That happened right around the time The Anniversary disbanded. Orenda and Maria Taylor both created solo projects. Orenda randomly asked Cooper Moon [of Lawrence's Filthy Jim]: "Do you know Adrianne?" Cooper's from Omaha, living in Lawrence, and he said yes. She called me or I called her, then she sent me a record. I went on tour with her [U.S. and Europe, 2005], and we liked playing together so much we started a band. She'd seen The Anniversary play the 40 Watt Club in Athens, where she was bartending, but we'd never met. :We're going to release a record, hopefully in the early fall, which will coincide with the release of my record.
On Rangelife Records?
Verhoeven: Yes. Then we'll tour. I'm finishing school at the end of the summer, then I'm taking the fall off to tour before I have to start student teaching. When I student teach, I have to be in town for 16 weeks. I'm going to try to tour all fall. Fourth of July, Art in Manila-all on tour.
How do you juggle it all? And you're in another band, Coyote Bones. Art in Manila and Coyote Bones are both based in Omaha. Do they come here or do you go there?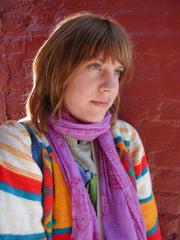 Verhoeven: Sometimes Orenda comes here. We had a show here a couple of weeks ago. Orenda's working on another project, too. She's going to Haiti to make a record of found sounds. This is the third time she's been to do field recordings. She's very prolific. I'm just now starting to write songs, whereas Orenda's been writing songs for years. I seem to like playing and singing so much that I want to be doing it as often as possible-that's why I have so many projects. :Collaborating, for me, is learning. It makes me a better musician.
You enjoy collaborating.
Verhoeven: It's kind of the theme of what my album will be. Every song is going to be a collaboration. I have a lot of people giving me tracks. Say My Name [Steve Sweyrs, Fourth of July] and Jeremy Nezbeat [Archetype], they've both created instrumental songs for me. I'm working on lyrics and vocals now, with help from Zachary [Hangauer, Rangelife prexy]. Besides my mother, Zachary's probably my biggest support system. He's all about getting me going with my own music.
The brief history of Adrianne Verhoeven.
Verhoeven: Brief? Born in Chicago. Grew up in Kansas City in a really cool and interesting family. Went to a performing arts high school-which was awesome. Met Justin [Roelofs] and Josh [Berwanger], and started The Anniversary. Moved to Lawrence. Took some time off school. Now back in school-almost done with school. Playing in bands. Doing the best that I can. It's been an interesting experience so far, but I'm really excited to make an album of my own.
The Anniversary was your first taste of the big time. How do you look back on that experience now?
Past Event
Sunday, April 15, 2007, 10 p.m.
Record Bar, 1020 Westport Road, Kansas City, MO
21+ / $7
Verhoeven: It was so awesome. I think both records sold between 35 and 40 thousand copies each. But I don't think back on it that way, in terms of numbers. I grew to be a better person and a better musician through that experience. We had so much fun. It makes me emotional to think of it. We were constantly laughing. We were a family, and it was very hard to transition out of that. :We had seven songs recorded before we broke up. I have five of them. I have to ask Josh if he has the other two.
You toured with Cheap Trick?
Verhoeven: We opened for Cheap Trick for a month and got paid $250 a night. And one night I saw Cheap Trick's guarantee-it was so many tens of thousands of dollars, it made my heart ache. We met all of the band except Bun E. Carlos, the drummer. He was very reclusive. We toured with The Get Up Kids, with Modest Mouse and Guided By Voices, Mates of State and Dashboard Confessional. On our own, we played to five or six hundred people at Emo's in Austin and The Troubadour in L.A.
What does it mean to be an artist?
Verhoeven: Taking risks. Being creative and allowing yourself to be expressive. We all have to interact, we all have to work together to do the best we can. Everyone has an artist in them, but if you make a life of art, you have a way of applying something that people can experience.
More like this story on Lawrence.com