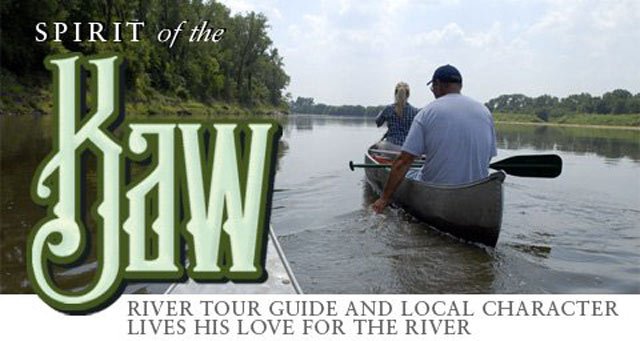 Certain people are like Tom Farris, and they are the most interesting people on earth.
My cousin Max, for instance. "Mad Max" is what the family used to call him. Max talks fast, and he never stays on topic. And he is supremely fascinated by things. One of his chief delights in life is to spout off random and dubious facts that he found God-knows-where, but which he insists are true. He is not a liar. He is a theorist.
One time I ran into Max at a Mexican restaurant in Kansas City. He walked up to my table. A person like you or me might have said something like, "Hello." No, Max said rapidly, "Frank, you used to live in New Mexico. I heard there's this ranch in New Mexico where they raise ligers." Before I could respond or introduce him to my girlfriend, Max was waving goodbye. Such is the Max experience.
As a reporter, I am intrigued by people like Max, people much unlike myself. So I called up Tom Farris after I came into the possession of his business card:
SPIRIT OF THE KAW
Eco River Tours Aboard 30ft Houseboat
TOM FARRIS
Applier of Applicable Applications
Entrepreneur
Inventor
Theorist
Licensed FRA Locomotive Engineer
Tom Farris is consumed by the Kansas River-the "Kaw," as it's known around here. He is 51 years old, 6-foot-3 and a fit 195 pounds. He has a Texas country accent and big, stony hands. He was a locomotive engineer for 27 years before he was forced into early retirement three years ago because of a constant ringing in his ears-a condition called tinnitus-caused by years of blowing a train whistle.
"They said, 'You have a choice: Either stay here and go deaf, or go home with a retirement check,' " he says. "I said, 'I'll see you guys at the mailbox.' And it gives me an opportunity to do this, which I think is very important."
The this he's referring to is his ambition of bringing people to the Kaw. Just how this man from Edwardsville became the quintessential river rat on the Kaw is a bit of a mystery. Growing up in rural Texas and then Ottawa, where his family moved when he was 14, he says he hails from a clan of rugged outdoorsmen.
He worked for the railroad and lived in Houston from 1979 to 2000 before moving back to be near his family. A few years later he found himself retired before the age of 50. Around that time he had his first child, Mark, and he and his wife divorced. One day he was out pursuing a hobby of his along the Kaw:
"I was out looking at artifacts on the river," he says, "just looking at it and looking at it, and I said, 'Man, we've got to get this river cleaned up.' I said, 'Well, how do we do it? Well, we put people on it.' The next thing I know I'm managing Kansas River Canoe Company and giving tours on houseboats and having a lot of fun at it."
***
He started managing Kansas River Canoe Company three years ago after he heard the Lawrence KOA Campground owners were thinking about shutting it down. Since then, he's been hauling around 10 18-foot canoes and two kayaks with a big yellow school bus, and taking people out on the river.
He operates the company for Lawrence KOA mostly by himself, and he says he doesn't make much money off it. For two years he put a houseboat, the Spirit of the Kaw, on the river, giving what he calls "eco river tours" before unknown arsonists burned it down about a year ago, he says.
He goes to the river about every day and he could talk about it endlessly. The native plants, the wooly mammoth bones he says he's found, the time logs piled up 50-feet across after a rain storm flushed the creek bottoms into the river, the sandbars, the walk along the bank in North Lawrence at twilight when the birds are chirping. These things have become ingrained in him.
"I've always been attracted to rivers," he says. "They're like a woman. They're changing all the time. They're never the same from one day to the next."
***
With an average current speed of 3 mph, the river stretches about 170 miles from Junction City to Kansas City. Building from the runoff of the Rocky Mountains, it is fed by the Big Blue, Republican, Saline, Smoky Hill and Wakarusa rivers. It flows into the Missouri, which feeds into the Mississippi, which runs into the ocean.
When Lawrence was settled, newcomers were keenly aware of the ebb and flow of the river now ignored by so many. When settler John J. Ingalls arrived from Massachusetts in 1859, he described the Kansas River as a "somber, dismal-looking stream, swift and treacherous, overhung with savage growths on its precipitous shores," according to David Dary's Lawrence history book.
Since then it's carried steamboats, seen devastating floods and been altered by dams, bridges, waste runoff and dredging.
Everything drains into the rivers, and the rivers drain into the oceans. This, Farris says, is why his work is important. For people to clean up the river, they first must take ownership of it.
"When the river gets sick, you get sick," Farris says. "You eat it, you drink it and you bathe in it. That's a no-brainer. So we really have to take care of it. We're not taking care of our river here."
But Farris is not a pessimist. He has many ideas for bringing people to the river. He says he'd like to see a nice trail along the bank all the way from Lawrence to Kansas City. He says he's developing an idea for a "River Mouse Club," in which 3- to 5-year-olds would learn about the river. He says more and more people are going out on canoes.
"In five to 10 years, we could have an amazingly beautiful river," he says. "We could have the tourist attraction for canoeing in the nation. It's a safe river, easy to paddle. It's a family-oriented river."
***
I met Farris and his son last week at the access point at Riverfront Park in North Lawrence for a brief trip up the river.
Before we got in, Farris brought out what he said was an ancient spear tip used to hunt wooly mammoths, as well as an arrowhead and a piece of amber shaped like a buffalo, which he said was an ancient piece of art.
He's found all sorts of ancient artifacts along the river. He said he once found a human skull together with oxen skulls, perhaps the remains of a pioneer heading west. He discovered a partially petrified log that may have once served as an ancient bridge. He said he's found wooly mammoth bones and grinding bowls.
"I may be wrong," he said. But he pointed out that he's only a theorist, as it says on his card. He's not in the business of hard facts.
"When you're a theorist, then you really can't have any arguments," he said. "I've found out a lot of times when something is a fact, it's really not true. Most facts have been proven false."
His son, Mark, who had been running madly through the nearby woods, came bounding over. In his hand was a fresh discovery of his own: the body of a dead, inch-long turtle.
Farris explained that Mark is his protege. He is in training to be the steward of the river when his old man's time is done. He asked Mark, "Whose river is that?" but the boy was too shy to answer.
We got into the canoe but we didn't stay in long. It was a cold day, rugged little Mark was frustrated to have to sit on his dad's lap because the seats were full, and my paddling was weak. We did manage to nearly get in the way of the KU rowing team's practice several times-at least we accomplished something.
When we got out, Farris talked about how to stay warm in winter-you walk around barefoot outside when it starts to get cold to jumpstart your blood circulation-preached the value of eating organic, and showed me an exercise that involves flexing and holding your muscles that he credited with getting him in the best shape of his life.
"My goal is to run up mountains when I'm 80," he said. "It's what I want to do."
Before driving off, he asked Mark again, "Whose river is that?"
"My river," the boy said.


Riding the river
The Kaw-or, for the less hip, the Kansas River-stretches from Junction City to Kansas City, Kan., where it converges with the Missouri River.
It is 170 miles long and is the 15th-largest river in the U.S., according to the U.S. Geological Survey.
The Kaw is a safe river to float down, says Laura Calwell, who holds the title of Kansas Riverkeeper as a non-governmental advocate with Friends of the Kaw.
"They need to respect the power of water," she says, "but the Kansas River is generally fairly safe for novice boaters and for families. They need to wear their life jackets when they're on the water."
The river is so shallow in many parts that if you fall in, you can literally stand up in the water, she says.
For the adventurous, Calwell recommends taking an extended trip, such as from Topeka to Lawrence, and spending the night camping on a sandbar-where you can search for artifacts.
"It's a nice, private getaway where you can search the sandbars and have a nice day on the river, with not a lot of people there," she says. "It probably will change over the years, but right now it's a fairly underused recreational venue."
Check out the Friends of the Kaw website, kansasriver.org, for a map of boat access points and upcoming river-related events.
More like this story on Lawrence.com