Past Event
Saturday, April 14, 2007, 7 p.m.
Lawrence Arts Center, 940 New Hampshire St., Lawrence
All ages / $24 - $30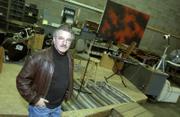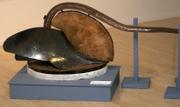 The entire world is a canvas for Lawrence artist Stan Herd. Perhaps it's fitting then, that his latest piece of art is made from one of the very tools he uses to decorate that canvas.
The featured artist for this year's Lawrence Art Auction, Herd elected to broaden his artistic portfolio by creating a sculpture out of one of the single bottom plows he used to craft one of the crop art pieces for which he's become famous. He donated the sculpture to the Lawrence Arts Center's benefit auction, being held Saturday.
The plow, which Herd estimates has a retail value of about $6,500, has been manipulated extensively from its original, mechanical design. He shaped and altered the blade to give it a certain pattern. He also fixed a piece of sycamore wood to the plow, in an effort to echo the curve of the blade, then attached a piece of copper to the handle to give it a more striking appearance.
"The plow is one of the oldest tools of mankind," Herd says. "The original design (of a plow) is totally utilitarian. I've always thought, since an early age, that it's a beautiful thing."
Some fortuitous breaks allowed Herd to get the project done in time for the auction. Herd said he spent a month working on it practically uninterrupted.
"I wanted to do something different. I was hopeful they'd get excited about it," Herd says of auction organizers. "They got excited about it."
When Herd first saw his sculpture surrounded by the other pieces of art in the auction, he was surprised by how they all seemed to work together.
"There are so many themes here that touch on the same essence of what the plow is about," Herd says.
Many of the other works depict nature, including flowers in bloom and Kansas landscapes.
Arts Center Gallery Director Rick Mitchell, who oversees the auction, says that any similarity of themes is coincidental but that local artists know the type of work that sells well at the auction.
"Certain themes are very proven, in terms of salability," Mitchell says. "If there's a nature theme, it's because that's what people are working on."
This year's auction will include more than 300 works of art from more than 270 artists, an increase of 40 artists over last year's record number. The 2006 event raised about $113, 000, which helps fund exhibitions at the Lawrence Arts Center galleries.
Mitchell says there has been discussion for a number of years about selecting Herd to serve as the auction's featured artist.
"We ask a different artist to do it every year," he says. "We try and find someone who is established and well-known in the community."
Mitchell was particularly pleased when he saw the item Herd donated.
"It's a really great piece," he says. "I'm hoping it ends up in a good place where a lot of people can see it."
While many of the pieces for sale are suitable for someone's living room, Mitchell says the plow is more appropriate for a public space, like an office building or educational facility.
Herd says the piece is special because of its combinations of materials and textures. In the end, he says, he couldn't have been more pleased:
"When I saw it sandblasted, before it was all together even, I said, 'Oh yeah. This is going to work.'"
More like this story on Lawrence.com