Photo Gallery
Dee Wallace Stone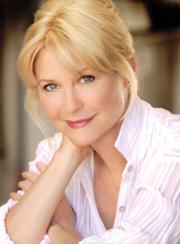 Audio clips
Dee Wallace Stone
Dee Wallace Stone
What: Crosscut: Women Making Movies and Trailblazer Award luncheonWhen: 10:30 a.m. SaturdayWhere: Intercontinental Hotel, 401 Ward Parkway (on the Plaza), Kansas City, Mo.Tickets: $20-$30Ticket info: (913) 449-5861
Dee Wallace Stone has been stalked by rabid dogs, cannibals and werewolves.
She's been replaced by a look-alike robot.
She's shared a house with a space alien.
She's even been seduced by Dudley Moore.
The Kansas native and Jayhawk alumna has been through it all in a film career that started with 1975's "The Stepford Wives" and is going strong with roles in five feature films slated to be released this year.
"I do an awful lot of other kinds of things that get creatively acknowledged, but the thing the public wants to identify me with is science fiction/horror," says Wallace Stone. "Right now I am all over Web sites because I'm in Rob Zombie's 'Halloween.' It's a big friggin' deal, and I have four scenes, one in which I'm dead."
Wallace Stone still has no idea why she became so affiliated with fantasy-horror cinema. But she's not complaining.
"I can tell you that genre gives an actor more platform to act with than just about any other genre out there," she says. "My idea of acting is not walking through and giving a lot of technical dialogue, as a doctor or whatever. What turns me on is emotion and heart - the human predicament. That genre really does encourage the things I love to do in acting."
Wallace Stone is returning to her hometown this weekend for the first time in two years to be honored for that love of acting. She will be accepting the Trailblazer Award from the Kansas City Women in Film & Television.
"Her body of work is pretty profound," says Jill Shemwell, president of the organization, whose mission is to "empower and promote women in the entertainment industry, specifically in the K.C. area."
"Dee is a trailblazer in that she made it big in the industry, not only as an actress but as a teacher and role model in terms of someone other people in Kansas City can look toward to emulate."
Memorable roles
While Wallace Stone is a darling of the fantasy-horror crowd - fans she calls "some of the most loyal and passionate out there" - she is best known to the general public for one role in particular.
"It would probably be 'E.T.,' because every time I walk onto a stage that's the theme they play," the 58-year-old performer says.
When first reading the script of the Oscar-winning adventure, she recalls thinking it would be a classic.
"I called my agent and said, 'I don't think this is going to do anything for my career, but it's going to do a lot for the world and I want to be involved in it.' I knew it was not my film, it was actually the alien's film. So, of course, it ended up being Steven's (Spielberg) film."
Other standout roles include leads in Stephen King's rabies thriller "Cujo" and Joe Dante's werewolf update "The Howling." She's also logged dozens of TV credits, including as a cast member of last season's NBC sitcom "Sons & Daughters" and recent appearances on popular dramas such as "Grey's Anatomy" and "Cold Case."
And, yes, she is playing Laurie Strode's mom in Rob Zombie's remake of "Halloween," which opens in August.
"Rob is my new favorite director," she says of the former rock frontman-turned-filmmaker. "I loved working with this man. He's intelligent, brilliant with actors, so creative, the nicest guy.
"I can't wait to see the film. If he did with everybody what he did with us (the actors), there's got to be some amazing alive-ness on that screen."
Kansas launch
Born in Kansas City, Kan., Wallace Stone attended Kansas University after lone semesters at junior college and Emporia State. She earned degrees in theater and education in 1971.
"The greatest thing that KU did for me was teach me how to work the system," she says. "I had some interesting, creative classes at KU. But I can honestly say that I don't think I employed any of them."
Although originally trained as a ballet soloist, Wallace Stone decided to take a stab at a screen career.
"I'd never been out of Kansas City in my life until I moved to New York to start my career. I come from a family of very little means, and a family that was definitely not connected anywhere in the entertainment industry," she recalls.
The actress first earned spots in TV shows such as "The Streets of San Francisco" before landing a small part as a maid in "The Stepford Wives." Her first featured film role was as the victim of cannibalistic savages in Wes Craven's original "The Hills Have Eyes."
Wallace Stone is getting to vicariously start all over again through watching her 18-year-old daughter, Gaby Stone, enter the acting profession.
"I've encouraged my daughter to be happy and follow her creative assets," she says of her child with late husband and "Howling" co-star Christopher Stone, who died of a heart attack in 1995.
"(Gaby) needs some seasoning and more training, but she's got the chops to do it. She just did her first part in a small feature, so she's off and running."
Road of trailblazing
Wallace Stone still says she considers Kansas City home, even though she's lived in California for 40 years.
She's honored to be deemed a trailblazer in her field by her hometown peers.
"I think I'm kind of a trailblazer for the average, talented, creative person who has no reason to succeed other than the fact that they never get off the trail and believe in themselves," she says.
"A lot of things happen to you on your road of trailblazing. If you allow yourself to go into those lower vibrations of judgment, greed and hate, the person who goes down ultimately is you. My roots have guided me well."