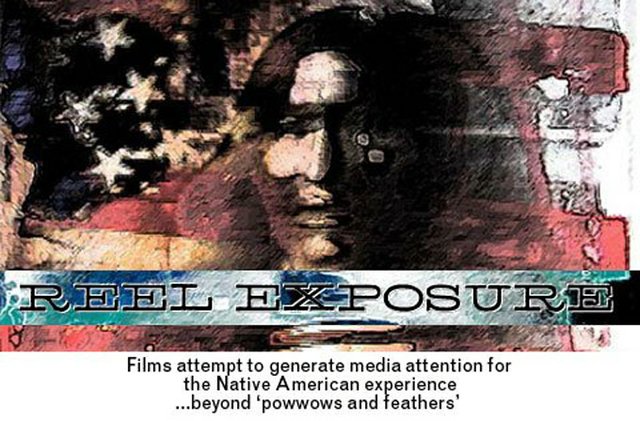 Nobody said making an independent film documentary would be easy.
For Haskell alumna Carol Burns, the cost came to $63,000 of mainly her own savings, plus four-and-a-half years of full-time work and thousands of miles logged along the Missouri River.
All for 52 brief minutes of screen time and a chance to make a point. Her first film, Mni Sose (a.k.a. Missouri River), which examines exploitation of Native American lands and burial grounds along the Missouri River, will premiere Saturday in Lawrence.
It is one of eight films to be shown at the Stories 'n Motion Film Festival Friday and Saturday at Haskell Indian Nations University. Nearly all the films-some documentaries, some fiction-were made by Native Americans. (The lone exception is The Cats of Mirikitani, a documentary about a homeless Japanese-American artist and internment camp survivor).
The free festival, now in its third year, was organized by the student-run Stories 'n Motion Film Club with the notion of showcasing Native American films and helping to strengthen the community of filmmakers like Burns willing to tell untold stories.
Past Event
Friday, April 20, 2007, 7 p.m.
Haskell Indian Nations University, 155 Indian Ave., Lawrence
All ages / Free
"Imagine living in a world where everything coming at you through the electronic media-none of it is relevant to you or your experience," says the festival's featured guest, Gary Farmer, a celebrated actor and a member of the Cayuga nation.
Long river, long road
More than a decade has passed since Burns, a member of the Rosebud Sioux tribe, opened her eyes to the issue that resulted in Mni Sose, (roughly: ma-NEE sho-SHAY, the Lakota word for the river).
Burns, a 1995 Haskell graduate, was taking classes at KU in 1996, she says, when a friend showed her the university's collection of Native American artifacts and ancestral remains. The collection included bones and sacred items plundered from burial sites. She says she literally felt moved to action by the spirits of her ancestors.
Past Event
Saturday, April 21, 2007, 5 p.m.
Haskell Indian Nations University, 155 Indian Ave., Lawrence
All ages / Free
"I wouldn't have known about it had they not tapped me on the shoulder and made me aware that they were there and that this was happening," she says. "I was carrying on a normal, happy, life-not worrying about anything political. Playing around with my friends, going to school, that kind of thing. But when this happened it really changed my life."
A few years later, after working to return some of the remains to their homelands, she became interested in U.S. Army Corps of Engineers projects along the Missouri River.
In 2002, members of the Yankton Sioux tribe near Fort Randall Dam in South Dakota were upset to find their ancestors' bones exposed by low water. Burns traveled from her home in Kansas City to South Dakota to film what was going on, starting what would become years of documentation.
Canary EffectView trailer
What she found with the Yankton Sioux proved to be representative of what happened to the 28 tribes that occupied the Missouri River basin as the Army Corps of Engineers began reshaping the river in the 1930s, building dams and reservoirs that transformed the wide, shallow river into a narrow, deep channel that could be controlled and generate hydro-electric power.
Native peoples for ages had buried their dead high in the bluffs above the river, careful to protect the graves from floods.
"They lived with those cycles," Burns says, "so they knew the burials would be safe up there for generations to come."
But the dam projects raised the river, sometimes up to 200 feet, she says. The water erodes the bluffs. Soil falls in. Graves are exposed. This is what happened with the Yankton Sioux.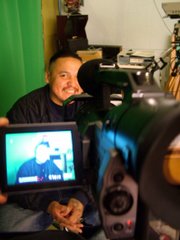 A judge ordered the Army Corps of Engineers to protect the graves when the tribe took it to court. The Corps' solution, chronicled in Burns' documentary: plastic sheets, held down over the exposed bones with rocks.
After meeting with the Yankton Sioux, Burns began traveling up and down the river, speaking with elders and chronicling instances of plundering and broken treaties. She received some donations, but funded 75 percent of the documentary herself, she says, using almost all of the money she'd saved from years of organic farming and renovating houses in Kansas City.
What she found was an important story that hadn't been adequately told.
"People have really got to start making some changes in the way that they're thinking and in the way that they're behaving," she says. "But the first thing is to introduce these topics to people in a way that they can understand and identify with or appreciate, because you don't hear about native news. We don't have a remote truck that runs up and down the river and reports on stories. The only things you hear about are powwows or mascot issues."
Taking ownership
Gary Farmer, who has appeared in Smoke Signals, Dead Man, Adaptation and scores of independent movies and TV shows, has become somewhat of a visionary for Native American media.
He owns a Native American art gallery in Santa Fe, N.M., was a key player in launching the Aboriginal Peoples Television Network in his native Canada, founded Aboriginal Voices magazine and, on top of that, plays in a band called Gary Farmer and the Troublemakers.
Farmer chose Heater, a 1999 movie in which he starred, to show at the festival because of its low budget-still considerably higher than Burns' film with a price tag of about $110,000-and its everyday subject. The film is about two homeless men in an urban setting who try to get a refund for a stolen heater.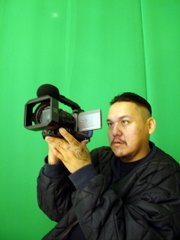 "I just thought if we're trying to embrace filmmaking as a means of expression and form, let's show a film that's relatively affordable to make," he says.
Whether in the urban core or on the reservation, the way to preserve Native American languages and traditions, he says, is through native-operated media.
"We have to take the media that exists and turn it into our own," he says.
That means low-power FM radio, magazines, newspapers, TV, the internet and film.
"People have a lot of ideas about how to live, and I think their ideas are really valuable," he says. "The idea is to try to perpetuate that and share that and re-socialize ourselves to who we are."
The problem, he says, is finding people with the expertise to successfully operate these media outlets.
Making it happen
That's where the Stories 'n Motion Film Club fits in. The dozen or so Haskell students in the four-year-old club meet every Wednesday in a room adjacent to the Haskell library to create and discuss short film projects.
Using the club's one camera, a semi-professional Panasonic Mini DV, and Adobe Premiere editing software, Chester Mandan made a 10-minute film called Ransom, about a Haskell student who gambles his money away and kidnaps a member of the Mashantucket Pequot tribe, a wealthy tribe in Connecticut that operates the world's largest resort casino. The film will be shown Saturday.
Mandan, a Hidatsa, Mandan and Sioux junior from New Town, N.D., studying business administration, joined the club two years ago when a friend he boxes with told him about it. He and his friend came up with the idea for the film.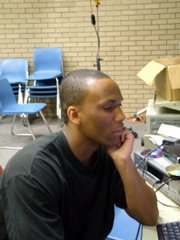 "All my tribes are poor or broke Indians," he says. "We don't get the money that the other ones do that own casinos. So he said, 'Well, what if you kidnap someone from one of the tribes that has a casino, one of the ones on the East Coast, like the Pequot?' That's how we came up with the idea. It was just kind of a joke, and then we filmed it."
Some of the films made in the club, like Mandan's, are lighthearted, while others are more serious, says club president Jakari Jackson, a Creek sophomore from Tulsa, Okla. But in each case, the films are guaranteed to go beyond common portrayal of Native Americans in mainstream culture because of where club members are coming from.
"We like to make movies that don't just cast Indians as 'the Indian guy,' " says Jackson, who also works as a production assistant at 6News.
Burns says she'd like to see further development of Native American media. But for now, a largely one-woman documentary is the best she can do.
"At some point in time," she says, "maybe we as native people in media will evolve to that level where we will be able to produce those types of news stories and get them out there right quick, rather than working on a film for five years and finally getting it out. People need to know these things right here and now. All they see is Indians in feathers."
Festival Schedule
Friday
7 p.m. - "Heater." (85 minutes) A film about two homeless men in their day to day lives. The film stars Gary Farmer. Gary Farmer will have a Q & A after the movie ends.

Saturday
4 p.m. - Dinner with Gary Farmer (tickets are $5, please reserve tickets in advance, seating is limited! Contact Jakari Jackson at jakari.jackson@haskell.edu)

5 p.m. - "The Cats of Mirikitani" (74minutes) Eighty-year-old Jimmy Mirikitani survived the trauma of WWII internment camps, Hiroshima, and homelessness by creating art. But when 9/11 threatens his life on the New York City streets and a local filmmaker brings him to her home, the two embark on a journey to confront Jimmy's painful past. An intimate exploration of the lingering wounds of war and the healing powers of friendship and art, this documentary won the Audience Award at its premiere in the 2006 Tribeca Film Festival.

6:15 p.m. - "Ransom" (10minutes) (by Chester Mandan, Haskell student) A gambling addiction leads to a kidnapping.

6:30 p.m. - "Kickapoo People" (19minutes) (Kickapoo Cultural Committed, edited by Haskell staff R.LeValdo, J. Jackson, J.Weldon) Documentary on Kickapoo tribe of Kansas. Includes interviews with elders talking about their experiences growing up on the reservation.

7 p.m. - "The Canary Effect" (60minutes) Kansas Premiere - The devastating effect that U.S. policies have had on the Indigenous people of America. Using beautifully crafted imagery it presents a chilling case to what many believe is an ongoing genocide of the American Indian. Featuring interviews with some of the leading scholars and exponents of Indigenous struggles, alongside revealing insight from those who work and live on reservations today, The Canary Effect creates a link between the past and present in a unique way never before explored on film.

8 p.m. - "Mni Sose" (52minutes) (by Carol Burns) Haskell alumna Carol Burns presents the world premiere of the documentary film Mni Sose (aka Missouri River) which examines the results of treaties signed in the late 1900's by 28 Missouri River basin tribes with the United States in terms of cultural resources and ancestral homelands that are being exploited through the special interests of the United States Army Corps of Engineers. Exploitation of the river resources and failure to communicate with tribal nations devastated tribal autonomy; in addition to lands lost through the congressional movement of tribal boundaries, millions of acres washed away as reservoir levels were raised and lowered to boost power for cities. The riverbank erosion exposes ancestral burials and other culturally sensitive areas. With the anticipated amount of increased river economy to come, these sites are at peril.