A bona fide Lawrencian tells you how to do the town, post Vernal Equinox. On your day off.
Kallie Damon, 25
Originally from Texas, then New Mexico, then Arizona, but proud resident of Larryville for seven years. "Drifted here" to be with friends. Creation Station staffer for five years.
Morning
Get up and go to the Bourgeois Pig on your bike. Get a Sportea. Carry a book with you.
Mid-morning
Ride along the levee, and then come back to South Park and read under a tree. The other day, I sat and read under a magnolia tree there. It was really beautiful. I really like to read while wearing a fake mustache.
Lunch
Go to Local Burger and get a tofu filet-delicious-and sit outside.
Evening
Get together at somebody's house and have a six-pack. Play a game.
Darkness
Go out to the Replay and finish the night. Sit outside, of course.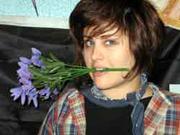 Townie wisdom
I think this place is kind of magical. There a lot of secret places. I like how people just kind of know each other downtown. It's a weird little family kind of thing.
Townie future
I will be here at least four or five more years. I would probably leave to start my career. Join the Peace Corps and then teach in anthropology or linguistics.
- Interview by Sarah Smarsh