Photo Gallery
Style Scout: Jade Tittle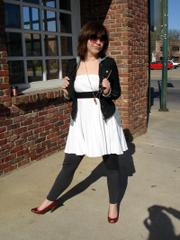 Jade Tittle
Hometown: St. Paul, Minn.
Age: 23
Time in Lawrence: 5 years
Occupation and/or major: Urban Outfitters Merchandiser, KJHK Plow the Fields co-host, live events assistant for KJHK, live music events coordinator for SUA.
Where was/what doing when scouted?
Gearing up for the Farmer's Ball.
Favorite clothing store?
BCBG, cause I'm into dresses, but really here in town I like Wild Man Vintage and the Antique Mall. Because it's kind of fun searching for good deals and there is a weird pride associated with finding something for $2 and being able to brag about it.
Other stores you frequent?
Well, I'm excited for the new downtown grocery store-that is where I want to be shopping. And I go to the Raven bookstore to find local authors.
How would you describe your style?
A tired and groggy six-year-old. I usually find myself throwing stuff together that at least kind of makes sense. And lately I have been getting made fun of for wearing skirts as dresses.
Favorite trend for this season?
I am starting to dig that guys in this town have learned how to dress lately. I actually saw multiple guys wearing awesome outfits last night.
Least favorite trend right now?
People who know you, but don't say 'hi' to you unless they are drunk. I call it "selective drunk memory".
Where do you get your haircut?
Teri at the Green Room cuts my hair and she cuts everyone's hair at UO too - 'cause she's kick ass.
Favorite coffee shop in Lawrence?
The Pig has a new coffee called Sulawesi that is delicious. And Milton's because I've just been going there for so long and it has a special place in my heart because I used to work there.
Favorite bar in Lawrence?
The Jackpot because-well, I guess this sort of makes me a drunk, but I know all the bartenders and they are all so really nice. And I guess I've been going to Cielito Lindo so much lately that they know me by name.
Is there anything you'd like to see more of in Lawrence?
Art Galleries? Actually, I really like the underground art shows that have been springing up lately-at places like Love Garden and Milton's.
Less of in Lawrence?
Aww, I wouldn't want to take anything away from Lawrence, it's cool as it is.
Style = ?
Confidence. Seriously. Girls come into UO all the time and say, "Oh, that's soo cute, but I could never wear it." Come on... anybody can wear anything as long as they think they look hot in it.
Who's got style?
Dudes with style... and Jonny Depp. I think I would lick him if I saw him in person. In Lawrence, I really think it is hard to be a guy with style because there are so few guy's clothing options, but those that have style know it and the numbers are growing.
Are you a happy American?
I am a hopeful American. There will be a change soon and I am hopeful it will be positive.
Tell us a secret...
I was the 2nd best costume performer of 2002 (I lost only to Japan). And there is more to costume performances than waving...