Photo Gallery
Style Scout: Mark Hurst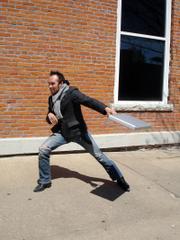 Mark Hurst
Hometown: Lawrence/Seoul/Philadelphia/Hiroshima
Age: 26
Time in Lawrence: 6 years
Occupation and/or major: Zen Zero server, nude model, musician, artist, scorpio.
Where was/what doing when scouted?
Getting something to eat at The Campus Hideaway Roll Cafe. That place is so good. I love it so much, it ain't even funny. It's a little slice of heaven that you can take part in any day except Sunday.
Favorite clothing store?
Thrift stores, "cause de cheep."
Other stores you frequent?
Love Garden, Game Guy, Game Nut, Sacred Sword, and Brits! Everybody should start going to Brits! You can rent seasons of Dr. Who! Yes!
How would you describe your style?
Borrowed, broken. WTF? Things on floors-yeah, cool.
Favorite trend for this season?
A trend that is coming back is being legit, upfront, and fo' real.
Least favorite trend right now?
A trend that I'm not really into is people being fake. It's pretty lame.
Where do you get your haircut?
I cut it myself. No mirror, just scissors. Sometimes you can see my scalp. I'm not very good about it. Before that, my mom was still cutting my hair until I was 20.
Favorite coffee shop in Lawrence?
I'm not obliged to say on paper. But the trifecta of places that I frequent are La Prima Tazza, The Bourgeois Pig, and Milton's. Also, late nights I like to go to Henry's just before or after going to the bar. And at any given time I stop into Z's to give hugs.
Favorite bar in Lawrence?
The Replay, The Jackpot, The Eighth Street Tap Room, and The Pig. Oh, and Louise's West has a special place in my heart because they have the Gin Blossoms on their juke box.
Is there anything you'd like to see more of in Lawrence?
Art. ART. With capital letters. Oh, and one more thing, ART! Oh, and how 'bout the 'city of the arts' getting some art galleries?
Less of in Lawrence?
Jayhawks. You know, like the cow sculptures on the street corners in Kansas City? Those Jayhawks. I just don't want to see them anymore.
Style = ?
X+0.5Y/r , where X='tude, Y=thought, and r=mojo.
Who's got style?
Tony Leung, Simon Yam, Faye Wong, Ninjas, and Mega Man. Especially Mega Man. Silly, but true. He has an extensive wardrobe. Anywhere from his Flash Man and Ice Man costumes to his "I'm comfortable with my sexuality" pink Quick Man costume.
Are you a happy American?
I'm only 1/2 American, but yeah, I am. You gotta make the most of what you got. I could be living in a war torn country instead of a war mongering one. Guilt is the first step to realization and change. You might as well live it up and quit cryin'.
Tell us a secret...
ALL THE CONSPIRACY THEORISTS ARE WRONG... It's giant squids that are behind everything. JFK, global warming, they even got sasquach in their pocket. In fact, I fell in love with a giant 8-ft. squid named Sophie just last week. I want to adopt her soo bad (from adoptasquid.com), but she's $800. I love squids almost as much as I love ninjas.