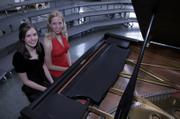 In concert
What: Lawrence Chamber Orchestra's "Spring Finale," featuring Justine Ahle and Adrienne Willems, finalists in the Steven Paul Wunsch Young Artist CompetitionWhen: 2 p.m. SundayWhere: Lawrence Arts Center, 940 N.H.Tickets: Adults, $13; couples, $25; students, $8Ticket info: 843-2787
While some juniors in high school are cramming for tests or working on their curveballs, two young women from Lawrence have been memorizing Mozart piano concertos.
Adrienne Willems, a junior at Veritas Christian School, and Justine Ahle, a junior at Free State, were finalists for the 2007 Steven Paul Wunsch Young Artist Competition and will perform with the Lawrence Chamber Orchestra this weekend.
"I've been practicing since last summer on the concerto," Ahle says. "Now it's mostly fine-tuning details."
For the all-Mozart concert, Willems, the winner of the competition, will play the first movement of the composer's Piano Concerto No. 19, and Ahle, the runner-up, will perform the first movement of Concerto No. 12.
"I think the whole purpose of having a youth competition is to have an example of a young musician who has reached a certain point in playing where they are excellent enough to play with an orchestra as a soloist," says Chris Harnden, the orchestra's concertmaster. "That is very important for young, budding musicians to see."
Both Ahle and Willems have been playing piano for about 11 years and are excited to take the skills they've honed and perform with a professional orchestra.
"I'm not really nervous," Willems says. "I used to get nervous. After a while, it's just kind of fun."
Both girls don't stick to just piano keys. Ahle plays the harp, they both sing and Willems used to play the flute.
"I really love playing the piano," Willems says. "It's always been my favorite instrument."
Willems and Ahle say they'll always be grateful for their ability to play music. Willems plans to pursue a music education degree and continue playing throughout her life. Although Ahle hopes to study pharmacy, she doesn't intend to forget about music completely.
"I hope it will be a hobby for the rest of my life," she says.
The orchestra holds auditions for the competition each February and traditionally has chosen a specific instrument to compete. However, next year the competition will be open to all instruments.
"We felt it would give a broader talent pool (and) make the competition more challenging and more rewarding for the students," says Terri Chauvin, orchestra board member.
The competition was perfect for Willems because she enjoys working under pressure. Contestants must memorize a concerto and perform it in front of a panel, which usually consists of Steven Elisha, the artistic director and conductor, and at least one other music professional.
"I love a challenge," Willems says.
The parents of Steven Paul Wunsch - Robert and Barbara, both longtime Kansas residents - set up the Steven Paul Wunsch Foundation for Young Musicians, which helps fund different musical activities for young people when their son, a talented musician, lost his life as a young adult. The foundation has been contributing to the orchestra for 10 years, and members have been grateful for the opportunity to reach young musicians.
"We've got some really talented kids in Lawrence who are doing phenomenal things," Chauvin says.
- Journal-World intern Erika Bentson can be reached at 832-6317.