Photo Gallery
Style Scout: Jessica Hensley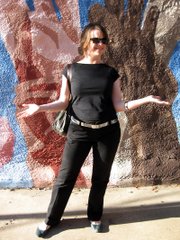 Jessica Hensley
Occupation and/or major: Electronic publisher at Allen Press
Hometown: Lawrence
Time in Lawrence: 7 years
Age: 26
What were you doing when scouted?
I just got done buying my one-year-old niece a birthday gift from Blackbird Trading Post.
Favorite clothing store?
Banana Republic, Nordstrom, Off 5th Saks outlet. Wildman Vintage sometimes. Gap for basics.
Other stores you frequent?
Blackbird Trading Post, Antique Bazaar and Antique Mall. Love Garden and Kief's. The Giant Flea has great stuff.
How would you describe your style?
I try and keep it classic, with a trendy flair. This is a pretty typical outfit for me. I don't ever really wear T-shirts. I worked at Teller's for a long time, and one of the things I was most excited about when I got a new job was dressing for work. I was like, I have all these cute clothes and I never get to wear them (due to the Teller's uniform). But everyone I work with wears jeans every day. I show up in a skirt.
Favorite trend right now?
Flat shoes. I've never been able to master the heels. I think they look cute on people, but fashion is no good to me if it's painful.
Least favorite trend right now?
People wearing T-shirts and jeans and running shoes every day. The Kansas uniform. I guess that's not a trend-it's a Kansas phenomenon. I appreciate when people wear accessories and care about presenting themselves.
Where do you get your haircut?
Jessica Walker at Avanti.
Favorite coffee shop in Lawrence?
The Pig, when Margie's working. She makes the best latte in town.
Favorite bar shop or bar in Lawrence?
The Pig, Teller's, Harbour Lights.
What would you like to see more of in Lawrence?
Jobs for people like me who want to stick around but don't want to make a sub-standard wage. Also, people picking up after their dogs.
Less of in Lawrence?
Slumlords. Renters in this town get taken advantage of. It took me six years to find a good landlord.
Tattoo or piercing?
Tattoos. I don't have any, but my boyfriend does.