Photo Gallery
Style Scout: Solomon Johnson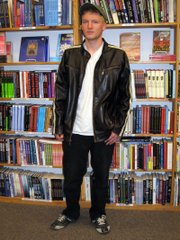 Solomon Johnson
Occupation and/or major: Painter of buildings, player of guitars
Hometown: Lawrence
Time in Lawrence: 4 years
Age: 20
Where were you doing when scouted?
Looking for information on the Toltecs. I've read some about them, and it's pretty interesting. But it's hard to find stuff on them.
Favorite clothing store?
Wild Man Vintage and Arizona Trading Company. (Everybody says that. Any other fave clothing stores?) Old Navy.
Other stores you frequent?
Great Harvest Bread Co., Half Price Books, Mass St. Music, Kief's.
How would you describe your style?
I like to have an edge but not be too noticeable. Original.
What's something you would never wear?
The usual clothes you would see a frat boy wearing. Striped shirt with a collar, khaki pants and ball cap.
Favorite thing for this season?
Tall boots on women.
Least favorite trend right now?
Really baggy clothes.
Where do you get your haircut?
Usually my girlfriend cuts it. If she doesn't, Z (Cosmetology Academy).
Favorite coffee shop in Lawrence?
Z's, downtown.
Favorite bar shop or bar in Lawrence?
The Bottleneck, the Pool Room. I like to see shows at the Jackpot. I usually can't get into the Replay.
Is there anything you'd like to see more of in Lawrence?
Practice rooms for bands.
Less?
Crackheads.
Tattoos or piercings?
Tattoos. But I have neither right now. I might get a tattoo in the future.