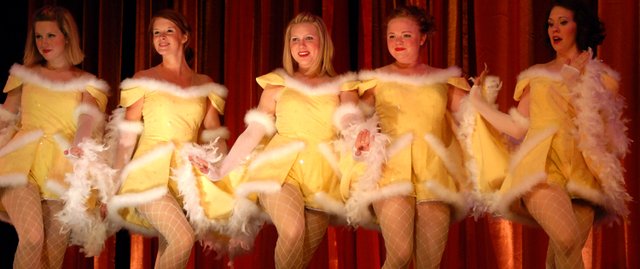 Past Event
Friday, April 27, 2007, 7:30 p.m. to 9:30 p.m.
Kansas University, Kansas University, Lawrence
5+ / $10 - $18
Lawrence Henderson isn't worried about young people losing interest in the bootlegging and illegal gambling of the 1930s.
"As long as we have the History Channel, people are going to know about gangsters," Henderson says. "There's an American love affair with gangsters."
And that, in part, is what keeps interest alive in "Guys and Dolls," which Henderson stars in starting Friday at University Theatre.
The musical, by Manhattan-born Damon Runyon, tells the story of Nathan Detroit, who is desperate to find money for his crap game. He bets friend Sky Masterson $1,000 that Masterson can't convince a local Salvation Army girl, Sgt. Sarah Brown, to go to Cuba with him.
When Masterson wins the bet and ends up falling in love with Brown, he bets the members of the crap game that if he wins a roll of the dice, they will all have to go to the Salvation Army. He wins, and the gamblers visit the mission and repent of their sins.
That sort of story is typical in many of Runyon's tales, says John Gronbeck-Tedesco, the KU professor directing the production.
"They have to make a choice of remaining in this masculine community, surviving - and surviving quite well - outside the law," Gronbeck-Tedesco says. "If they don't give that up, they will lose the love of their lives. There's this redemptive moment when they choose that love."
That serious story, Candice Bondank says, meant cast members spent plenty of time working on character business. Bondank plays the role of Sarah Brown.
"Character development is so important, because people think musical theater is just songs and dancing," says Bondank, a senior from Overland Park.
Of course, "Guys and Dolls" has plenty of songs and dancing, too. Best-known songs include "Luck Be a Lady" and "Sit Down, You're Rockin' the Boat."
Henderson, a senior from Lansing who plays the role of Nicely Nicely Johnson, calls it "classical American musical theater."
"It's got your classic love story, with gangsters thrown in for a little jazz," he says. "It's an all-around fun show. It's not really offensive to anybody. It's pretty much a G or PG at most. It's a family show."
The musical was written in 1950 and is loosely set in the 1930s. Gronbeck-Tedesco says though the Depression is on the plot's fringes, there also are implied references to the post-World War II era.
One of those, he says, is the use of the male chorus, which is on stage much of the production.
"The most recent groups of men people saw (in 1950) would have been groups of soldiers," Gronbeck-Tedesco says. "It's sort of a celebration they aren't in uniform anymore."
As time goes on, he says, it may be more difficult to get college students interested in time periods considered the glory days of American musical theater.
"It's harder to make the connections, because they're a little more remote," Gronbeck-Tedesco says. "But it wasn't hard to get them interested."
For Bondank, as long as the musical has flashy song and dance, it's not hard to get interested in the history behind it.
"It's such a big show," she says. "It's very spectacular, very in-your-face. We have the lights, the dancing, the fun comic gags. It's really a fun show."
More like this story on Lawrence.com