James Grauerholz is heir and executor of the estate of William S. Burroughs-maestro of the Beats, author of "Naked Lunch," international queer, academic junkie, wife-shooter, Harvard graduate and patron saint to generations of artistic rebels and literate rockers-a distinguished figure in 20th century literature, like him or not. Odds are, Grauerholz-a writer and formidable thinker in his own right-will be the definitive biographer of that life.
In November 2005, during an impromptu gathering in his backyard, Grauerholz was beaten unconscious by a young man he had never met before. Witnesses later told Grauerholz and the police that his assailant repeatedly referred to him as "a f*cking faggot." As a result of the beating Grauerholz suffered brain trauma, broken facial bones and facial nerve damage. His assailant told police that Grauerholz sexually assaulted him. Neither party was arrested, and no charges have been filed since; last Tuesday, Grauerholz filed an official complaint with Lawrence Police Department.
Street Level joins Grauerholz for a frank conversation about the experience...
Subscribe to Street Level podcast in iTunes
No-fi excerpts from the podcast
Let's set the stage accurately. This occurred at one of your infamous, or famous, parties:
Grauerholz: That's the funny thing. I did-I don't anymore, but I did for several years: Yeah, there were parties. The police came to my place a couple of times on July 4-I think it was two times. Both times, I had my ID with me, I had been drinking-I mean, I don't drink anymore-but at that time I was partying. But I was completely cooperative.
On one occasion, I remember I went around with a policeman and said: "I'm glad you're here, help me clear out this scene." Because it was out of control. But ironically, the night that I was injured was not a big gathering, and not a wild party. It was just a group of rollerbladers, no more than two or three dozen at the high point, after the downtown screening of a video by Adam Johnson called "KFC Members Only (Zombie Comatose)."
So by arrangement with me, a bunch of these bladers came to my backyard, and-I had at that time, not anymore, a big half-pipe skate ramp. And it was just an outdoor thing, nobody was in the house. People were just talking and skating a little bit-just a place to be. Kind of a warm night.
And around 1 O'clock: Now you've got to know I have complete amnesia. I was really badly beaten in the head. I have what's called retrograde amnesia, which means I don't remember the encounter with the person that hurt me. And I didn't start forming memories for another 36 to 48 hours [after the beating]. It was a traumatic brain injury diagnosis.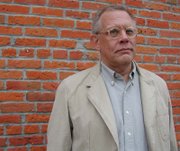 But anyway, to make a long story a little shorter: It was down to 8-10 people, I guess, and this individual [name withheld]-whom I had never met, still have never met-was off in the shadows in some little woods in my big backyard, and I was nearby. I do not know what happened, but what I do know is that when my friend, the blader and artist Yuri Zupancic, came upon the beating that was happening, I was already unconscious, and this person was trying to kill me with his fists. Beating me as hard as he could, methodically, in the face.
Primarily at the head?
Grauerholz: At the face. And shrieking vile curses-that I was a faggot and all this-something that he had learned about me when he first arrived, from mutual friends that didn't care about that. Because I was harmless. My behavior wasn't bad. I was kind of an education to many of these young kids. Over the months that they were friends, their fear of "faggots" would dissipate, because they'd go: "Well, he's alright."
:But the thing is... I clearly was alone with him in the shadows. I can only speculate. Except, I can tell you one thing: That which he apparently told people, and told the police-
That you came on to him...
No ... he said that he had passed out, and woke up, and I was sexually assaulting him, violently. And that is so ridiculous, because I've never touched an unconscious stranger, sexually or otherwise, in my life.
You don't have any history of that?
Grauerholz: None. It's ridiculous. It is not completely inconceivable that I might have verbally propositioned him, or vice versa. He was very drunk, and I had been drinking. Whatever happened was no excuse whatsoever for what he was doing to me. He completely flipped out. : I've spent big chunks of the last year figuring out what happened.
He's beating you, you're unconscious and:
Grauerholz: Yuri breaks it up. He's leading me away. I'm staggering, Yuri's arm around me. And this son of a bitch goes around the skater ramp, comes back, grabs the glasses off my face, crushes them in front of both of us, and then punches me again, knocking me to the ground. To my knees, as Yuri put it in his written statement to the police that night-which I have a copy of because Yuri took a photo of it with his cell phone. So [the police] had this. Anyway, this guy went down there to claim he was sexually assaulted.
While you're being taken to the hospital.
Grauerholz: While I was taken to Lawrence Memorial, and then sent that night to KU Med for surgery, because I had facial bone fractures, my eye socket: And I have permanent damage to my eye and my cheek, [and to] the nerves in my face.
What were the bills on this?
Grauerholz: $50,000 or so. I have an insurance policy that covered all but maybe $10,000 or $12,000, I guess.
And so the young man runs to the police, claiming that-admitting that he had beaten you, because you had come on to him, or whatever story he gave-
And there were police at the hospital. I mean, they took a picture of me, completely bloody and bashed to pieces.
And what happened with you? Were either of you arrested?
No! Evidently, after talking with [the police] and making his statement-which, all this stuff is "sealed," you know-he said he thought he broke his hand. So they let him leave because he wanted to go to the hospital, which he did.
Beating you so hard he broke his hand. How old was this guy?
Grauerholz: He was 20 at the time. And no, he was not arrested. I suppose, especially if they believed anything about his version of it, they should have arrested me. I mean, they could have done that and then sent me on to the hospital in Kansas City:
And he was claiming that he had responded the way he had:
Grauerholz: Self-defense : The deal is, they let this kid go. And they let me go. And evidently, their whole internal cultural view on it was the kid was the victim. Not me. It took the police six months to give a case report to the D.A. It took the D.A. two weeks to decide they weren't going to bring any charges because they "couldn't prove the case." Well, there's only one case they couldn't prove-the kid's case against me.
Because you're an older gay man who had this association with Burroughs:
Grauerholz: I don't know if the Burroughs part played into it, but maybe the so-called infamous parties did. :I guess they just believed this kid. I personally think it amounts to profiling. Because, profiling-you usually think racial profiling. But it has a technical definition, which is: to base routine investigatory activities or traffic stops on minority characteristics.
:But I think it's profiling to listen to the kid and think, yeah, middle-aged gay man, made a pass at him, attacked him, drunk-yeah, the kid's story is probably true. That's profiling. That's assuming someone is more likely guilty of it, because of some minority characteristic about him or her...
Yuri Zupancic called around and said: "What's going on? I'm the witness-here's my number. I'll testify." And he ended up finally talking with the victim witness advocate at the D.A.'s office. And she said to him-as he quoted it to me-she said: "I can't talk about the case. The files are sealed-it involves a sexual thing." But she finally blurted out: "Listen, this isn't a typical case, because it isn't assault when it's self-defense." And he quoted that back to me because he remembered kind of blowing up on her and saying: "Hey, I was there. Grauerholz had no chance. He was just being savagely attacked-while unconscious." There was no self-defense about it.
Oddly enough, the kid gets the benefit of all the protections that are put in place to prevent "secondary victimization" in a sexual assault situation. Whereas I'm the one that gets the real secondary victimization because it's like: "Oh, that's too bad. What does the old queer expect if he makes-if I even did-if he makes a pass at a kid. Because that is the cultural standard. It is considered not only OK, but almost necessary, for young, heterosexual-supposedly heterosexual-males to respond violently to any kind of pass.
You recover from your injuries, and now you're smarting from injustice?
Grauerholz: The truth is, there's such an out-of-control, media-fueled, hypocritical, opportunistic politician-fueled moral panic of hysteria about sexual predators. This whole thing about sex offender registration and stranger danger: There's such a widespread attitude of ignorance, prejudice and violent hysteria-witch-hunting. It comes down to witch-hunting. Anybody that sort of viewed me favorably-and since I've lived here for 30 years there's a chance that some such people were at the police or D.A. level-anybody wanting to do me good might have thought "He should be glad we're not doing anything to anybody. If he gets charged with this, it could be a terrible thing." And maybe they're right. I don't know. It's out of my hands. Bottom line, that's their decision-I'm powerless over how the police do their job or how the D.A. does his job.
In your opinion, you didn't get a fair shake?
Grauerholz: All these questions: what is adequate provocation? What is reasonable violence in defense of person? What is self-defense? What constitutes an assault? All of that stuff is for the tryer of fact-those are all jury questions. The whole thing, by the book, should have been put on the escalator of justice. Instead, it was chopped off before it could climb to the first rung. And that's called prejudice. It was pre-judged at the entry level.
Obviously, this experience has influenced you, and touched you. Do you think you're taking a more political stance?
Well, I don't know about politics, as such.
More activist?
Yes. As I was saying to Patti Smith just yesterday, I was so proud of her at the [Rock & Roll] Hall of Fame awards-and Zack de la Rocha, introducing her-because : it's easy to be cynical, and kind of put down that idealism [as] naivete, "hippies" and so forth. But the fact is, I was proud of her. It stirred me:
The point is: Capital has no soul. It has no conscience. Capital is amoral. So therefore we-and, obviously, the plutocracy (since this nation has been a plutocracy for 10 years)-we have to bring things from our hearts, as people, as humans.
And we don't have to get it from our religion. I say nothing against anybody's religion, I really don't. Well, actually, I take that back-some people's religion, I think, ends up being harmful to society. Or me. Or both.
Well, Patti [sings] "People Have the Power"-but you felt rather powerless. How do we get the power back?
I'll answer a question you didn't ask: What power do the People have? Maybe the People don't have the power to end the plutocratic domination of America's governing classes. Maybe the People don't have the power, here in Lawrence and Douglas County, to transform law enforcement and [the] criminal justice system into thoroughly modern, up-to-date-in-Kansas-City-type operations. :But we are, I believe, one of the last communities of our size-in the country-to not have a Citizen Review Board, to knit together community concerns with the training and management of the law-enforcement community.
Has this unfortunate incident colored your perspective of Lawrence, your feeling about Lawrence?
Well, if it had, I would have to admit that I had lost some of that delicious cynicism that I brought to everything in my life so far. You know, I did have an unwarranted level of faith in the humanity, and professionalism, of the authorities that would [be] called into action because of the events in my case-I believe. I was mistaken. I thought that there would be justice in the justice system. I know better now. And I won't make that mistake again.
But it's not like you were some renegade lurking about-you're well-known in town :
I'm a City Father!
You're a contributor in many ways :
A pillar of the community. I may be-I mean, my contribution may be resented, or (which is better) ignored, by reactionary elements.
... It's like they used to say: "A kike is the Jewish gentleman who has just left the room." Well, a queer is the gay man who has just left the room.
William S. Burroughs lived a long time in Lawrence, Kansas, for whatever reason.
We've talked about it, people can debate how accurate my version of it was-people with first-hand knowledge, since he lived here so long.
[Burroughs] did some very important work (if you will allow that any of his work is important at all, and some won't-I don't care) : but he did it here. It was infused, and informed, by his life experiences, in late life, here.
And he died here. He lived out his days in this town. More people are aware that there is even a place called "Lawrence, Kansas"-because William Burroughs lived here 16 years-than there are citizens and residents in Lawrence, Kansas. Worldwide, more people know that Lawrence exists because Burroughs was here, than there are Lawrencians. That is a fact. Like it or not.
...People always say: "What was life with Burroughs like?" And I say, "Compared to what? [What] other life did I have?" I just found myself in this story, and I embraced it and lived it, and tried to be a good person:.
Are you really going to write that story down?
Oh yes, I've been writing at it all this time. I signed a contract in 1999 with Grove Press to write a biography, but what they wanted was my memoirs-like a full-length version of what I'm telling you-of the years with William, in my life, but what interested me was his early years. Before he became, as I said earlier, "Burroughs."
<!-- lead photo was 358 -->