Today, in this post-"Inconvenient Truth" world (or whatever you want to call it), it's so trendy to go green-or at least to act green.
A survey of national news last week, on the heels of Earth Day, suggests the trend is growing like a fungus. Among the headlines:
¢ New York City Mayor Michael Bloomberg touts a 127-point "greener, greater New York" initiative that would include charging $8 per car and $21 per truck to drive into Manhattan;
¢ Illinois Gov. Rod Blagojevich pledges to plant two million trees annually; and
¢ California Gov. Arnold Schwarzenegger appears on MTV's "Pimp My Ride" with a car rebuilt to run on biodiesel fuel.
Whatever the political prestige of putting a green foot forward, one thing becomes clear when talking to local authorities: Environmental sustainability is about long-term goals and baby steps.
Sustainability is a game of benchmarks, pledges and certifications, of lack of funds and a need to reprioritize. And it is a process that brings change but slowly. At least that's how it's been so far.
Past Event
Monday, May 21, 2007, 7 p.m. to 9 p.m.
Liberty Hall Cinema, 644 Massachussets Street, Lawrence
All ages / Free
"We've tended to talk about a lot of different subjects, a lot of different things we could do," says Daniel Poull, chairman of the city's Sustainability Advisory Board. "We tend to water down our effectiveness."
With hopes of sparking some concrete action on key environmental issues in town, several sponsors (among them the Wakarusa Music & Camping Festival, Zephyr Energy, Liberty Hall, and The World Company, which owns lawrence.com) are organizing a Sustainability Town Hall meeting later this month at Liberty Hall.
A town hall style discussion center around four main topics (roughly 30 minutes each)1. Energy Production and Consumption2. Waste Reduction and Pollution Prevention3. Community Transportation4. Land Use and PlanningParticipating panelists and more info here.Questions from advance emails will be addressed by the panels, as well as questions from the audience (time permitting). Submit your question now to greenteam@lawrence.com
Just how green is Lawrence?
The city claims a recycling rate of 34 percent (in 2006), slightly above the national average of 32 percent.
At the same time, Lawrence doesn't have city-sponsored curbside recycling or a "pay as you throw" trash program-in which people pay for the amount of trash they set on the curb-as many cities around the country have instituted.
On the energy consumption front, the city relies on non-renewable fuels such as coal for 97 percent of its municipal energy. But the 3 percent of "green power" the city gets from renewable sources was enough for the city to announce on Earth Day that it had joined the Environmental Protection Agency's Green Power Partnership.
And a year ago City Commissioner Boog Highberger led the charge to join the Sierra Club's "Cool Cities" initiative, pledging to reduce greenhouse gas emissions to 7 percent below 1990 levels by 2012-agreeing to a provision of the Kyoto Protocol the federal government has refused to follow.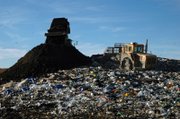 But newly elected City Commissioner Mike Dever, who owns an environmental consulting firm, says it's time for the city to do more. City-sponsored curbside recycling and "pay as you throw" programs could be a good place to start, he says-even if they could cost the city and citizens more money.
"I think there are ways to modify people's behavior, and you can do it gently and you can do it carefully," he says. "And I think we need to start now before it becomes a crisis."
Curbside recycling
Bob Yoos, the city's solid waste manager, says city-run curbside recycling isn't a good fit for Lawrence. He points to a 2004 city report he put together (click here to read the report) that concluded curbside recycling would likely add no more than 3.5 percentage points to the city's recycling rate, and at a significant cost to the city.
The city would need to build a collection facility and buy trucks, equipment and staff. The report estimates this would cost users $11.24 per month, at least in the short term.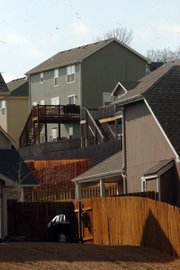 Highberger says recyclers are better served using the cheaper private services currently available, including the five local curbside pickup businesses and various drop-off points throughout the city, such as Wal-Mart's recycling center.
But Sustainability Advisory Board member Laura Routh says Yoos' report is out of date. The small effect the report says curbside recycling would have on total recycling figures, for instance, is from a 1995 study.
Dever says the city ought not be quick to dismiss city-sponsored curbside recycling, and should seriously look into implementing a "pay as you throw" program as an incentive for people to recycle.
"When things get expensive, people start modifying their behavior," he says. ": If I put 15 containers out at my curb, it costs me the same price as if I put one. Does that sound reasonable to you?"
But a pay as you go program, Yoos says, wouldn't be a good fit for Lawrence because of the high number of people who live in apartments or multi-family dwellings and don't participate in curbside pickup.
"I think to do such a program would be unfair to a large segment of the population," he says, "because only 50 percent of the town would be charged the volume fees."
Many communities that have pay as you throw fees, he says, have the incentive of limiting their trash load because of either high landfill costs or a crowded landfill. But the Hamm Co. landfill Lawrence uses (10 miles north of town) is cheap and has plenty room for now.
"Places such as Lawrence, frankly, just don't have those financial incentives," he says.
Green tags
On an individual level, many methods of energy conservation are easy. Replace incandescent bulbs with compact fluorescents. Turn off lights and appliances-including units like TVs and VCRs that consume energy-when you're not using them.
Others require more substantial investments or changes in behavior. Use a thermostat with an 'away' timer, and set it at moderate levels (such as 68 degrees or less for your heater and to 75 degrees or higher for your A/C). Replace outdated insulation and install energy efficient windows and appliances.
But when considering energy production, energy conservation becomes more problematic. People interested in buying energy, even if it costs more, from "green" sources-renewable energy like hydroelectric, wind and solar power-face a complex bureaucracy.
Kevin Doyle, infrastructure and development coordinator for the city, explains that it's not like you can go to the energy store and ask for green energy, like you can with organic food.
In Lawrence, you buy energy from Westar, using the primarily coal-produced power the company puts on the grid. But you can offset the coal energy you use by purchasing "green tags."
Recycling report
Each green tag corresponds with one megawatt-hour of renewable energy put on the grid. The main local supplier of renewable energy is Zephyr Energy, which gets much of its green power from Bowersock Dam, on the Kansas River behind City Hall.
To join the EPA Green Power Partnership, the city government had to offset 3 percent of the power it used by purchasing green tags, and it did so last year. Some EPA Green Power Partners offset the majority of their energy use with green tags-Austin, Texas, offsets 54 percent and Santa Monica, Calif., offsets all of the energy it uses.
Lawrence spent $8,690 for the 869 green tags it purchased last year, Doyle says, and doesn't have plans to increase the number of tags it purchases this year.
Riding the wave
More open space for parks and local agriculture in new developments. More bike trails and bike lanes on streets. More energy-efficient equipment in city facilities, from lights to boilers. Tighter efficiency controls on new buildings and housing.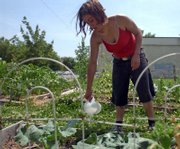 There are many environmental issues that members of the community and Sustainability Advisory Board are pushing for-the arguments for and against each could go on for pages.
How green is Lawrence? Perhaps green is in the eye of the beholder. Perhaps Lawrence is only paying lip service to a trendy intiative. For his part, Highberger is optimistic.
"I'm really feeling a change that I haven't seen in many, many years," he says. "I think we do have some momentum and I hope we can ride it and get come things accomplished here."