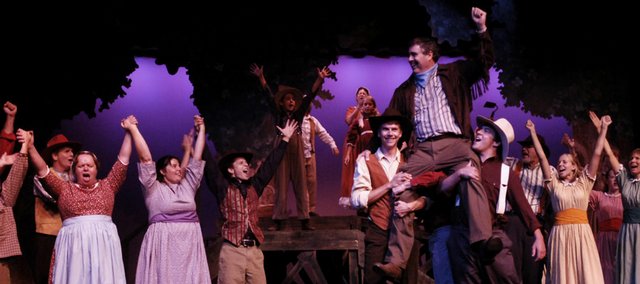 Wednesday, August 8, 2007
Photo Gallery
The Ballad of Black Jack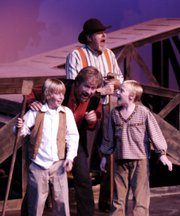 Past Event
Thursday, August 9, 2007, 7:30 p.m.
Lawrence Arts Center, 940 New Hampshire St., Lawrence
All ages / $7 - $35
The Ballad of Black Jack
It's a case of history repeating, but this time someone else is in charge.
"The Ballad of Black Jack" returns this week to the Lawrence Arts Center, 940 N.H., where it had a moderately successful run last year as the kick-off to Civil War on the Western Frontier activities.
But for the first time in its 21-year history, the musical is being directed by an "outsider."
"I was hired to go in and give it a little bit of a facelift and new energy - a new way of looking at it," says Jack Wright, the Kansas University theater professor helming this year's production. "You can't change history. Basically it's the same story, but we're trying to tell it in a way that makes it a little bit more fun and interesting."
The show spins a part-true, part-fictional tale set around the Battle of Black Jack, which many historians consider the first skirmish of the Civil War. Famed abolitionist John Brown led free state forces in the battle, which occurred in 1856 about three miles east of present-day Baldwin City.
Wright had seen the play several times in Baldwin City, and then again last year in Lawrence. He says he signed on to direct because he likes the music and the story - especially its historical components.
"The fact that the first battle of the Civil War may have been in our area and that John Brown thought enough of the skirmishes here in Kansas and Missouri to come out and get involved in the anti-slavery issue was fascinating to me," he says. "I wanted to play a small part in the retelling of that story."
Baldwin City resident Don Mueller wrote "The Ballad of Black Jack" in 1970 for the city's centennial celebration. It was performed there from 1970 to 1983 as part of the Maple Leaf Festival, once in 1986 (at the newly refurbished Liberty Hall in Lawrence) and again in Baldwin City from 2001 to 2005.
The musical's board of directors moved the show to Lawrence in 2006 after several years of dwindling attendance in Baldwin City, where they surmise other Maple Leaf Festival activities overshadowed the play.
Although audiences were still on the small side last year - about 150 per show - organizers are hoping the play will gain a following in Lawrence and start attracting larger crowds.
It certainly holds appeal for longtime cast members; about half of the 39 roles are filled by returning actors.
Among them is Jim Tuchscherer, of Topeka, who portrays Jay Branson, the play's central figure. He first appeared in "The Ballad" in 1977, and has played several characters through the years, including a young man named Zeke, portrayed this year by Kansas University student Alex Haynes.
Tuchscherer says Wright has been able to bring in several student actors and dancers because of his ties to the university.
"Some of us were just getting a little too old to do much dancing anymore," Tuchscherer says. "I told the fellow that's playing Zeke if he got any better I'd have to get angry at him."
Despite the historical nature of the musical, Tuchscherer says it's still timely in terms of some of the social issues addressed in its plot. For instance, Tuchscherer's character is a Quaker pacifist who doesn't believe in slavery - but also doesn't believe in using guns and violence to end the practice.
"He's conflicted," Tuchscherer says, "and that's a big part of the story - whether violence as a means to an end is legitimate."
Fran Hopkins, who plays Mrs. Grim, says the cast of the 2001 "Ballad" revival was in the midst of rehearsals during 9/11 and its aftermath. She remembers seeing a "creepy" connection between the Islamic jihadists and John Brown - all of whom were on a divine mission.
Considering Brown's role and motives is among the stimulating aspects of being part of the cast, she says.
"I have continued to learn more," Hopkins says. "People become local history buffs after they get into the show."
Hopkins, of Lawrence, was in the production for three or four years in the 1970s, then took a long break, returning in 2001. She's enjoying something of a reunion with Wright, whom she studied with as a theater and voice major at KU. Her former professor runs a well-organized ship, she says, but she is concerned about one thing.
"The description of (my character) in the casting is that she's a loud-mouthed, old battle-ax," Hopkins says. "Jack is a typecaster, so that kind of worries me."