All the moments of a person's life. Junctures of triumph and calamity, love and melancholy and confusion, decision and fog, guilt and embarrassment and shame, euphoria and exhaustion-
May lead to a phone call. It could be the point on the teeter-totter where a person starts to fall, or to get back up again. It could affect nothing. Either way, in our moment, someone is on the other end of the phone.
And the fact that people call, every day, gives Alana hope. Because as long as they are calling, they haven't abandoned all desire. Desire to live, or to leave the house that day. If they call, they want something.
Alana, a KU graduate student in social work (who can't give her last name because of the nature of the job) is one of about 35 volunteers who answer the phones for Headquarters Counseling Center, sacrificing days and nights to answer the 24-hour hotline when someone has no place left.
"I always say that they call here for a reason," she says. "If they're at the lowest point in their life and have no hope-gosh, they called here, and that tells you something. That tells you that they've got a little bit of hope. They're searching for something."
In addition to being the Kansas center for the 1-800-SUICIDE network, Headquarters has a "phone-a-friend" line for kids who need somebody safe to talk to, and takes calls from anyone who just wants someone to listen.
Alcoholism, addiction, homelessness, mental illness, grief, depression, broken hearts, death, divorce. They hear about it all, and without a moment's notice. (Counselors do go through 11 Sundays of training before they begin.)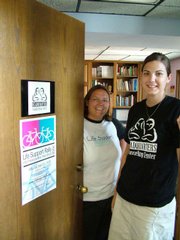 One thing that hits home, counselor Meredith says, is that all you can do is do what you can-a lesson we all know but often forget.
"You do get hung up on," says Meredith, a KU senior in sociology and psychology. "It happens. It comes with the job. What I try to do is do the best while I'm on the phone with them, and when the call's over I know that I did everything that I could and I was as supportive as I could be."
Alana says, "At first, when you get off the phone you kind of feel responsible for their actions. But you can't be responsible for anyone's actions but your own."
There are calls that bring joy. The caller gets what he or she wanted-maybe someone who calls in hysterics hangs up thinking logically. And then there are the "regulars."
"They use us as a consistent form of support," Alana explains. "Some of us have very supportive friends, families, significant others, but when you volunteer here you find out that there are people out there that don't have literally anyone. We are their form of support in pretty much every way. A lot of the time, they have one-on-one support, like case managers or psychologists or something like that:"
Volunteer
Headquarters informational meetings
Sunday, Aug. 193-4:30 p.m. Lawrence Public Library
Wednesday, Aug. 226-7:30 p.m. Lawrence Public Library
Tuesday, Aug. 286-7:30 p.m. at Central National Bank (31st and Nieder)
More info:785-841-2345www.hqcc.lawrence.ks.us
But to call and have someone who is not paid to help, who's doing it because they choose to, is something else.
"You get off the phone with someone who just called to get themselves through an extreme allergic reaction, or they just called to get through leaving their house for the day," Alana says. "Things that we take for granted every single day. You get off the phone with someone that calls who needs your support because they're trying to do some self-care stuff like take a shower, wash their hair, brush their teeth. It's just amazing, not only the impact you can make on them, but just the struggles that people face every day."
And for the counselors it breathes fresh life into that old piece of advice: Think about how the "little things you do" affect people. Because they hear about the effects. Which, believe it or not, are real.
"It's changed my outlook on life, pretty much," Meredith says. "You do learn not to take things for granted. It's a real humanizing experience. : I definitely communicate with people a little bit differently-knowing what people need at that moment."