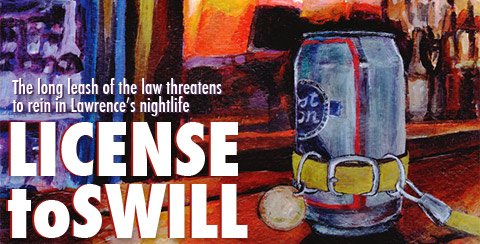 When wielded skillfully, the words "public safety," as every good politician knows, can be a mighty tool.
Those words can lead a country to war, protect citizens from each other (smoking ban), or from themselves (seatbelts), or, in the hopes of at least some Lawrence city commissioners, give the city the power to shut down nightclubs.
In the latter case, the public safety outcry occurred more than a year ago following a couple of nighttime shootings-one man was killed and another wounded outside the Granada and, later, seven shots were fired inside Last Call.
At the time, it seemed like undesirable trend was forming on the streets of Lawrence. Guns, fights, violence, shady characters wandering around looking for trouble, cats and dogs living together-you know, mass chaos. Something had to be done.
And then Father Time stepped in-months passed without an incident that aroused similar public fear, and the problem gradually seemed less urgent.
Meanwhile, the city plugged away at potential solutions to the perceived problem. After much debate, the proposals most seriously considered have been:
¢ Entertainment venue licenses: these would be needed for places that hold "entertainment," including concerts, dancing, or listening to a DJ; if revoked, the venue could no longer hold entertainment.
¢ Special use permits: these would be required for all establishments that sell liquor or beer consumed on the premises; if revoked, the establishment would be shut down in its current capacity.
And the latest idea, as proposed by Commissioner Mike Amyx:
¢ "Disorderly business" regulation: Much like the city's current disorderly house ordinance, which keeps track of how many times police officers respond to violations at a particular address. Locations that have a high number of calls can be labeled "disorderly," which requires the owner to attend an abatement conference with a city attorney. If that doesn't solve the problems, the city can file suit against the property in Municipal Court. The court can assess fines or order the utilities to be disconnected.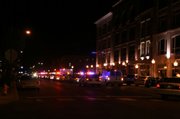 At their Aug. 14 meeting, commissioners seemed to back off the first two proposals, instead favoring Amyx's. (Check out the Lawrence Journal-World's Aug. 15 story "City to explore regulating bars on 'disorderly business' basis" for more about Amyx's proposal and to read the various reader comments related the issue.)
"I have some concerns about putting the fate of businesses in the hands of elected officials who sometimes may be trying to make a political statement by revoking a license," Mayor Sue Hack said.
Commissioners plan to further discuss Amyx's proposal in early September.
Last call
City commissioners have promised that whatever new regulation they implement would have little affect on well-behaved clubs. However, it's still possible they could present a fundamental change to the responsibilities of all club owners. They might have to answer to incidents that happen outside their clubs, such as murder, drug dealing, rape, vandalism and prostitution.
The latest entertainment venue license draft includes a point system for determining whether a club's license would be suspended or revoked. A murder, rape or kidnapping would automatically constitute a hearing, while it would take 10 lesser offenses over a year, such as weapon possession or battery, for a hearing.
"We've had difficulties convincing owners that they have responsibilities for their patrons' actions beyond their venue," Hack says. "That doesn't mean for the next three days or anything-it certainly is contained within the proximity. But we've had some problems convincing owners and operators of that. We are put in a position where we really don't have much of a choice."
But Jeff Fortier, owner of the Gaslight Tavern, questions the fairness of holding clubs responsible for "attracting the wrong crowd."
In a Pennsylvania court case that Lawrence staff attorney Scott Miller cited as evidence that an entertainment venue license could withstand legal scrutiny, the court justified a similar law by stating that a restaurant "attracted these persons whose conduct so mortified and disgusted the residents of this neighborhood."
"Because they're bringing a certain kind of clientele?" Fortier asks. "What exactly does that mean? We all know what it means: There's black people hanging out in the Bottleneck's and Borders' parking lot (next to Last Call). That's what it means. We all know it. It's not a secret or something."
'A safety problem, not a race problem'
Miller, who drafted the entertainment venue license proposal, says the city would look at the "complete picture" of a club's impact on its surroundings before deciding whether to shut it down. But determining a fair way to do so is "without any doubt the thorniest issue," he wrote in a staff memo.
The two problem spots Hack mentions specifically-though by address rather than by name-are Last Call and Club Axis. Both clubs are frequented by racial minorities.
Fortier says sardonically: "Lawrence is a pretty white town. Let's face it: Do you really want a bunch of black people from Topeka and Kansas City coming to whiteyville? You don't. That's why you're coming up with these laws. End of story."
Hack adamantly denies racism on the part of the city. It's a safety problem, she says, not a race problem.
"That goes against everything that I stand for, personally, and goes against what our staff stands for," she says. "That's a red herring and it's absolutely not true."
Scared?
What angers Bottleneck owner Brett Mosiman is that the city arrived at this potentially broad measure because it hasn't found another way to shut down Last Call, whatever its reasons.
"Everybody in Lawrence has the exact same consensus," he says, "that this is a singular problem with a singular business, and they want to treat it with a nuclear bomb."
Mosiman wonders-in rather cartoon-like fashion-what lengths clubs would go to in order to protect their licenses by keeping bad things from happening outside their doors.
"Do you really want to create a posse of vigilantes who are scared for their livelihood, that can run around tackling people in the streets of Lawrence because they flicked a cigarette butt or whatever?" he says. "It is, I believe, the most incredible overreaction and a very, very scary power grab."
Commissioners say it's not scary; it's necessary. Their point is that the city, which likely has a better grasp than the state on which clubs are causing problems, needs regulatory teeth.
Commissioner Boog Highberger says the law would need to be narrowly tailored as to not place a burden on places that don't cause problems, but he says the issue of downtown gun incidents has become too big to ignore.
"People worry about whatever we do negatively impacting the music scene of Lawrence," he says. "I think if we don't do something, if we have more gun incidents, that's got a bigger chance of killing the music scene."
Lawrence Weapon Law Violations
Source: Lawrence Police Department
1999 - 602000 - 532001 - 452002 - 602003 - 462004 - 392005 - 682006 - 762007* - 17
* through march 31
But local promoter Jacki Becker, owner of Eleven Productions, says the idea that people are scared to come downtown at night isn't true.
"You're asking me if I think concertgoers are scared to go downtown?" she says. "I've been living in Lawrence for almost 20 years now. I've been promoting and working in the music industry in downtown Lawrence since I was in college, since the early '90s, and I've never felt scared in downtown Lawrence."
While she says gun incidents haven't hurt concert turnout, she says that if the city wanted to do something, it should add more police rather than new legislation.
City Manager Dave Corliss says he'd like to add more police too, but the city simply cannot afford it.
"The entire community needs more law enforcement," he says. "Not just downtown. The establishments need to do a better job themselves in running a safe environment, and we need the right regulatory tools to respond to the ones that don't."
Other proposals city staff have submitted to the Commission focus on enforcement, such as installing cameras downtown and encouraging bars and clubs to institute a "pubwatch" system in which known troublemakers are banned from all participating establishments.
While such proposals are still on the table, Hack says a legislative solution-she's in favor of a special use permit-is needed the most.
Check out this City of Lawrence memorandum, where you will find Ordinance 8077, which establishes entertainment venue licensing in the City of Lawrence.
"Those folks who continue to take care of their patrons and their property will have no problems at all," she says. "But those that don't will encounter some difficulties."
Stay tuned:
City Commission meetings are open to the public and held on Tuesday evenings at 6:35 p.m. on the first floor of City Hall near Sixth and Mass. streets (meetings on the fifth Tuesday of the month usually are cancelled).
More information on the Commission, including agendas and minutes at: http://www.ci.lawrence.ks.us/meetinginfo.shtml
More like this story on Lawrence.com