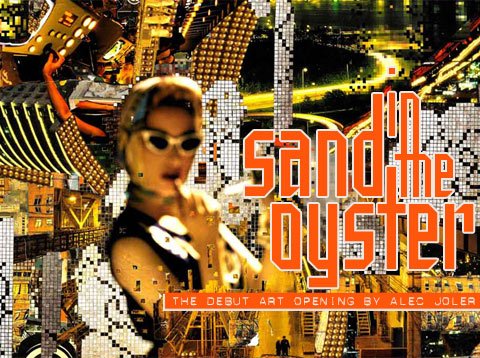 The images of your day are pearls to Alec Joler.
"I really like the idea of found imagery and assembling different things," Joler explains, setting up a theme to his varied visual work.
"I find all these little pearls. You know, this one will line up with that one, and how will they all relate, composition-wise? That really appeals to me. Creating a story from disparate elements that don't have the same meaning as they'd have alone."
Joler, best known around town as the filmmaker behind the LEGO capers "Fast Forward" and "Fast Forward II," will debut his 2-D work at the Blue Dot salon's premiere art exhibition. Included in the show will be his collage work, movie shorts, paintings, comics, prints, drawings, and a trailer for his first feature-length film now on the indie festival circuit.
In other words, he's letting it all (creatively) hang out: "Basically, I'm going to raid my place and cover every surface I can," he says.
Although a hair salon is not the traditional venue for art exhibits, alternatives are the next step in a land suddenly left with a dearth of galleries. There may be a commercial slump in the local market, but art does happen and it won't hold back.
"I mentioned to my friend Ames, who owns the Blue Dot, that I was looking for a place to show my artwork," Joler said. "She'd actually had the idea percolating for a little while to use Blue Dot as a viable venue for artists. She's very supportive and gung-ho about it."
Photo Gallery
Alec Joler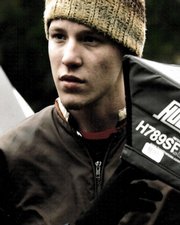 Despite Joler's prolific adventures with artistic media, there is no doubt the guy is a filmmaker at his core. His conversation, his history, his eye: metaphors and back stories use film terms and techniques; explanations veer toward this or that film project. Even his hands illustrate an action or a frame as he describes a mood he's exploring. Clearly, when he's looking down the sweltering August street through those dark sunglasses, he's seeing the view differently than most people.
Perhaps his collage and paintings sprout more easily from this filmmaking aesthetic, his visual fecundity fed by his time at the California College of Arts in Oakland.
"It was an art school, and I was the only one making narrative, Hollywood-style films," he said. "Everybody else was making these art films. But it was a cool environment to be in because I got exposed to so many different things."
Joler refracts collage's ripe abstraction against his personal love of science fiction ("not Trekkie") and futurism. "Venigma," a mixed media collage, combines the disparate images of Barbie-type dolls, hazmat-suited men, and suave, cheesy romance into a creepy, voyeuristic narrative. Men photograph and discuss the naked dolls while the low-brow self-help observation that men are from Mars and women are from Venus alludes to a future where, despite our advances, the primordial mystery between the sexes still motivates.
"I'm really good at knowing a scene I want to get across as far as mood, atmosphere," Joler explains.
"Woman Tree" shows his handling of mood. Set against "Venigma," "Woman Tree" is a more gentle, intimate portrait of a woman in prayer, her hair bound as tree roots bursting leaves and branches into the sky. "The illustration is silently contemplative, lacking the sharp edges that cut through "Venigma" and "kmfdmgreek."
Also part of the exhibition will be a trailer for Joler's first feature-length film, now courting the independent festival circuit. "Suspension," based on a short story by former classmate and former Lawrencian Ethan Shaftel (screenplay by Aris Blevins), follows the hell endured by a man who develops the ability to stop time. Cast and filmed in the Lawrence area, Joler served as cinematographer and co-director.
"It's definitely multi-genre. I'd classify it as a sci-fi stalker thriller," he explained. (Film festival requirements stipulate that he cannot show the film in its entirety until there has been a regional debut.)
Past Event
Friday, August 24, 2007, 7 p.m. to midnight
(One-off place), Lawrence
All ages / Free
Then of course-even though the conversation is his visual art, and his exhibition, and all that jazz-the inevitable question slides in: Why is a filmmaker living in Kansas?
"If I lived there," Joler says, waving lazily toward the west, "it's like I'd just be like another cog in the machine of all that Hollywood crap. I'd rather work on my art."