You might think that with a comedy titled "Death at a Funeral," (**) part of the fun would be trying to guess exactly who is going to die and when. Instead, this British farce becomes nothing more than a waiting game, trying to determine just when all the elaborate set-ups for multiple characters are going to start paying off. When the zany climax finally comes, it is too little too late.
Frank Oz ("Bowfinger," "The Score") directs a mostly UK-based cast in the movie, which is an uncomfortable marriage of rude modern American offerings and a traditional British comedy of manners. Like any good farce, there are plenty of stock characters coming together in one place and a scandal that threatens to upset the social balance. Rather than concentrating on clever social satire, however, we are treated to a naked man on hallucinogenic drugs and an old man's feces sprayed on someone's face.
It is easy to feel sympathy for Daniel, played with a good amount of exasperation and quiet dignity by Matthew Macfayden. He is in charge of the funeral at his parents' house in the country, and when the caretaker brings the wrong casket, it is merely the beginning of his troubles. As a goofy extended family descends upon the somber affair, Daniel must also confront his novelist brother Robert (Rupert Everett) about helping to pay for everything.
Oz rapidly cuts back and forth between each separate family struggle to keep things moving at a brisk pace, but lots of jokes fall flat in the process, making it very uneven. As familiar as most of the situations are, at first they hold promise. For example, a frazzled hypochondriac (Andy Nyman) must get a demanding old coot (Peter Vaughan) to the funeral. Unfortunately the comic hi-jinks end up involving nothing more than a lot of sweating and yelling, with another dose of unflattering nudity.
Movie
Death at a Funeral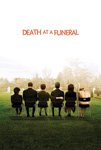 A dysfunctional British family gathers for the patriarch's funeral. Tensions rise, old conflicts are uncovered and, when a man arrives saying he's the dead man's gay lover, drastic measures are taken. For those in need of a splash of bathroom humor, this well-crafted British farce is just what the doctor, or the mortician, ordered.
Alan Tudyk has a couple inspired moments after his uptight character takes an accidental dosage of drugs, but is relied on entirely too much. Anytime the film begins to drag, Oz goes back to the "crazy" well. It is a one-note joke that Tudyk just cannot maintain throughout the entire movie. Likewise, Peter Dinklage displays some good comic timing as a diminutive blackmailer whose presence brings on some absurd behavior, and, lucky for him, the biggest laugh of the movie.
When "Death at a Funeral" is not overusing the same kind of gag, it is telegraphing the joke a mile away, like the wannabe Casanova (Ewan Bremmer) who is fighting for attention from his ex-girlfriend (Daisy Donavan). A punchline finally comes to this plot thread, but it's so obvious that it barely registers. A subplot with sleazy Robert and a young female family member who's all grown up goes nowhere as well.
In a successful comedy of manners, the screenwriter and director are supposed to build the carefully-laid plot to a frenzied fever pitch. Between Dean Craig's lackluster script and Oz's tepid direction, its gait never gets beyond that of an elderly mallwalker.