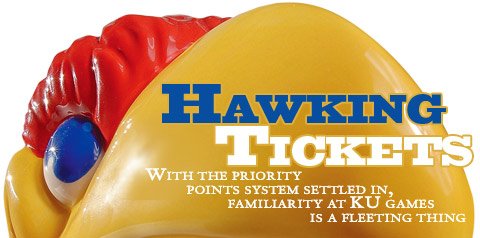 Through the windows of this country house north of town, the boiling sun shines down upon the relics.
By the front door, to our left is a letterman's jacket worn by David Shirk, captain of the 1938 Jayhawk football team. He played end (both offensive and defensive).
To our right is the radiator under which once rolled a wedding ring dropped from the small hand of a 5-year-old flower girl, Margaret. The officiant, who happened to be the inventor of basketball and a dear family friend, bent down for the ring, patted Margaret on the head, and proceeded with her aunt's ceremony, cool as rain.
Here, in the dining room, are the captain and the flower girl-David Shirk, 91, and Margaret Shirk, 90. Margaret offers a Coke and a sandwich. David makes ornery little comments and Margaret tells him to stop. They are springy as chickens.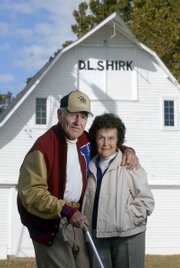 Margaret has brought over two framed portraits to show us. One is of James Naismith, inscribed: "To Dave Shirk, a noted athlete, a splendid gentleman and a true friend." The other is of Forrest C. "Phog" Allen, who wrote: "To Dave Shirk - a great athlete and a prince of a fellow."
The Shirks' KU, understand, is one where the past and the present interweave. Where Dr. Naismith and Dr. Allen are real people rather than statues, while Raef LaFrentz is a kind boy who left his purple car at their place for a year after going pro, and the Hinrichs are wonderful people who invite you to their daughter's wedding.
Where Jim Ryun used to pick apples from a tree as he ran by the house and where David may be the oldest letterman to still attend about every KU basketball game (they've had season tickets for basketball since 1940 and for football until a couple years ago after David broke his leg).
But there has been a change, that change, the one that sent them from the third row of Allen Fieldhouse to the upper deck. They prefer to talk about how courteously they were treated by Naismith, Allen and the rest.
Impalpable
Now that enough time has passed since the redistribution of KU sports tickets for the complaints to subside and the system to simply become the way things are, it is difficult to measure the change, as it is invisible to the naked eye.
The stands remain raucous, booming and blue. A good mix of students, families and old-timers fill them as much as ever for basketball. And more than ever for football.
At basketball games students still distract the opponent's free throw shooters and yell "No!" when the public-address announcer asks if Gatorade is in them. At football games they still wave the wheat, taunt the opponent's bench and (lately) tear down the goalposts at the slightest opportunity.
The people with the money for the freed-up seats are happy. And the athletic department's Williams Fund has more than doubled its annual rakings.
KU basketball is strong and football has been injected with life again, and with the new football practice facility being constructed and more money being pumped into the athletics department, who's to say KU isn't on track to becoming an all-round sports powerhouse?
But something is gone. And when some things are gone, man, they are gone. Over the many years that seats were sold in the traditional way, pockets of community developed organically within.
From the 16th row of the 25-yard-line in Memorial Stadium and the third row in Allen Fieldhouse, the Shirks got to know their neighbors well, and for years had them over to their house before or after games. They don't see those people as much anymore.
Williams Educational Fund Priority Points System Formula
1 pointper account for every $100 donated to KUAC/Kansas Athletics beginning July 1, 1978.
2 pointsper account, per sport, per year, for purchasing non-football season tickets, beginning fall of 1984.
1 pointper account for every football season ticket purchased per year, beginning fall of 1984.
5 pointsper full-priced reserved football season ticket purchased up to four (20 points), 1 point for every ticket thereafter, beginning fall 2004.
2 pointsper account for every year of donating to the Williams Educational Fund since 1978 (must meet minimum membership requirements).
1 pointfor each year of employment with the University of Kansas.
10 pointsif attended the University of Kansas.
10 pointsper account if member of Chancellor's Club.
10 pointsper account if member of KU Alumni Association.
10 pointsif member of K-Club, former KU student athletes.
1 bonus pointper account per $100 gift to Kansas Athletics (current giving cycle only).
Source: Kansas Athletics
When the deck was shuffled and tickets were redistributed-based primarily on donations to KU athletics-the Shirks joined those citizens of the old guard who were unwilling or unable to fork over more money to keep their seats and were dispersed.
As the athletics department sees it, the system opens up seats to everybody. Anyone, indiscriminately, can sit anywhere, as long as they donate enough money. And why don't big-time donors deserve prime seats? After all, they are the ones paying for much of the new football practice facility, for instance, which may in turn help draw more talented players to the team.
Before the points system, a donor and longtime supporter could be stuck behind people who were lucky enough to land prime seats somewhere along the line and wouldn't give them up.
"There were a lot of people in the past who have had tickets for the same amount of time those people have had it, and they never had a chance to sit down in the fourth row," says Jim Marchiony, KU associate athletics director.
"How fair was that? Why shouldn't they be able to sit in the fourth row if they donate money? I don't see the logic there."
'To the highest bidder'
At the core of local attorney Bill Skepnek's objection is the question of the fairness of mixing capitalism with public resources.
"I'm a bit too much of a populist, perhaps, to agree that public property should be sold to the highest bidder," he says.
"And that's what's happening with points. It's the seats in the Fieldhouse-who owns the Fieldhouse? Seats in the stadium-who owns the stadium? The people of Kansas own the Fieldhouse and own the stadium. And we're selling it off to the highest bidder."
Skepnek has manifold ties to KU: He played defensive tackle from 1970-1973, leads a western civilization discussion course for honors students and is defending Joe-College.com against KU Athletic Corporation in a trademark lawsuit.
He had season football and basketball tickets for 16 years before giving them up in protest of the points system. Yet he still goes to every football game.
Audio clips
Lawrence attorney and former KU football player Bill Skepnek
"I refuse to give any money to the Williams Fund," he says in his law office on Mass. Street, his battered football helmet resting in the corner. "I refuse to have any points, and I don't have any points. I have two tickets now that I buy through somebody else, who has points. So I'm somewhat hypocritical; I haven't been able to totally wean myself away from it."
Still there
Many longtime fans have not been pushed aside by the points system. Take Don J. Kallos and his family's American dream story.
His parents were Greek immigrants, and after sending Don's older brother to college, his father realized he wouldn't be able to send his other son and two daughters on a shoemaker's salary. So he took a risk and opened up a diner in their hometown of Horton. Don and his sisters worked hard in it and made enough money to get to KU.
He attended his first KU football game while in junior high in 1947, at band day. (KU beat South Dakota State 86-6, and the team record for most points in a game still stands.)
He joined the KU band as a freshman in 1952, playing clarinet in the pep band at football and basketball games. He played at Allen Fieldhouse the day it opened, and started buying season tickets for football and basketball a few years after finishing school.
KU Football
Kallos' older brother, Gregory, is wealthy enough, and a big enough donor to the Williams Fund, that Don got to keep his prime seats in his brother's name-about 25 rows above the 45-yard-line for football and in the lower level for basketball.
He doesn't complain about the seats. But he says that while he used to feel like he was part of a tight-knit community, now he's just a spectator surrounded by strangers, a nameless face in a flood of them.
"(Athletics Director Lew Perkins) had a job to do, and he did raise a lot of money," he says. "And I salute him for that. : But he hurt a lot of Jayhawk faithful deeply."
"I'll admit, there were some people (before) that weren't even paying into the Williams Fund. If that's the requirement, that you've got to belong to get priority:but they have these levels, and eventually the corporate money gets into everything. That's what's sort of ruined sports as far as I'm concerned."
Jayhawk 'til I die
David Shirk still wears his letter jacket, the one resting by the front door, to a few games every year.
The strangers who now surround Margaret and him at the Fieldhouse think this old man in the letter jacket is a pretty peculiar thing. David grins as he mentions this, saying, "They make fun of the fact that I'm an old guy."
KU Basketball
They still pin the new KU basketball poster schedule on a board by their back door every season. David still watches every game on tape two or three times after seeing it in person, as he's done since the VCR came out.
They are not bitter, but Margaret questions whether the new money will dry up if KU sports ever goes in the tank.
"If we ever have a losing team," she says, "it's gonna be a bad thing. Real bad."
The Shirks, God willing, will still be there.