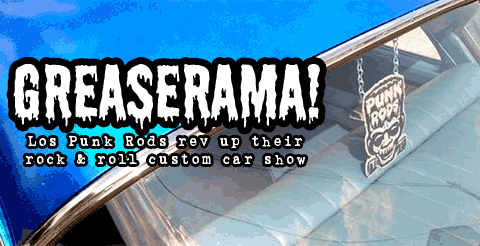 The pomade-slathered grease monkeys "Los Punk Rods" were conceived in a North Lawrence garage in 1999. Back in the day, this informal cabal of custom car gearheads would show off their handmade hot rods to like-minded modders at intimate picnics in Burcham Park, knocking back beers and enjoying some rockabilly tunes.
These lazy Sunday exhibitions were eventually souped up into the annual fuel-injected beast known as "Greaserama." Todd Karnahan, known by some as "Punk Rod Todd" and founder of the club which bears his soubriquet, describes "Greaserama" as "a rod and custom show, and sort of a custom culture festival. It's all geared toward home-built, low-buck and traditional nostalgia type hot rods and motorcycles."
For the second year in a row, "Greaserama" will be held at the Boulevard Drive-In in Kansas City, where movies will be screened and live music will be blared to supplement a lot full of monster machines. Karnahan joined us to talk about punks, pistons and pomades.
Podcast episode
The pomade-slathered grease monkey club known as "Los Punk Rods" were conceived in a North Lawrence garage in 1999. Back in the day, this informal cabal of custom car gearheads would show off their handmade hot rods to like-minded modders at intimate picnics in Burcham Park, knocking back beers and ...
No-fi highlights from the podcast
lawrence.com: Except for when they have loin-clothed barbarians airbrushed on the side or have half-naked women spread-eagle on their hoods, can cars really be considered art?
Karnahan: Very much so. They're more like a craft, really. The thing about the whole automotive form of expression-and especially this so-called "custom culture"-is that it's functional art. It's very working class. Working-class people don't have that luxury of just "art for art's sake." They have to express themselves with something that is usable, you know? For me to use that much of my energy and time and money on something that is just for aesthetics? I have to be able to drive it to work as well.
Who are "Los Punk Rods?"
A car club-I started it to encourage my friends and I to feed off of each others' creativity and enthusiasm about our cars. Back in the '50s and '60s it was a real big part of the culture-a bunch of guys who had a logo and jackets, and in a car club they had a purpose. Whereas other guys with a logo and jacket, they just hung out on street corners and stole hubcaps and shit like that. The guys in car clubs either worked on their cars or volunteered at the drag strip. We just wanted to continue that tradition, but with our own cultural influences added. "Punk Rods" is taken from an episode of "The Munsters," where Herman hops up the family car and takes it to the drag strip. He comes home all decked up like a hood with a leather jacket that says "The Punk Rods" on it. That whole monster thing and '60s kitsch, and to a lesser extent psychedelic and garage rock from the pre-hippie era, that's what we grew up looking at.
Past Event
Sunday, September 2, 2007, 2 p.m. to 2 a.m.
Boulevard Drive-In Theatre, 1051 Merriam Lane, Kansas City, KS
All ages / $10 - $25
What's your background in the '80s hardcore punk scene?
Most of us are old punk rockers. A lot of us have put on shows in the past and performed in bands, put out zines or whatever. I jumped around a lot from California to Kansas growing up. I was at the Outhouse for its first punk show: and I saw a lot of gigs in Los Angeles. I carry that whole "do it yourself" ethic. That's what punk rock is all about. Why not do it yourself? Punk rock really shaped my attitude-there's no rules. You see that a lot in the ways people are building these cars. There are no rules and it's really freeing and there's a lot of creativity. I think that's a direct result.
Past Event
Saturday, September 1, 2007, 9 p.m.
Record Bar, 1020 Westport Road, Kansas City, MO
Not available
"Greaser" sounds like a fart gone wrong-what's the appeal of this particular '50s subculture?
That working class, bad boy, free spirit ethic. A greaser is a guy who's not afraid of getting his hands dirty. He generally listens to cool music and doesn't have aspirations for a white collar, 9 to 5 type of thing. The image I always conjured up was a guy with a few tattoos, greasy hair, engineer's boots, a leather jacket and who liked to mess around with cars and get into fights.
Speaking of which, would I get my ass kicked if I were to call you or any of the other Punk Rods "Pony Boy" or "Fonzie"?
That's something in the vernacular that everyone kind of jokes about. My little pet derogatory name for rockabilly purist types is "Potsie Rocker." When I was 16, I moved to Wichita from Hollywood. People in Wichita had no f*cking idea. They had never seen a kid with a leather jacket, greasy spiked hair and engineer's boots. Their granddads dressed like that and they called me "Fonzie." That was pretty annoying.
Should people try to recreate the authentic '50s drive-in experience by sneaking in booze and extra people in their trunks?
It'll be kind of a drag for the people in the trunk, because it begins in the afternoon and it's pretty warm on Memorial Day weekend. I wouldn't recommend it. And of course we want people to support the show by paying. It'll blow your f*cking mind. It's nothing like any car show you've seen before. You'll be very surprised. It's got a very anarchistic vibe.