Photo Gallery
Style Scout: Britt Herman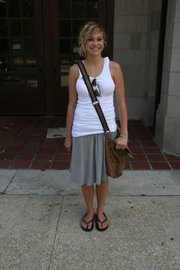 Britt Herman
Hometown: Quincy, Ill.
Age: 18
Time in Lawrence: 1 week, just moved here for school
Occupation and/or major: Interior Design
What were you doing when scouted?
I was drawing a picture for my art class, which I have no experience in. We have to draw a map of Lawrence. It's going to be a challenge, but it's cool, because I've never really done anything like this.
Favorite clothing store?
Urban Outfitters. Because they have a unique style of clothing. You can be more artistic with it. I also like Anthropologie because they also have unique clothes.
How often do you go shopping each month?
I probably only go shopping every two months or so. I usually spend $300-500 at one time rather than spread it out and shop every month. My weakness is high heel shoes.
How would you describe your style?
I dress how I feel. Like, if I'm tired and lazy I wear my sweats, but I like to dress up to go out. Cas' for everyday wear; I'm definitely not afraid to wear sweatpants.
What does your style tell strangers about you?
It tells people I'm approachable. I don't dress in all black or anything, so I'm approachable. I'm very casual, but I also have a uniqueness. I'm not like everyone else. I'm not afraid to mix patterns-there's no limit to my style.
How early do you get up? How much time do you spend getting ready?
It doesn't take me very long to get ready. I get up probably a half hour to an hour before I have to leave to be somewhere.
Favorite trend for this season? Least favorite trend right now?
Layering clothes in different colors for the fall. I don't like leggings-everyone does it. They're cute, but everyone does it, it's too much.
Who cuts your hair?
I do it in my hometown at a place called Christopher. Christopher is actually the person who cuts my hair. He's been cutting my hair forever, so I trust him and let him do whatever he wants.
Favorite coffee shop?
I haven't had a chance to explore Lawrence yet, but I love coffee, so I'll probably find something downtown.
Favorite bar?
Well, I've only been to one: The Crossing; it's pretty interesting. If I had to describe it to a friend back home I'd describe it as very crowded, loud and you're free to do whatever you want.
Is there anything you'd like to see more of in Lawrence? Less of?
More concerts. There's tons of them, but I love them. I've seen John Mayer twice already, but he's amazing. I'd love to see him play downtown. Less of? I don't know, less crime maybe? (Laughs)
Tell us a secret.
I'm enrolled in all drawing and design classes, but I've never drawn before in my life.