Photo Gallery
Style Scout: Val Torres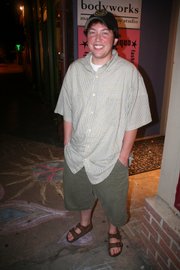 Val Torres
Hometown: Lawrence, KS
Age: 27
Time in Lawrence: 10 years
Occupation and/or major: Head Peon and Line Cook at restaurant
What were you doing when scouted?
Headed to Henry's Upstairs. I am taking birthday shots with a fellow Leo friend; we were both born on the 21st of August.
Tattoos? Piercings? Where? When/where/why done?
I have a D on my shoulder for an ex-girlfriend. The funny thing is that she has a V tattoo, so when we were together we were "VD." I also have a cross on my ankle from when I found my faith slipping and now it's totally gone.
Favorite clothing store?
I don't know, 'cause it's been so long. I guess Wal-Mart because I've bought a lot of socks and underwear recently. And that makes me fashionable.
How often do you go shopping each month? How much do you spend on your look each month?
I spend zero dollars. No, see I really like my hair, so I probably spend $15 on my hair every month. I don't even remember the last time I went shopping.
Why? I'm saving up money for my surgery. I'm a transguy; I'm saving money for chest surgery.
When's the surgery? Whenever I get the money.
How would you describe your style?
I don't know, I'm not fashion-wise. Seriously, the way I pick out shirts is whether or not it will cover up my chest.
What does your style tell strangers about you?
I always try to be sharp. I always want to look like I haven't just rolled out of bed. I want to look put together. I pressed this shirt to wear to my cousin's wedding and it was still pressed and hanging in my closet. It was still clean. I don't know if that's a guy thing or an everybody thing. I wore it today because I was filling out applications.
How early do you get up? How much time do you spend getting ready?
15 minutes 'cause I go straight to work and I don't care how I look when I go to work. But, when I'm getting ready to go out, it takes me 30 minutes or 45 minutes if I'm really unprepared and don't have any clean clothes to go out.
Favorite trend for this season? Least favorite trend right now?
Fuck trends. 'Cause, and this is my pessimistic side coming out, the majority of people, wait, that's really pessimistic, I'm going to sound like an asshole:OK, I dislike people judging people by their looks. So, F*ck trends!
Where do you get your hair cut, and why do you go there?
This last haircut I went to The Hair Cut because I heard they were a nicer place to go. I don't remember who cut my hair, but I'd go there again.
Favorite coffee shop in Lawrence, and why do you go there?
I'm not a big fan of coffeeshops, but when I go it's Henry's. Well, it's not that I'm not a big fan of coffeeshops, it's just that I'm a hermit. But, the people I hang out with like to go to Henry's and I'll get coffee anywhere. I don't like fancy coffee. Well, I don't like paying for fancy coffee.
Favorite bar in Lawrence, and why do you go there?
I guess the bar I usually go to is Henry's. Before that, it was Stu's because one of my friends worked there. I like Henry's because they're trans friendly, they have gay Tuesdays, and they have gender neutral bathrooms.
Is there anything you'd like to see more of in Lawrence? Less of?
I would like to see more nice restaurants. You have to go all the way out to downtown Kansas City to go to a nice restaurant. Well, that's not entirely true, but I'd just like to see more nice restaurants here. Less small-mindedness, even in Lawrence, you know? And college students. College students annoy the shit out of me, but without college students there would be no Lawrence, so it wouldn't be the same.
Tell us a secret:
I already told you one. One's enough.