Cilantro Eggplant Pizza
With Alexander Schorn, 23, student, Lawrence.
1 eggplant, 3" diameter, cut and peeled into four 1/2" slices
2 tbsp olive oil
1/2 tsp salt
1/2 tsp ground black pepper
1/4 cup marinara sauce
fresh mozzarella
fresh cilantro
1.Brush eggplant slices with olive oil and sprinkle with salt and pepper. Bake at 425 degrees or lightly fry slices on medium high heat until tender, but slightly crispy at the edges.
2. Spread a thin layer of marinara on each slice. Top with cubed mozzarella and shredded cilantro. Serve warm.
lawrence.com: How often do you get a chance to cook at home?
"Every other night. I spend most of my time cooking a large meal after work. I like things that have as much fresh produce as possible, but also things that are easy, and don't take up a lot of time. Freshness is a sorta big deal to me. And it's cheaper."
Do you think fresh food is overlooked?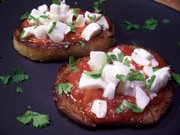 "Yeah, because there's a lot of microwavable things available at the grocery store. But those can be expensive, and it's cheaper for me to buy tons of fresh produce. I've learned to mix produce with a lot of different ingredients, and it can be as easy as tossing some diced potatoes into the toaster oven."
What do you like about this recipe?
"It's super fresh, easy and quick to make. It's delicious and, I'm not really sure, but it's probably good for me. It honestly takes about 15 minutes to make, and you only have to chop one thing. Plus you can play around with all kinds of different ingredients. Suck on that, Rachael Ray."
More like this story on Lawrence.com