Asia L. Nice, sociology and Spanish student, hobbyist of "love and wisdom"
How do you save money?
"I consistently buy this same bottle of wine, Alianca Foral, and it always costs $8 including tax. I think it's the only Portuguese wine you can get in town for under $10. I've traversed all the liquor stores in town and you can only find it at Mom & Pops. I also saved money by participating in 'Buy Nothing Day.' I'm not much of a consumer. Every day is 'Buy Nothing Day' for me-my mantra is 'Buy Nothing.' As such, I go to the library as much as possible to save money."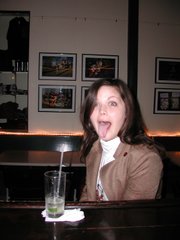 What do you splurge on?
"I recently bought an out-of-print edition of poetry for $90. I like to collect rare and old books. I'll also splurge on plane tickets for traveling. If the mood strikes, I'll invest in a more expensive bottle of wine."
More like this story on Lawrence.com