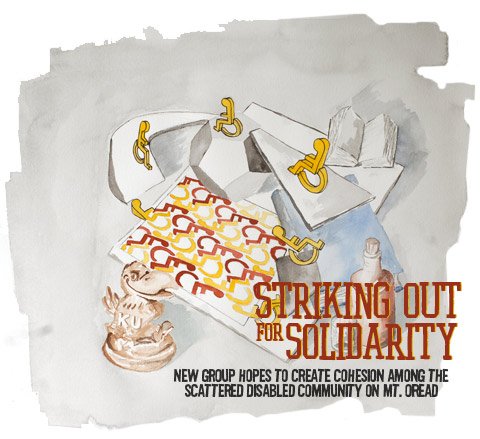 "Whatever the social setting and whatever the disability, people with disabilities share a common experience of social oppression."
- disability historian Paul Longmore, quoted on the UC-Berkeley website on the disability rights and independent living movement
It's hard to force change when you're a minority of five. When you compose 0.019 percent of the student body at KU.
Five = the number of students last year who reported having mobility issues. No wonder it took until this year-17 years after the Americans with Disabilities Act (ADA) guaranteed their rights-for KU to buy a few buses equipped with lifts.
"For other oppressed groups, a situation like this is called separate and unequal. For students with disabilities at the University, it is called 'not enough funds,'" KU graduate student and wheelchair user Dot Nary wrote in a letter to the The University Daily Kansan a couple years ago in an effort to lobby for the new buses.
That number-five-makes other minority groups at KU look robust by comparison. There were 902 African American students, for instance, last year, and 906 Latinos (each comprising just 3.4 percent of the student body).
Perhaps this is why it wasn't until the mid-'70s that the doors of KU were cracked open for people with mobile disabilities. This was when Roger Williams, a wheelchair user, sued the university at a time when nearly all of campus was inaccessible. And today, 17 years after the Americans with Disabilities Act (ADA) guaranteed equal opportunity on paper, opportunity is far from equal in practice.
Working with a disability
AbleHawks presidentRachel Magariodemonstrates hertechnique.
View audio slideshow
***
Sitting behind a closed-circuit TV at her desk in Strong Hall, Marla Herron describes her experience of coming to KU in the early '90s.
KU didn't have a machine that would allow her to read in large print, like to the one on her desk, so it was up to her professors and her to figure out how she'd take tests-often resulting in the tedious process the having somebody read it aloud.
Herron, who is associate registrar and a graduate student and is visually impaired, says the problem isn't that bureaucratic institutions don't want to accommodate those with disabilities, it's that the accommodations are often complicated and aren't in the forefront of many people's minds.
Last year marked the first time she could vote on her own, when Douglas County purchased federally mandated audio voting machines. Before that, she'd had to cram into the voting booth with her husband and have him read the ballot aloud and fill it out for her.
The trouble for her is the same as for the students who needed accessible buses. When you're a mega-minority, it's hard to get what you want. Last year the Disabilities Resources office reported 17 blind or visually impaired students at KU.
This is why Herron and her friend Dot Nary, a graduate student in behavioral psychology, are trying to bring all students, faculty and staff with disabilities together, for the first time, in a large-scale cohesive network. Together, they add up to larger minority.
Nary, seated across from Herron's desk, uses a wheelchair because of complications from spina bifida, an incomplete closure of the spinal column. She explains the need for a network of peers, saying that without the help of an adviser who also used a wheelchair, she would've hard a hard time simply learning how to get from lower campus to upper campus.
"The average person would get lost," she says. "There's not a common repository of information that would be of interest to people with disabilities and a way to share that information easily."
***
At last week's AbleHawks meeting in the Kansas Union, the handful of students who showed up included, among others, someone who's blind, someone with cerebral palsy, and two people with attention deficit hyperactivity disorder (ADHD).
The majority of the students who report disabilities at KU have ADHD-206 last year-or a learning disability-198. The total number of people who reported having disabilities last year added up to 625, although Mary Ann Rasnak, director of the Academic Achievement and Access Center at KU, estimated the number is likely closer to 1,200 because many people don't report disabilities.
AbleHawks was founded three years ago to bring people with disabilities together, similar to what Herron and Nary want to do. The problem is, this isn't a particularly easy group to corral.
"The disabilities are so different that, especially for the young people trying to deal with what they are and who they are, it's too difficult for them to find that unity," says AbleHawks president Rachel Magario. "If you're Japanese American or African American, Asian American, whatever else it is, you tend to unify in order to get your social things going. But sometimes people don't have a big social network, and that's where the weaknesses lie."
Magario, a graduate student in education technology from Santos, Brazil, is blind. She contrasts the disabled community with the Brazilian students who hang out together. With the Brazilians, a large pool of common culture makes unity natural-their distinct traditions of music, food, dance, etc. are already in place.
What people with disabilities do have in common, Magario says, is difficulty. They are united by the fact that the majority of the world wasn't designed for them.
Lorraine Cannistra, a former Independence Inc. counselor with cerebral palsy who was named Ms. Wheelchair Kansas 2007, says the greatest gains in the disability movement, particularly the landmark ADA passage of 1990, have come when people with all sorts of disabilities united. But such connections are hard to make, and harder to maintain.
"A lot of things are splintered off, which I understand," she says. "You advocate for things that will benefit you and your life. Everybody does that."
Only a handful of students, five or 10, show up at the bi-weekly AbleHawks meetings. Although this small group has made itself widely known in its three years of existence and was instrumental in lobbying for the new buses, where are the other 600 students with disabilities?
"That's one thing I wish was a lot better on campus, the openness of people with disabilities," says AbleHawks scoial chair Derek Zarda, who has ADHD. "The solidarity, if you will, of people with disabilities. It's just been absent. Forever."
KU Disability Network brown bag roundtable
When: Noon, Thursday, Dec. 6
Where: Kansas Union, Pine Room
Bring your lunch and share ideas about how to facilitate a working network for KU students, faculty and staff with disabilities and people interested in disability issues.
Websites for and about the community of people with disabilities:
***
Herron and Nary see the void of solidarity, and they aim to fill it. How to do that, of course, is gonna be the tricky part. They're holding the first meeting for the group, which they're calling the KU Disability Network, on Thursday, Dec. 6.
"I think one of the things the network can do is have a website or some type of way to post things that are new to people," Nary says. "That would be reassuring for a lot of people-'Oh, I'm not such a minority. At least I'm not a minority of one.'"
(As George Orwell wrote in 1984, "Being in a minority, even a minority of one, did not make you mad. There was truth and there was untruth, and if you clung to the truth even against the whole world, you were not mad.")
If people with disabilities can get together at KU, they hope, change will follow.
"People are surviving conditions they were born with," Nary says. "People survive accidents that they wouldn't have before. People are gonna come back from the Iraq war with injuries that in Vietnam they would have died with. There's a much larger percentage of people in society living with disabilities and needing access. It's a pretty normal occurrence now.
"We're always thinking of it as 'special' and 'different,' and the reality is, as the baby boomers age, living with a disability is gonna be quite common. We're still talking about it like it's something different, and these people are 'very special.' It really isn't, and this will help to connect people who are gonna be part of that wave."
HISTORY OF THE DISABILITY RIGHTS AND INDEPENDENCE LIVING MOVEMENT
Reprinted, courtesy of the University of California-Berkeley's website on the movement, http://bancroft.berkeley.edu/collections/drilm/ (incidentally, "The Rolling Quads," the first student group for people with disabilities, was started there in the '60s):
People with disabilities throughout history have been defined as objects of shame, fear, pity, or ridicule. Americans with disabilities have been incarcerated, sometimes for life, in state institutions and nursing homes. As recently as 1979 it was legal for some state governments to sterilize disabled persons against their will. Other laws prohibited people with certain disabilities from marrying, or even from appearing in public.
Social prejudice kept disabled children out of the public schools, and sanctioned discrimination against disabled adults in employment, housing, and public accommodations. This prejudice has been exacerbated for people of color, women, and for members of ethnic and sexual minorities. Although groups and individuals have since the nineteenth century advocated for an end to this oppression, large scale, cross-disability rights activism, encouraged by the examples of the African-American civil rights and women's rights movements, did not begin until the late 1960s.
The independent living movement has been an important part of this broader movement for disability rights. It is based on the premise that people with even the most severe disabilities should have the choice of living in the community. This can be accomplished through the creation of personal assistance services allowing an individual to manage his or her personal care, to keep a home, to have a job, go to school, worship, and otherwise participate in the life of the community. The independent living movement also advocates for the removal of architectural and transportation barriers that prevent people with disabilities from sharing fully in all aspects of our society.
Although there were earlier experiments with this concept, it wasn't until 1972 that the first Center for Independent Living was founded by disability activists in Berkeley, California. By the turn of the century there were hundreds of such centers all across the United States, and throughout much of the rest of the world. In the meantime, a series of landmark court decisions, along with sustained advocacy by people with disabilities for legislation such as the Rehabilitation Act of 1973, the Individuals with Disabilities Education Act of 1975, and most notably the Americans with Disabilities Act of 1990, have secured for disabled Americans unprecedented access to their civil rights, and thus to the society around them.
These victories, as significant as they are, have not ended the discrimination or the prejudice. Indeed, the first years of the twenty-first century have seen several high court decisions which have limited the expected scope and effectiveness of disability rights law, while millions of disabled Americans remain locked in poverty, consigned to nursing homes, and frozen out of society. Even so, it is impossible to deny that the disability rights and independent living movements have transformed American society, and any history of American social and political life of the late twentieth century must include reference to the contributions of disability rights and independent living activists.
More like this story on Lawrence.com