Citizens of the Law, meet your new and old scavengers of local style! This week, the scouters of Style Past and Style Future becometh the scouted! As Bob Dylan famously said in his song Changing of the Guards: "Eden is burning."
Meghan Brozanic
Occupation: Rudy's counter girl/DJ/new Style Scouter
Age: 24
Hometown: Omaha
Time in Lawrence: 6 years
What were you doing when scouted? Hanging out at the Lawrence Journal-World office building. In the basement, in fact.
Favorite clothing store? In Lawrence I mainly frequent Wild Man Vintage. They have the best accessories. I'm a big shoe person-I wear a lot of high heels. They have a very friendly, knowledgeable staff. And they have the best vintage pieces, in my opinion, and that's mainly what I'm after. I also like the Antique Mall because you can find some really good stuff, real cheap. And there's tons of it.
How often do you go shopping? I would say a couple times a month. I usually try to go to Wild Man once a week or so to see if they have anything new. And I like to wander around Target for their clearance rack.
How much do you spend? Not that much because I'm fairly cheap. I try not to spend $10 on any item. Try. Generally, in a month or so, maybe $40.
How would you describe your style? My style depends on the seasons. I'm more of a summer dresser. I hate fall and winter clothes because I don't know how to layer very well. I hate layering. I hate cold weather. In the summer I like to dress like a '70s socialite and wear a lot of high-wasted short shorts, high heels and a lot of jewelry. In the winter, I don't have any cool winter clothes, so I just try and dress up not freezing cold. Except when I got out-then I'll wear anything.
Favorite trend? I like high-wasted stuff, for the season. I like gray. I like purple. I think colored tights are fun. Shawls-big fan of grandma shawls. I'm a big fan of vintage accessories-anything to make you stand out from other people. Or accessories that have meaning to you.
Photo Gallery
Style Scout: Meghan Brozanic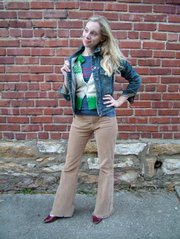 Least favorite? Now that KU football is good, I see so many people in KU shirts every day. The ones I hate are the ones that are lime green and pink. That's not our color and it makes no sense to me. I want to be like, "You can wear things other than KU clothes." And, obviously, crocs are disgusting. I'm really sick of the whole trend where it's leggings, and then on top it's this tunic top that makes women look pregnant, even though they're not. They've been selling those a lot this year, and only a certain kind of person can wear that and not look pregnant. Then they pair them with leggings and I'm like, 'Oh, are the '80s back?' Because they're not. Let it die.
Favorite coffee shop in Lawrence? La Prima Tazza. The baristas know how to make coffee, which is good, and they're very friendly. I just like the feel of that place. It has a good vibe to it.
Favorite bar in Lawrence? Tap Room. That's the only bar I go to on a regular basis. I DJ there once a month, so that's fun, and their bartenders are totally sexy. All of them. And they make a good drink. RJ makes a really good bloody mary. It has the best lighting of any bar in Lawrence. It makes everyone look really flattering. I should probably add that when I want alcohol in my coffee, I like the Bourgeois Pig. Those two together are my favorite things ever. Coffee and alcohol. How can you beat that?
Is there anything you'd like to see more of in Lawrence? I'd like to see more thrift stores, preferably with clothing and furniture. I like cheap clothing, cheap furniture. Kind of like the Antique Mall. I'd like to see an all-night diner downtown, where it's open 24 hours and they have very basic diner food, so you can crawl home after the bar but first eat some food, because that always helps when you're drunk. And I think we need more breakfast places in Lawrence. Also, it is my dream in Lawrence to turn the Masonic Temple into a two-level roller skating rink. I'm gonna make this happen, so someone needs to help me. The bottom floor will be just for the kids, and the top floor will be a bar, a 21-and-over roller-skating rink.
Less of? I'd like to see less apathy in Lawrence toward local happenings. I read that article in the LJ-World today about that thing they're building at 12th and Indiana. No one cares that they're building this stupid hotel there. I'd like to see less loft apartments downtown, that'd be fun. Less Wal-Marts and less commercial ventures. I'd like to see less empty storefronts on Mass. Because the rent's too high, no one can move in there.
Who do you think is stylish? The main ones are Keith Richards and Anita Pallenberg. Keith Richards, obviously, Rolling Stones, total stud, total fashion icon. Especially in the '70s, the 1972 "Exile on Main St." era, when he did a lot of heroin. Anita Pallenberg was his girlfriend all those years and she was totally foxy. She was a German model, blond, and wore all these outrageous outfits. The two of them together were so cool. They are definitely my style icons, both of them.
Tell us a secret: I am really afraid of birds. I don't know why. I think it's because when I was little I was walking and one nose-dived for my head.