Monday, December 10, 2007
Podcast episode
It's the Actual News holiday hootenanny! Put it in Santa's opium pipe and smoke it! Well, to be honest, there's nothing particularly festive about this episode...spree killing, torture, and homophobia top the news. Unless you consider Mike Huckabee, Mitt Romney and Oprah demented elves, it's not very Christmas-y at all, ...
RUSH TO JUDGMENT
Kansas University junior guard Brandon Rush was arrested last week on two outstanding warrants stemming from his failure to appear in court on traffic violations. Rush was handcuffed and jailed, but released after posting a $500 bond. He has a court appearance this week and is not expected to miss any games.*:Rush was initially sentenced to community service, picking up trash around City Hall, but failed to meet requirements when he couldn't fit the City "Closed Door" Commissioners into his garbage bag.
A DEATHLY MALL
Robert Hawkins, a 19-year-old with a long history of psychological problems, walked into the Westroads shopping mall last week in Omaha and killed eight people with an AK-47 assault rifle before taking his own life. Hawkins had lost his job at McDonalds and his girlfriend had broken up with him earlier in the week. Funeral services for the victims began on Sunday.*:Even though the shooting was a senseless act by a troubled individual, the ever vigilant media still found a way to blame video games. Police have followed suit and issued an APB for one "Chief, Master." An undead blood elf from "World of Warcraft" is being sought as a Horde member of interest.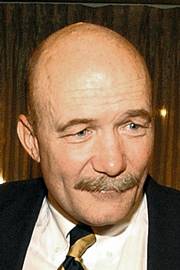 THE SHAGGING DA
Kansas Attorney General Paul Morrison admitted last week that, despite his adamant denials while campaigning for the AG position, he had engaged in an extramarital affair with an aid while he was Johnson County District Attorney. While confessing to the affair, Morrison denies the former employee's claim that he sexually harassed her and attempted to gain information from her on former AG Phill Kline. Morrison's future as Attorney General is still undecided.*:Said a loving, monogamous gay couple upon hearing of Morrison's infidelity, "Thank God we're not allowed by Kansas law to destroy the sacred institution of marriage." Morrison, as a bald philanderer, has been offered a job in Rudy Giuliani's campaign.
HUCKING CRAZY
Presidential hopeful and former Arkansas governor Mike Huckabee, now the Republican front runner in the Iowa caucuses, did not disavow statements he made in 1992 that patients suffering from the AIDS "plague" should be quarantined and that homosexuality is an "aberrant" lifestyle. He also faced renewed questions regarding his role in the 1996 paroling of a convicted rapist that went on to murder at least one woman.*:The latest revelations about Huckabee's past are all part of his new campaign slogan, "Mike Huckabee '08: A gay in every dungeon, a rapist in every neighborhood, and a witch drowned every day!"
ON BENDED ROMNEY
Mitt Romney, the former Massachusetts governor running for the GOP presidential nomination, delivered what many pundits considered an important speech last week addressing his Mormon faith. Romney pointed out that Mormons, too, worship Jesus Christ and promised to lower the barrier between church and state if he were elected president.*:Romney took great pains to assure evangelical Christians that his church was just as intolerant as theirs, but not quite as weird as Scientology.
OPRAHMA
Talk show superstar Oprah Winfrey took to the campaign trail for Democratic presidential candidate Barack Obama last week, drawing the largest crowds of any political event this primary season. Winfrey made stops around Iowa, New Hampshire and South Carolina, with one event attracting nearly 30,000 people.*:Fellow Democratic contender Joe Biden, not to be outdone on the talk show celebrity front, will be stumping in Dubuque with "Late Late Show" host Tom Snyder-who's been dead for over five months.
GIVE TACTICAL NUCLEAR WAR A CHANCE
A National Intelligence Estimate from the Bush administration's own intelligence agencies revealed last week that Iran had halted its nuclear weapons program in 2003. The report's findings run contrary to White House rhetoric, some of which was delivered after the estimate was given to the president in August, with Bush himself warning of "World War III" with Iran.*:When asked why the U.S. was still talking up military options against Iran despite that country being no imminent threat, Bush responded, "You're asking me to trust my intelligence reports when it comes to WMDs? What do you think I am-stupid? Fool me once, shame on:uh:shame on:heh-heh:sh:" Bush then began spraying blood out of his ears and passed out.
TORTURE PORN
The CIA faced mounting criticism last week over the revelation that the agency had destroyed two tapes documenting the interrogation of terror suspects. CIA chief Michael Hayden claims they were destroyed to protect the identities of the interrogators, but a growing bipartisan collection of congressional leaders fear they were destroyed because they documented torture of the suspects.*:An anonymous source within the CIA, who has seen the tapes, says, "They're worse than any of those Eli Roth films,' but not nearly as bad as Sci-Fi Channel's 'Stargate: Atlantis.' That crap is unmitigated torture." When pressed as to how the tapes were destroyed, the source would only say, "Scooter Libby, a wood chipper and a presidential pardon."
SHIRTS VS. SKINFLINTS
The University of Kansas ratcheted up its copyright lawsuit against downtown retailer Joe-College last week. A federal district court in Kansas City granted the university's motion to add 10 additional shirts to the ongoing lawsuit, most of them relating to KU's upcoming Orange Bowl game. KU says the store's shirts infringe upon KU trademarks.*:KU insists that shoppers wanting to buy T-shirts making off-color remarks about Mark Mangino's weight and "your tits" only be able to do so if they are official KU apparel.