Monday, December 10, 2007
The temperature was 59 degrees:A baby's bottle with a small amount of milk left inside was found in a grassy area along New Hampshire Street, between The Java Break and a parking lot. No more than two yards away lay a discarded beer bottle and a cigar wrapper...A bald man in an American flag shirt walked past and didn't respond to the question, "How ya doin'?":
:Half a block away, on the same December afternoon, a badly damaged CD lay on a brick sidewalk east of the entrance to Last Call. The CD was revealed, upon inspection, as a live "frunk" album by Bob Schneider, an Austin musician who played The Bottleneck on Oct. 2. In a 2004 interview with lawrence.com, Schneider said of Lawrence, "I love that town. I got my haircut at a place called Headmasters and everybody there was gay, and they call the place 'Headmasters,' which I thought was the funniest thing I've ever heard." He also said, "Tony Hawk was definitely my favorite for a long time. Still, the greatest game of all time, though, is Legend of Zelda, as far as I'm concerned. That game had a profound spiritual effect on my life. It was a life-changing event, playing that game.":
Photo Gallery
The evidence...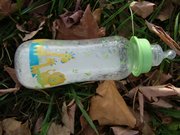 :A continued inspection of New Hampshire Street revealed a splotch of red paint along the wall outside the entrance to the 745 Marketplace building, which houses a handful of businesses. A red handprint marked the sidewalk, apparently made with the same paint:
:Across Eighth Street, the words "Satan Loves Chad" were etched into the concrete sidewalk on the corner in front of the bar The Eighth Street Tap Room. The ambiguous phrase has been observed to occupy that space for some time now. Upon inspection, the words "Satan Loves" were discovered back up the street, similarly etched into the sidewalk mere yards away from the red hand:
:A woman with poofy gray or white hair wrote a parking ticket for a black Mazda on Eighth Street:A man, possibly in his 40s, walked briskly down New Hampshire Street in front of Borders, dressed in a cowboy hat and a brown leather jacket and carrying a white sack...Coincidence? One may only speculate.
-All facts in this story are real. Got a breaking news tip? Email Frank Tankard at frank@lawrence.com.