Monday, December 10, 2007
Aphton Riley, computer information systems student, shopper, reader, emphatic clearance rack advocate
How do you save money?
"I save money by thinking about it, then not buying it. A good way to save is to shop on clearance racks-only look at the clearance racks. I always shop at Wal-Mart for food, because it seems to be cheaper there, but for clothes you just have to go everywhere. Oh, and you have to go shopping at five o' clock in the morning the day after Thanksgiving and go to the Sidewalk Sale downtown. I did both this year. I stocked up at JC Pennys on Black Friday, and at the Sidwalk Sale in July I bought everything at the Gap. I also went to Brown's shoe store, Britches, Hobb's and American Eagle."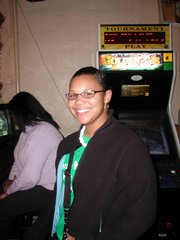 What do you splurge on?
"I never splurge. I bought a laptop recently, and that was kind of a lot of money-but that's more of a necessity because I'm a student. I really don't splurge on anything. I went to Brother's tonight because they have $2 anything, but I spent $5 on an Amaretto Sour. I guess that was splurging."