Monday, December 10, 2007
Clinton Shirk
Age: 19
Hometown: Lawrence
Time In Lawrence: All my life
What were you doing when scouted? Renting a free movie at Liberty Hall with a friend for her birthday.
Favorite clothing store? Love Garden. I normally buy clothes at Wildman Vintage and sometimes at ATC.
How often do you go shopping? I go about once a month and I usually don't spend more than $25.
How would you describe your style? Metalhead Farmer
Where do you get your hair cut? My mother cuts it.
Photo Gallery
Style Scout: Clinton Shirk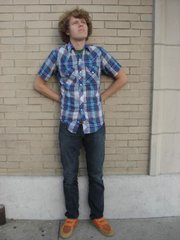 Favorite trend? I'm glad guys are wearing tighter pants, and that tighter pants on guys are more available.
Least favorite? Really baggy clothes.
Favorite coffee shop? La Prima Tazza, because you get free coffee on your birthday.
Favorite place to hang out? Friends' houses and the library.
What would you like to see more of in Lawrence? An Adidas outlet store
Who do you think is stylish? Robert Plant from Led Zeppelin because he has intense hair and I admire anyone that can wear jeans that tight.
Tell us a secret: I really don't like Missouri.