Monday, December 10, 2007
Erica Voetsch
Age: 21
Hometown: Kansas City
Time in Lawrence: About 2 1/2 years
Occupation: Arizona Trading Company employee
What Were You Doing When Scouted? Eating edamame for lunch.
Favorite Clothing Store? ATC, Wild Man Vintage, and Revue in Kansas City.
How often do you go shopping each month? I don't need to shop that much because of my job, so I go about three times a month. I'm really bad with money, so I don't know how much I spend.
How would you describe your style? Well, a lot of my wardrobe is based on what people sell back to ATC, so I would say my style is putting vintage clothes together in a new way.
Photo Gallery
Style Scout: Erica Voetsch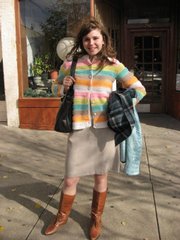 Where do you get your hair cut? Wes at Headmasters.
Favorite trends? I really like high waisted looks, and I like feminine silhouettes paired with masculine clothing.
Least favorite? Definitely crispy fake tans, and Ugg boots are awful.
Favorite coffee shop? Z's or Henry's because of the quality of the coffee and the good vibes.
Favorite bar? I like the Replay. It's comfortable and casual and there are a lot of different kinds of people that go there.
Is there anything you'd like to see more of in Lawrence? More local clothing stores and less chain stores, and more antique stores.
Who are your fashion influences? Chloû Sevigny, Mary Kate Olsen and Kirsten Dunst. They like to experiment with new and vintage pieces and different silhouettes...and they don't wash their hair.
Tell us a secret: I'm a huge slob.