Last week we got a call from Santa.
He's the Lawrence-based Santa who also goes by Chris Hartman. You might remember him from a lawrence.com story from a few years ago called "Bad-ish Santa: Cannabis Claus doubles as pro-hemp humorist and Santa's helper." It continues to be a story that we get a lot of feedback on.
Anyway, Hartman called last week to gently remind us of his sizable Santa collection:
"On 'Home and Away,' we saw this thing on somebody's Santa collection, and there was probably only 100 to 150 pieces. How could you even call that a collection? I've got more than that on one shelf!"
While we had him on the phone, we caught up with him. He's feeling particularly good this season after undergoing a successful angioplasty. With renewed, heart-murmur-free vigor, Hartman has booked upwards of a dozen appearances as a freelance Santa. He's also still busy promoting his book, "The Original Unofficial Joint Smoking Rules," written under the pen name "Simon Worman." That work has sold thousands of copies over the past 20 years, been dubbed by "High Times" magazine as "the Bible of pot smoking etiquette," and spawned two sequels.
Audio clips
Catching up with Cannabis Claus Chris Hartman
lawrence.com: So exactly how many pieces of Santa memorabilia do you own?
Hartman: "There's right at 500 of them that sit on the shelf and hang on the wall, with about 200 of them on the tree. I got 15 new ones last week from a friend of mine who's a junk collector-she ran into this Santa who sits in a rocking chair. He's supposed to have a book, but it's missing and it looks like his arm is dislocated. If you just lay his arm in his lap with the form his hands are in, he looks like he's jerking off. I had to do something, because that looks terrible, so I glued his arm to the chair."
Do you have an equally impressive collection of pot-tchotchkes?
"I've got 50 or 60 books on pot, and probably a fourth of them are autographed. I like that collection a lot. (Famed 'High Times' columnist and pot activist) Ed Rosenthal tracked me down to get my autograph one year. That really freaked me out."
Is that when you knew you'd made it?
"I haven't made it so far as money, but as a self-published writer that's quite an accomplishment. I never thought, going to school, that I'd become a writer. I was a 'C' and 'D' student, and it amazed me how much my sophomore English teacher taught me.
I actually thanked her a few years after I got the book out. I went to Shawnee Mission East High School:looking the way that I do, like a scumbag biker, and they were like, 'Can we help you?' They went and got her:I told her, 'Thank you. I've written this book-and the subject probably isn't something you're into-but when I went to write it, it amazed me how much you taught me.' She started crying and said it was the best Christmas she had ever had."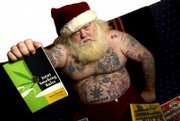 Do you think the goals of peace on earth and good will towards men would be benefited by the legalization of marijuana?
"Actually, I do. One of my rules is, 'Drop joints, not bombs.'"
Are most people aware of your background as a pot activist when they hire you as Santa?
"Yeah, it's Lawrence, so that doesn't seem to bother people. It shouldn't bother people-I'm not out there telling kids they should smoke pot. I don't think anyone should put anything in their body that's not good for them, but we're human and that's what we do. The fact that such a natural plant that's been around forever has such a bad rap-when perfectly legal alcohol kills thousands of people each year-it's crazy."
What's the golden rule of pot smoking?
"Just share. It's meant to be shared. I think that's the rule in life. That's what the whole Christmas thing is about-giving. Give to people that don't have. That basic concept is what would make life good."
What does Christmas mean to you?
"Since I started doing this Santa thing, Christmas really is about the spirit of giving. The magic in children's faces is really what keeps me going. Three times in my life I've experienced something more than myself, something spiritual.
The first time was when I was going down the highway on my Harley dressed as Santa and my buddy was dressed as an elf. A station wagon went by us with children in the backseat, and time stopped. The magic in these kids' faces was spiritual-the hair on the back of my neck stood up. There was a presence there you couldn't put your finger on. Ghostly, not of this world-whatever you want to call it.
The second time, I went to a nursing home. There was an old blind lady, and when I went into her room going 'Ho, ho, ho,' almost hateful, she goes, 'You're not Santa.' I took her hand and made her touch my beard and went, 'Is that really what you think?' There again was that presence. Her eyes got as big as silver dollars. At that moment, she truly believed I was Santa-at that moment, I truly believed I was Santa. I gave her a gift and she started crying, then I looked up and everybody else in the room was crying too.
The third time, a guy hired me to come over and be Santa for Christmas Eve. His wife had almost died giving birth, and the older daughter had been extremely helpful in helping the mom to recover, so the dad wanted to do something special. When I get there, as soon as I got in the house-this little trailer-it was like that magic was there again. I gave the little girl a candy cane and a teddy bear, and I asked her what she wanted for Christmas. Man, she looked at me, and in a very adult way said, 'All I want for Christmas is for my mom to get well, and for my little sister to be healthy.' I almost started crying, you know? I felt that presence again. The dad never paid me-he stiffed me-but I realized it was OK, because that little girl gave me more for Christmas than I've ever had. She had that giving presence. At one point I didn't believe, and it may sound cliche, but there is a Santa and all you have to do is believe. That's one of the reasons that I'm Santa's helper, to help people believe."