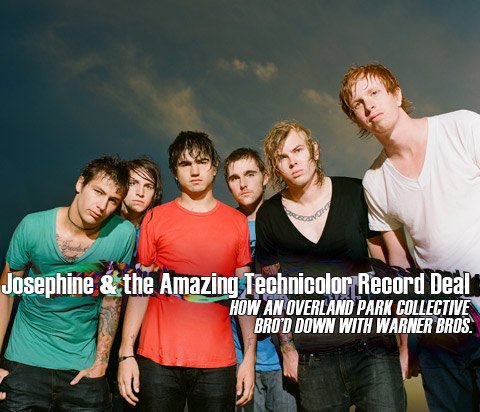 Wednesday, December 19, 2007
It's a testament to the friendship of Dillon DeVoe and Alexander Sandate-a.k.a. "Scam Date"-that the singing duo is able to share the spotlight in a band that suddenly finds itself directly in it. With a debut EP already out on Warner Bros. Records and a full-length due in March, Josephine Collective's six members might just find themselves on MTV before they're old enough to drink (legally, anyway).
Things started poppin' for the Overland Park band a year ago when producer John Feldman peeped their MySpace page and invited them to open for his hit-making group Goldfinger in Anaheim. The ensuing 24-hour van trip proved well worth it, as Feldman-who also signed The Used to Warner Bros.-signed on as producer. The first batch of recordings surfaced in July as the "Living" EP: four polished pop-punk tracks with bursting-at-the-seams enthusiasm and saccharine hooks.
Aside from a recent month-long tour with The Used, life hasn't changed all that much for the Josephines; DeVoe and Sandate are still kickin' it in the Central Standard Time Zone and driving to Lawrence for good times (which they did to full effect the night before our podcast). Fortunately for us, Sandate remembered to bring along his ex-girlfriend's iPod-flush with four new, unreleased Josephine Collective tracks, included in the podcast.
Podcast episode
How the Overland Park six-piece band Josephine Collective bro'd down with Warner Bros. - featuring four new, unreleased tracks.
A few no-fi highlights from the podcast
lawrence.com: How do you make a record sound as polished as the "Living" EP? What tricks did you learn along the way?
DeVoe: There's no denying the fact that Feldman is an incredible producer. He gets sounds at that studio (at his Los Angeles home) that I don't know how he really makes. I can sit there and look at preamps all day and ask "What do you got this one set like?" and "Why does this sound fuckin' crystal clear?" But production is a step beyond me.
Past Event
Saturday, December 22, 2007, 6 p.m. to 9 p.m.
Record Bar, 1020 Westport Road, Kansas City, MO
21+ / $8 - $10
Did you find you had to stretch yourselves?
Sandate: Oh dude, he had us running like an hour a day up and down the hills of L.A. : You gotta be in great condition to record an album.
No. Seriously?
DeVoe: Yeah man. Fuckin', I quit smoking cigarettes.
I didn't know there was a personal training regimen that went into making a record like this. Vitamins? Steroids?
DeVoe: Tea. Lots of good natural food.
What sort of response have you gotten from this EP?
DeVoe: It's been pretty cool. We went on tour with The Used; got to put it out there a bit more than just being in Kansas City. It was crazy to hear from kids all around that we were doing something that they liked; something they felt they could get down on or relate to.
Obviously you're probably playing for bigger crowds than you've ever played for before.
Album Mp3s

Living EP
No MP3s are currently available for this album.
DeVoe: It was massive. It was amazing.
Is The Used a band that you admired before this whole tour came along?
DeVoe: Yeah, they've always been one of my favorites.
What sort of wise, sagely advice did you get from The Used?
DeVoe: Not much-just dudes hanging out on tour and playing shows.
They taught you how to bro down.
Sandate: How to what?
Bro down.
Sandate: What's that mean?
You know-when you get with your bros, you bro down.
DeVoe: I don't know :
How much have you guys been on the radio with this EP?
Sandate: Not much.
DeVoe: The Buzz plays "Living" on Homegrown Buzz.
I guess I assumed that there some kind of push behind it since it says Warner Bros. on the back of the record:
DeVoe: We're not really a huge band. We're still in Kansas City pulling punches, doing what we do. We're obviously not on the radio if there's not a demand for us to be on the radio.
Sandate: Our fan base isn't enormous or anything. What we're trying to do now is just tour a lot.
DeVoe: If no one cares, then why are they going to put it on the radio? No one knows who we are. We're still young.
More like this story on Lawrence.com