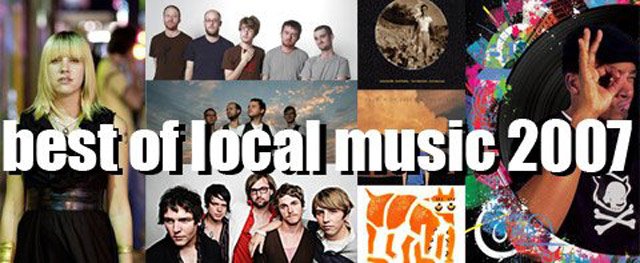 Monday, December 24, 2007
It's no easy task to craft a Local Music Top 10 of the Year list-that's a testament to the abundance of great albums cut from this mighty Kansas cloth. The podcast features a track from each of our picks. Please leave a comment below with your additions or your own full Top 10 list.
Podcast episode
It's no easy task to craft a Local Music Top 10 of the year list-that's a testament to the abundance of great albums cut from the loins of the mighty Kansas cloth. Both Lawrence and Kansas City artists were considered for the cut, which inevitably overlooked plenty of deserving records. ...
10. Cavaliers, "Except for the Birds"
Steven Wolfe pulls it together perfectly and moves to New York City to do it all over again.
9. Approach, "Welcome to Share"
The one album that actually got released from Approach's lock-and-key vault features dance-floor-rattling synth beats and crescent-fresh wordplay.
8. The New Amsterdams, "At the Foot of My Rival"
Sounding more like a band and less like a solo project, Matt Pryor's crew winks at Paul Simon and The Velvet Underground en route to their best album yet.
7. Namelesssnumberheadman, "Wires Reply"
The group's brilliant third LP teases at just how good these guys could be if they lived in Canada and the government paid for them to do music full-time.
6. Minus Story, "My Ion Truss"
Trading the home-recorded potpourri of previous efforts for the hi-fi bombast of Electrical Audio Studios equated to a lively document of inspired performances.
5. Jackie Carol, "Check, Check"
The first shipment of 1,000 CDs arrived without a track listing but no one cared since every chorus stuck like a Werther's Original on a hot tin roof.
4. The Republic Tigers, "The Republic Tigers EP"
Striking the perfect balance of cool musical ideas and hummable melodies, the Tigers might just be the area's biggest breakout band since, um, The Golden Republic.
3. The ACB's, "The ACB's"
Like Matthew Sweet, these Kansas City popsters are 100% fun on their debut collection of harmony-laden hits.
2. Dri, "Smoke Rings"
Adrianne Verhoeven busts out a velvety pastiche of electronica, hip-hop, pop, reggae and doo-wop with help from local producers Steve Swyers (Say My Name), Josh Powers (Scenebooster), Jeremy Nesbitt (Nezbeat) and Patrick Hangauer.
1. Fourth of July, "On the Plains"
It took five years for Fourth of July to make a record, but the wait paid off as the group assembled a five-star backup band (featuring vocalist Verhoeven, see above) and Brendan Hangauer developed into a cunning linguist.
Honorable mentions
Mac Lethal, "11:11"
The Kinetiks, "Music History"
The New Tragedies, "Souvenirs"
The Ants, "Ideabreaker"
iD, "Avatar Hotel"
Mr. Marco's V7, "Spaceraser"
The Hearers, "Flowers & Flames"
Ample Branches, "True Vine"
The Only Children, "Keeper of Youth"
More like this story on Lawrence.com