Photo Gallery
The Sensualist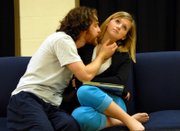 The Sensualist
There are many things that keep "The Sensualist" from being your average play put on by college students.
First, it was written by a student, and it's being performed for the first time.
Second, it's being produced by a group of students, not a company of some sort.
Then, there's the original music written for it. And the fact that the five performances, which start tonight and run through Feb. 11, are free.
"We want to have as many people in the theater as possible," says playwright Adam Burnett, a junior from Topeka. "We want to share this with the community."
The play focuses on Leonard, a famed singer/songwriter similar to Bob Dylan. A young protege has entered his life to help on a new project, and the show examines his relationship with her, his wife and a longtime lover.
"He thinks about himself more than anybody else," says Carter Waite, a junior from Falmouth, Maine, who plays Leonard. "He lives in the moment. He's not always worried about planning - he doesn't always think about the consequences of his actions."
Topeka resident Ian Nichols wrote three original songs sung by the Leonard character.
This is Burnett's fifth play. He's entered it in several festivals this summer.
"It's a very stream of consciousness narrative," he says. "It's very fluid. All of the scenes bleed into one another."
Audio clip
Composer Ian Nichols sings "Hyacinth Girl," a song written by himself and Adam Burnett
The upcoming shows will be in the performance studio, in the basement of the Lawrence Arts Center. Burnett, who also directs the production, says the intimate setting should help make the experience more interactive with audience members.
"Everyone will leave the show and have a very strong opinion of what they saw," Burnett says. "They'll love it or hate it. It doesn't allow the audience to be passive at all. Too often, people come to the theater to forget or be entertained."
That doesn't mean the process hasn't been entertaining for the six-member cast.
"It's a lot more exciting" than performing in University Theatre shows, says Lara Thomas, a junior from Overland Park. "It's so fresh. At a university, you usually do plays that are old and have been tested. You're supposed to learn from them because that is what students do.
"We've talked about that - we're the first person to do these characters. You can't say that often."
Many rehearsals have begun with 30 to 45 minutes of discussion about the characters' relationships.
Past Event
Friday, February 9, 2007, 7:30 p.m. to 9:30 p.m.
Lawrence Arts Center, 940 New Hampshire St., Lawrence
16+ / Free
"It's so honest - it's completely honest," says Andi Porter, a junior from Roeland Park. "A lot of times you see movies and the relationships seem perfect, but it's not like that. These relationships have violence, and these relationships have infidelity. This play is very human."
Stephen Ferrell, a senior from Perry, says the play walks the line between visceral and reflective.
"That's the nice thing about the show," he says. "There are raunchy moments, but really it's intellectual."