Photo Gallery
Style scout: Dustin Kinsey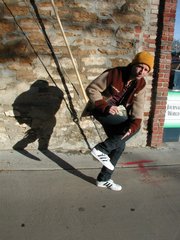 Dustin Kinsey
Age: 30
Hometown: Fayetteville, Ark.
Time in Lawrence: 6 years over two stints
Occupation and/or major: Razorback/MU fan
Where was/what doing when scouted?
Waiting for the Super Bowl.
Favorite clothing store?
I like Wild Man and ATC, and APC-a French based clothing store with classic sensibilities-in New York. Salvation Army in Topeka-that's my current favorite.
Other stores you frequent?
Topeka Salvation Army and APC are my favorites but I frequent Wild Man and ATC the most. I also go to Checkers a lot-96 feet of meat-the most multicultural place in Lawrence. The Merc for my Kombucha. Don't forget the downtown recreation center. I am there every day, for the company and for fitness. My friends at the rec center push me to the limits of human endurance, both physically and emotionally.
How would you describe your style?
Extreme WASP. I try to look the way Lindsey Buckingham's guitar sounds to me. Not too flashy. Solid. Flair when necessary. Late '70s, early '80s-I also like to look like photographs from the early '80s, particularly the washed-out Polaroids of my parents.
Favorite trend for this season?
I like the '60s-era office suit. I don't personally own one, but the Dick Van Dyke look is cool.
Least favorite trend right now?
Nothing I don't really like. People do their thing. It's not for me to take too much stock in it.
Where do you get your haircut?
DIM. Do It Myself. I have my own clippers.
Favorite coffee shop in Lawrence?
It would not be fair for me to answer that question. Arsaga's coffee in Fayetteville, Arkansas.
Favorite bar in Lawrence?
My spiritual advisor told me to take a drinking hiatus. I have temporarily (maybe) given up booze for mysticism. I spent 4 months out of 2006 developing rock and roll habits. I've opted to be less myopic in 2007. I'm getting into physics and mysticism, and where the two converge. (No joke:I think he is serious.)
Is there anything you'd like to see more of in Lawrence?
More motivation and vision. Not that we are lacking these qualities, but that's what I'd like to see more of.
Less of in Lawrence?
Less complacency. I want to see Lawrence keep swimming like a shark, nasty teeth and beady eyes. You lose one row of teeth and another one pops up!
Are you a happy American?
I am happy I am an American but I am not very proud to be an American-to be the world bully. I don't think it is very sweet or a good way to foster relationships with the world. It's like we are collectively on some idiotic syphilitic vision quest.
Tell us a secret.
My secret is that I am a rabid shoe collector-particularly vintage re-issues and boutique sneakers. I hope to start taking pictures and putting them on the outside of the box. Sometimes I never wear them. I'm in love with Tom Brady or have an unhealthy attraction to him.
Who's got style?
"Manhattan"-era Diane Keaton. The Big Chill and occasionally the cast of Cheers. They all looked great, except later Sam started wearing Cosby sweaters. Woody and Diane always had good style. Bjorn Borg, and the '70s-era tennis stars-as famously reprised by Richie Tennenbaum. Sergio Leone movies are really good for style. That's it.
Style = ?
Physics not physiques. It's all movement and motion. Trajectory baby!