Photo Gallery
Style scout: Julia "Baby J" Shnyra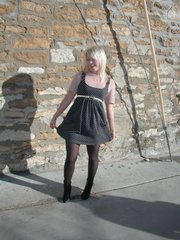 Julia "Baby J" Shnyra
Age: 22
Hometown: Born in Moscow, Russia. Stockholm, Sweden.
Time in Lawrence: 4 years
Occupation and/or major: B.A. in human biology
Where was/what doing when scouted?
Galloping by on my unicorn, her name is Twinkle Toes.
Favorite clothing store?
Standard Boutique on the Plaza. They have a wide selection of fashion forward clothing-most is overpriced. Wild Man Vintage, because they have the best selection of vintage clothing-all of it is pretty good quality and of course the HOT staff! I shop online a lot. I eBay frequently because you can find good deals on designer items.
Other stores you frequent?
I like various thrift stores. Uptown Monkey in Kansas City-it's a vintage boutique. Spool in K.C-she has lots of local K.C designer stuff.
How would you describe your style?
I try to mix vintage pieces with newer pieces. Current style with vintage. Gives it a more original look rather than buying off the mannequin. Somebody once said that I'm real Patty Wilson.
Favorite trend for this season?
Foils in fashion-combining opposing elements like formfitting and voluminous. Nude colors. Super lean pants that stop short at the ankles are nice, too. Wedges and chunky-heel platforms are a must. Seasonal awareness is key.
Least favorite trend right now?
Not dressing for the weather/ season. Keeping warm and being fashionable are possible. I really don't like cork healed shoes, they are stupid, and they shouldn't be brought back to life. No like. Especially patent leather uppers with cork heal. People that try to be fashion forward and can't pull it off.
Where do you get your haircut?
Headmaster's by Wes. I like it when he sings to me.
Favorite coffee shop in Lawrence?
Borders Cafe or Starbucks in Target, McDoanlds in Wal-Mart-all the beautiful people. The Wal-Mart McDonalds is always such a buzz during fashion week!
Favorite bar in Lawrence? The Pig, The Jackpot, and The Taproom. They are all dimly lit and the people and music are good.
Is there anything you'd like to see more of in Lawrence?
More sweat pants during finals week, PLEASE!! Seriously, I would like to see more local business downtown. A grocery store downtown-especially one that has local produce, a mini-mart with fresh eggs and milk. Something like that downtown would be good because The Merc and other grocery stores are so far from the downtown area.
Less of in Lawrence?
Less inappropriate seasonal dress, like open-toed shoes. Less perms. The downtown area smells bad enough as it is.
Are you a happy American?
I'm not an American. Did my greencard come in? Do you know something I don't know?
Tell us a secret.
I've been lamb tucking for years!
Who's got style?
Chloe Sevigny-she has a daring and forward sense of style that it is very unique. My mother-she instilled a sense of fashion in me at a very early age. Kirsten Dunst has cute style, sometimes its dowdy, but generally she pulls off cute outfits. I think her style is eclectic.
Style = ?
Style relies on being able to personalize fashion in an individualistic way:it's an opportunity to creatively express oneself on a daily basis. Knowing what elements in fashion are flattering and which are not. Knowing what kinda style you can pull off is key.