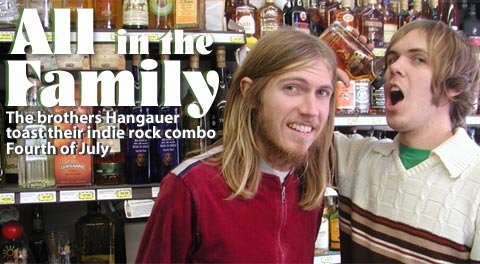 Sunday, February 11, 2007
You can't swing a cat in downtown Lawrence without hitting a Hangauer.
Of the five (at last count) Hangauer siblings, four are active contributors to at least six local bands. Big brother Zachary launched Lawrence-based Rangelife Records in 2006, and immediately scheduled releases in from each of his brothers: Brendan's country-tinged rock outfit Fourth of July; Patrick's ambient-beat project 1,000,000 Light Years; and Kelly's eclectic, evolving Hunters and Gatherers.
Fourth of July is the longest-running of the Hangauer band projects-a six-piece, rock juggernaut employing horns, slide guitar and plaintive, whiskey-bent harmonies. Their first full-length recording is due this spring.
Street Level parks it on an ale crate in Jensen's Liquor to shoot the breeze with Fourth of July's Brendan and Patrick Hangauer about flying under the radar, working with prima donnas and keeping it all in the family.
Subscribe to Street Level podcast in iTunes
lawrence.com: Fourth of July has been together for six years, yet you always seem to be under the radar.
Brendan: I know. I've been here a long time, I know a lot of people. I understand that my friends aren't going to make it to every show, but it seems like nobody wants to be a fan anymore.
In Lawrence, the Hangauer clan is like The Cowsills or The Osmonds-the most musically creative group of siblings in town.
Brendan: Kelly's the youngest-he plays in Fourth of July, Hunters and Gatherers, and Save The Whales, his new group.
Patrick: I do 1,000,000 Light Years; I played in Free All Beats; and I play in Fourth of July.
Brendan: I play just in Fourth of July. My sister doesn't play in any of the bands but she's got the cooking and [son] Dorian-a handful. And my older brother basically runs the show. He's kind of the RZA of the Wu Tang Clan.
You all have pending releases on your brother Zach's label, Rangelife Records. Patrick has a record out now on Rangelife: 1,000,000 Light Years. Ambient? Soundtrack? How would you describe it?
Patrick: Space-age music of the past. Organic, electronic-ambient music with beats, with classical inspiration.
You studied classical music.
Patrick: I did, at KU for three years, before I got smart and decided to start working full time.
As family in a band, it must have up sides and down sides.
Brendan: We really only run into the up sides because it's a lot easier to be honest about things. No one's feelings really get hurt because we all grew up together being honest with each other. It's easier for me being the eldest in Fourth of July-there's respect involved. I write all the songs but it's gotten to the point where everybody makes their own parts up. Patrick and I have been playing together for years. We played the Farmer's Ball when I was a senior in high school in '98-so almost 10 years of playing together.
Have you always been a musical family?
Patrick: There was openness in my family. My parents aren't particularly musical but there was an openness to let us explore what we wanted to explore. Always encouraging the arts and music. Encouraging our eldest brother Zachary's interest in different music that was outside of the '80s hair metal that was previously the focus of our lives-Poison, Motley Crue, GNR.
Brendan: I performed "Dirty Rotten Stinking Filthy Rich" by Warrant at the third grade talent show. By myself.
What's your favorite Lawrence venue?
Brendan: The Tap Room. Our first Fourth of July show was with the Danny Pound Band at the Tap Room.
Patrick: It's just such a raw place. You don't mic the drums, you don't mic anything other than vocals. There's a lot of cool people, musicians like Jeremy Sidener that we have a lot of respect for. It's a real, giving atmosphere.
Brendan: When I first went in, Sidener had definitely never heard of us before and I told him we wanted to play a show with either the Danny Pound Band or Arthur Dodge's band. He said that would be easy because he played in both of them.
I'd reference Fourth of July to The Byrds, a classic country-rock feel.
Brendan: Maybe a little less polished than The Byrds. I'm really influenced by country music and I like the use of the one-string slide guitar-we try to incorporate that. But we've been doing a lot more rock recently. We're a rock band now. Our new guitar player, Steve Squires-Say My Name-is really good at flat-picking so that adds this weird country vibe to it. :All I ever listen to are Kitty Wells records and Wu Tang Clan records. That's probably the best way I could describe it.
And the band line-up is?
Patrick: Bronco on drums; Say My Name on guitar; R. Kelly on keys, trumpet and background vocals; Adrianne Verhoeven on background vocals and auxiliary percussion; me-Poopy Pants Pockets-on bass; and Tangerini on guitar and lead vocals.
Hard to get everyone together to get things done?
Brendan: (laughs) That's an interesting story. It's a good thing that everybody in my band is a good musician. We hadn't practiced since we played our last show, which was over a month ago.
Is Adrianne a prima donna?
Brendan: Definitely.
Patrick: Of course.
Brendan: She just thinks she's really cool. You know, with the whole Anniversary thing. And she's been on tour-she knows what's best, all the time. :She's very, very busy: she goes to school, she student-teaches, she plays in three different bands-every time I talk to her it seems like she's driving up to Omaha-she works full time: She's a mystery.
You're on a deadline to release the record?
Brendan: We signed a distribution deal with Saddle Creek Records, so we need to have everything done by March 23rd. We need to have everything mixed and mastered-12 songs. A couple of slow songs. I used to write really slow songs, but when you try to play them live, people talk through the whole song. Which you kind of expect at a bar. So I started writing songs like: "You wanna talk? Talk over this."