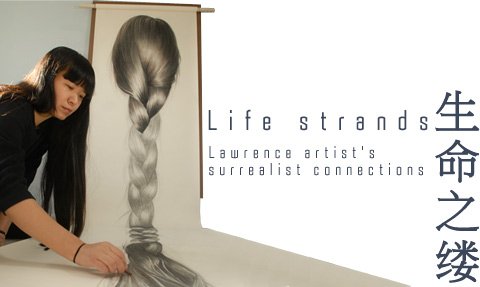 Sunday, February 11, 2007
Perhaps it's the primordial nature of someone born with a twin, but local artist Hong Zhang works with connections.
She explores connections to her mother and grandmother with her art, connections with her sisters, and connections between the two cultures she has lived in. She understands the connection between visual aspects and identity. She sees the connection between beauty and repulsiveness. She explores connections between the mundane and the surreal.
As a result, these conceptual travels have connected the Lawrence resident to the international art scene. In 2004, her mixed media work "Environmental Studies" was the first page of the Skowhegan School of Painting and Sculpture 2004 awards catalog, which was also populated by the likes of Gregory Crewdson, Lee Bontecou, and Carroll Dunham. Before that, she was recognized with a Dedalus Foundation MFA grant, which has been followed by a Pollock-Krasner Foundation grant. Most recently, she is in the current 2006 Western edition of "New American Paintings."
Still relatively new to Lawrence (she has been here two years), Zhang is looking to connect with the local arts scene. She will give the SEED Artists' Lecture at 4-1-1 Artspace Feb. 22.
Personal Identity
Hair pours from a faucet and floods over the side of the sink. Black hair licks out of the sides of an inedible hamburger. An electrical cord is all but useless, nothing but hair at the opposite end of the plug.
Past Event
Thursday, February 22, 2007, 7 p.m.
4-1-1 Studio, 411 E. Ninth, Lawrence
All ages / Free
Zhang's surrealistic images of hair, which were shown at the Kansas Union last year, have created a buzz locally and in Kansas City. The charcoal drawings are beautifully rendered, incredibly executed to the point of appearing like photographs.
The prestigious Pollock-Krasner Foundation also took notice. They awarded Zhang a grant to further explore the hair theme, enabling her to translate the "Hair Power" series into oil paintings. Established by the late Abstract Expressionist painter Lee Krasner, the grants provide generous financial assistance to individual artists. Artists must prove "established ability" to qualify.
Through her use of hair imagery, Zhang is contributing her visual voice to an ongoing dialogue of race and identity.
African-American artist Kori Newkirk presents dichotomies with his "paintings" made of artificial hair and plastic pony beads; the colored beads are arranged to depict typical suburban (white) scenes, which play off the traditionally black women's hair accessory.
Avant garde Chinese artist Wenda Gu also uses hair to straddle issues of nationality and ethnicity. His United Nations series, for instance, has led him to produce the Chinese flag in Chinese hair and the Union Jack in British hair, with hair from residents of Hong Kong scattered on the floor below.
Zhang's focus is more domestic, which makes her work more personal while at the same time more universal. Who hasn't fretted over their hair, knowing what an identifier it is? Who hasn't been disgusted by the clog of hair in the bathtub drain?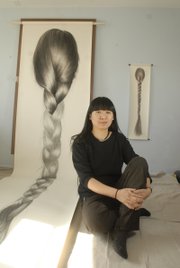 "Somebody with long hair is beautiful, but when you see hair in your food or in your sink, it becomes very gross," Zhang explained. "I wanted to address the repulsive aspect of hair. I also wanted the subtle surrealism and humor."
The surrealism-hair breaking free from a Marlboro cigarette, or serving as a scissor blade-intrigues viewers of Zhang's work, but it's the skill that bowls them over.
"The very first piece I did with hair was an autobiography of me and my sister," she said. "Twin Spirits #1" (2002) depicts the hair of Zhang and her twin sister, Bo. The charcoal drawings are rendered with such precision that from a distance they appear to be photographs. Drawn on 10-foot long paper scrolls, the contemporary works acknowledge traditional Chinese art.
It's no wonder her hair, and the hair of her sisters, has been her inspiration. At nearly 6-feet tall and with jet-black hair cascading down her back, Zhang is unmistakable in a crowd. This individuality moved her to create "Life Strands," a depiction of her own personal projected life cycle. The top of the 30-foot scroll features thick, resplendent black hair. As the braid descends, the hair thins, becomes gray, and is less healthy. Although it's a futuristic self-portrait of sorts, the universal reality of aging and changes in a woman's hair shows a connection to women the world over.
Home Is Where the Art Is
Lawrence may seem a million miles away from Zhang's hometown of Shenyang, China, but again, she sees connections.
"Lawrence is a college town, very similar to the environment I grew up in China. My parents were professors, so I was living in an academic setting," she said.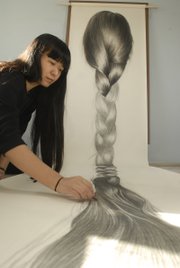 At 15, she and Bo won the National Competition to attend the high school attached to Beijing's Central Academy of Fine Arts. For 10 years, Zhang was trained in traditional Chinese art-paintings done with ink, watercolor, and rice paper. Although Chinese culture is more open than it was in the days of strict Maoism, the content of contemporary art in China is still largely restricted by the government. Zhang left for the United States in 1996.
Once at the University of California at Davis, Zhang was able to explore connections between her grandmother, her mother, and herself in concert with the relationships the three have had with their Chinese culture. "Three Generations" (2000) depicts them in birdcages: her grandmother with bound feet fully caged by the strict Confucian ideals for women during her time; her mother in soft cotton shoes and somewhat freer, but still caged, by Communism; and Zhang on top of the birdcage, allowed more freedom but still restricted by Chinese governmental policies, such as the single-child rule.
Living in the United States has allowed Zhang to explore new materials as well as new subjects. Mixed media work would not have been encouraged in China, she said, but here anything is open. Likewise, the large "Twins" series and "Life Strands" would not have been possible: paper like that simply isn't available in China.
The New Home Front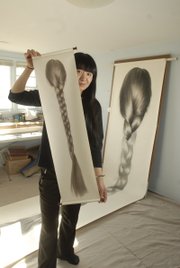 While in graduate school, and like so many career artists, Zhang had her sites set on New York. To make a living at this, she believed, she needed to be in the cultural epicenter of the world. It was a New York art collector who changed her mind.
"It was a man who bought one of her pieces. We were in his loft in Chelsea," explained John Kennedy, a KU political science professor and Zhang's husband. "Hong told him she was thinking of moving to New York. He said 'No, you don't want to do that.' He explained to us that the market in New York is oversaturated. That it's easier to come into it from the outside."
That conversation eased Zhang's anxieties. When she decided to be with Kennedy in Lawrence, Pop Art predecessor Wayne Thiebaud, for whom Zhang worked as a teaching assistant, encouraged her. "He said, 'Oh, that's a nice place. You'll like it there.'"
Now that she's here, Zhang recognizes Lawrence's conduciveness to an artist's life.
"In the past, my studio space was separate from where I lived. This is a very affordable place, where you can have a house and a studio at home. I feel very secure and I can concentrate. Geographically, the Midwest is very easy. I can go to the East Coast or the West Coast in three hours. I can apply to shows anywhere."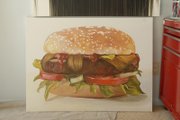 Zhang's affection for Lawrence is being reciprocated. The Spencer Museum of Art recently purchased "Novel," a small graphite drawing that will be displayed in the museum's new 20/21 gallery this spring. Last month, she was invited to lecture at the Kemper Museum of Contemporary Art in Kansas City. In 2006, she received a Kansas Arts Commission "mini-fellowship."
"I think it is very important to me to achieve my goals as an artist through regional support as well," she said.
A little more than a year ago, Zhang set sail toward yet a new land: motherhood. Like all new parents, her time is now more limited, and her schedule is no longer predictable, or even always navigable. Interestingly, these supposed detriments have strengthened her work.
"Before I had the baby, I would give myself more leeway," she said. "Now my time is more precious than before, so I feel like I get more work done. I'm more efficient."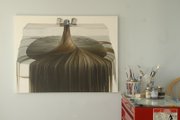 Yet art is more than production, and in this area, the baby has had a positive influence. "[The baby] has helped me slow down a bit. She gives me time to think more. In the past, when I was working, I wouldn't take the time to think-once I had the idea, I would do it. The baby has helped me to slow down my mind in a good way."
Curiously, Zhang's daughter is exhibiting a trait different than her mother: where Zhang's hair pulls straight toward the earth, the baby's licks up in soft curls at the end. Will this show up in galleries soon?
"I am pretty consistent with my work," Zhang answered. "Once I have a theme, I can extend the idea until I feel I can't find any more inspiration. Then I move on to another theme. Definitely, she will be my inspiration for later work."