Sunday, February 11, 2007
After four-and-a-half years of resting in a comatose state in Spooner Hall, KU's neglected 10,000-piece collection of cultural artifacts appears to be headed somewhere.
Just where is the question.
Consisting chiefly of artifacts donated by early 20th-century philanthropists, the collection contains a hodgepodge ranging from masks to moccasins to boars' teeth. About half of the items are from Native American tribes, the rest from across the world.
The university named the Spencer Museum of Art the new steward of the collection last month. Frozen in Spooner with its funds and staff slashed since KU closed the Museum of Anthropology in 2002 because of statewide budget cuts, the big question is how the collection will be handled now that it has regained access to caretakers and money.
The issue gets thorny fast. Many of the items in the collection are sacred to their people, so any plans must take into full account special traditional care, says Tom Foor, the recently named interim curator of the collection.
Sounds easy enough, but logistical complications arise quickly when the oft-preached-and generally ignored-ideal of cultural respect is seriously taken to task.
"There are certain artifacts that require particular care," Foor says. "They need to be fed, for example, or they need to be exposed to the clear air to breathe. You have to understand in numerically most societies of the world, the beliefs are such that every physical object has a spirit and that spirit needs to be treated with respect."
Foor, a University of Montana professor emeritus, has worked at KU for a year to get the university in compliance with the Native American Graves Protection and Repatriation Act, a federal law requiring museums to attempt to return sacred Native American items to their tribes.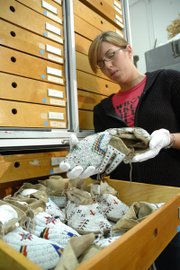 The university's preference is to return items that need special care to their people, Foor says. But only six items have been returned or are in the process, leaving sacred items in KU's charge.
According to some Native American traditions, the spirits of certain items need to be fed a bowl of cornmeal, or to take part in a burning ritual or to simply be taken outside for fresh air.
The reality is Foor has his hands full with NAGPRA paperwork, and the collection has remained in much the same state for years, since even before the museum closed-with items stacked up on open shelves and in need of reorganization.
'These things need to be used every day'
For a complicated problem, Indigenous Nations Studies lecturer Bobbi Rahder and her graduate students have spent more than two years developing an intricate solution, one that has resulted in a 120-page care manual now in its second revision.
Rahder explains that when she came to KU from Haskell in Fall 2004, she was disappointed by the limited access her classes had to the Native American artifacts. That spring she offered a graduate-level class called "Traditional Care of Indigenous Collections."
Her students brought attention to the neglected collection by developing the care manual and raising $1,400 to pay for a visit from a national tribal consultant. The students took a trip to the National Museum of the American Indian in Washington, D.C., which opened in 2004, and incorporated many of the museum's ideas into the manual.
They suggested a system of four advisory boards representing different parts of the collection-African, Native North American, Asian and Latin/South American. Each of the four groups would have its own curator, who would report to the collection manager.
Photo Gallery
Artifacts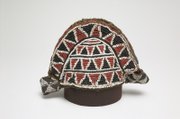 Rahder and the students also wrote a letter to Facilities Operations requesting that the university "improve a sadly overlooked corner of campus" by turning a small space south of Spooner into a "cultural serenity garden" where visitors could check out items from the collection for ritual use.
"We believe that these things need to be used every day," says Jancita Warrington, a third-year INS graduate student from Keshena, Wis., and a member of the Menominee, Potawatomi and Ho-Chunk tribes. ":It might be a hard idea or concept to understand, because a lot of times in museums the way that they're taught is that this thing can't be used, it can't be touched, it can't be taken outside because it might ruin it, or what if somebody doesn't take good care of it, or what if somebody would mishandle it? To us it's more than just the handling procedure."
The request was denied.
Out of purgatory
For a while, KU administrators would nod at the students' suggestions but do nothing, Warrington says.
"It might seem like a hard concept for people that come from a culture where you have to see things to believe them," she says. ":We believe that (the items) have living spirits inside of them that need to be nurtured. We feel responsible because that's how our culture still lives."
Foor says his hiring a year ago was at least the partial result of the students' efforts. And with the Spencer now in charge, Rahder says the collection's four-and-a-half year stay in purgatory is over. If nothing else, at least access should become easier.
The effect, however, will not be immediate. Before any major reorganization takes place, Spencer staff members will spend a year-and-a-half thoroughly documenting the artifacts and moving them off the shelves and into nicer, ventilated storage cabinets that will help with preservation, says Spencer director Saralyn Reece Hardy. After that, Reece Hardy says she and her staff plan to "spend a lot of time listening."
"Obviously," she says, "I'm trying to get up to speed fast."