Sunday, February 11, 2007
Photo Gallery
Style Scout: Adam Driggers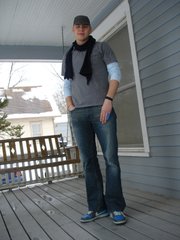 Adam Driggers
Hometown: Hillsboro
Age: 22
Time in Lawrence:5yrs
Occupation and/or major: KU Art Expanded Media Major
Where was/what doing when scouted: Running Errands
Favorite clothing store? Urban Outfitters, but I buy almost everything online
Other stores you frequent? I like to go to Lovegarden and pet the cats
How would you describe your style? Comfort Cotton Wear. I work on photo and video projects all day long and need something utilitarian and comfortable to work in. I can go from working all day to a dance party without wrinkles!
If you had to choose between Space Cowboy, Gangster of Love and Maurice: which would best describe your style?
Gangster of Love pretty much sums it up the best, but in the future I plan on really playing up the fact that I'm from Kansas. As soon as I move to someplace like New York where all they know about Kansas is what they learned from The Wizard of Oz, I plan on wearing cowboy boots and hat and listening to 60's / 70's country as much as possible.
Favorite trend for this season?
Scarves made out of thin materials instead of big bulky wool ones.
Least favorite trend right now?
People wearing stocking caps indoors. I actually got into an argument with a guy over this one when he asked why I was wearing a sweater vest inside, but he was wearing a stocking cap inside!
What is your favorite accessory?
My sweet new Casio calculator watch because it draws attention to my most hard-to-come-by accessory-my monster finger. Trust me, it was a stupid mistake getting pulled into a table saw working on an art project, but it makes for a sweet scar to impress the ladies.
Where do you get your haircut? I go to Z's cosmetology when I want a real haircut, but if I just want it shaved off I go to Luke Jordan's bathroom.
Favorite coffee shop in Lawrence?
I like to go to La Prima Tazza because it's quiet to read the newspaper and maybe get a muffin
Favorite bar in Lawrence?
The Pig is a good place to get a drink later in the afternoon. My favorite is to go to the Pig to get a Horsefeather just before dinner.
Is there anything you'd like to see more of in Lawrence?
I'd like for more movies to come to Liberty Hall, It just seems like they run movies forever there and with only two screens,, it's not much selection.
What is your favorite of your accessories?
My new calculator watch, oh, and my plastic wallet made for me by my friend Amy.
(my favorite of Adam's accessories is his monster "wood shop accident" finger)
How does Lawrence fit into your life?
I definitely came here for school, but I like Lawrence so I might eventually come back here after traveling and working in other places for a while.
If you had to choose between buying food or clothes: which would it be?
Clothes, cause I could always work the girls for food. Oh, wait the best response would be "Edible Underwear" The best of both worlds!
Style= art. It's this sense of music, style, and art. They all go together like sunglasses and pancakes.
Tell us a secret.
My newest clothing interest is in vintage Italian bicycle wear. Their old jerseys are so cool, they have great sponsor patches all over them and pockets for waterbottles. I am trying to buy a couple online, maybe next week I'll have a jersey to match my wool cap!
Who's got style? George Michael, you know, pre-gay, with the denim jacket catching on fire and the juke box. And Falco:like '80s leather jackets and big sunglasses like James Dean in an '80s euro trash kind of way. With both of those, their style probably has something to do with their slicked back hair as well.
Are you a happy American?
It varies from day to day. I was and then I wasn't and now I am again...