Sunday, February 11, 2007
Photo Gallery
Style Scout: Bridget Guffey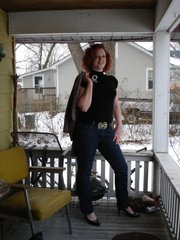 Bridget Guffey
Hometown: Perry
Age: 25
Time in Lawrence: 6 1/2 yrs
Occupation and/or major: cook at the Delta Upsilon House
Where was/what doing when scouted?
Going out to dinner at Freestate for my birthday
Favorite clothing store?
Wild Man Vintage I have to really look to find something there, but when I do, it's always something really unique
Other stores you frequent?
The Dusty Bookshelf because I can buy guilty pleasures like kid's books without feeling stupid that I just spent a fortune on products aimed at 10-year-olds. Kieu's has awesome sales, giant earrings, and the trashiest shoes. Seriously, Naughty But Nice got nothing on Kieu's shoes! And going to the Antique Mall is like going to a carnival, not the scary clown alternative universe kind, but the fun kind with pony rides and ferris wheels.
How would you describe your style?
Retro/ Vintage
I like big hair and big jewelry, I mean, back in the day, Americans looked like they had some pride in their appearance, but now most Americans look like they just rolled out of bed. I love the style of all those classic female country singers from the '50s who really went all out with their stage appearances.
If you had to choose between Space Cowboy, Gangster of Love and Maurice: which would best describe your style?
Space cowboy! Hell Yeah! That's a no-brainer! Western shirt plus boots plus astronaut helmet= my typical Tuesday afternoon wear.
Favorite trend for this season? I love that stockings and thick tights are back! A girl can actually stay warm in the winter!
Favorite trend for this season? I love that stockings and thick tights are back! A girl can actually stay warm in the winter!
Least favorite trend right now?
Those velour jogging suits that people wear everywhere. I mean those were ugly 15 years ago when my grandma wore them! (no offence grandma.) Mostly I just hate it that a lot of people these days think it's cool to look like a slob all the time, I know it's winter, but put a little effort in!
Where do you get your haircut? I like to go to Images, but I usually get my hair done on a whim and it's a bit hard to get in there at the last minute.
Favorite coffee shop in Lawrence? I don't drink much coffee, but I like the iced Vietnamese coffee at Zen Zero and the Pig's coffee/ bar combo is pretty choice.
Favorite bar in Lawrence? I like the crowd at the Replay, I can always find someone I know to hang out with if I go there solo. In the summertime the Replay has these afternoon shows on Sundays, that me and my girl friends dubbed Sunday Funday when we started showing up and drinking whiskey and watching kids run around crazy on the back patio.
Is there anything you'd like to see more of in Lawrence?
More rock-a-billy shows. I know the Detroit Cobras came to town a year and a half ago, but they should come back!
How does Lawrence fit into your life?
Technically, I came to Lawrence to attend KU. I dropped out of KU but never left Lawrence because I love this town.
If you had to choose between buying food or clothes: which would it be?
Clothes, because I work in kitchens, so there is always a way I could find something to eat.
Style= confidence. I know it's cheesy, but even ugly can be stylish if you know how to pull it off, or at least think you do.
Who's got style?
Wanda Jackson. She's 70 yrs old and still rockin' out in sequins, huge accessories and giant hair! I mean that's what style is all about as far as I'm concerned.
Are you a happy American?
I'm an American all the time, but c'mon who doesn't get sad occasionally?
Tell us a secret.
Secrets are for keeping. Well it's no secret, but I am plotting to take out Emeril Legassi ... Bam! I hate that guy.