Monday, February 19, 2007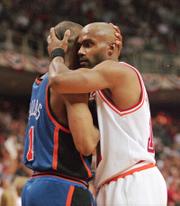 HE'S A TOTAL "HARD" ON
Former basketball star Tim Hardaway said on a radio show last week that he would not want a gay player on his team. "You know, I hate gay people, so I let it be known," Hardaway said in response to fellow former NBA player John Amaeche coming out of the closet. "I don't like gay people and I don't like to be around gay people. I am homophobic. I don't like it. It shouldn't be in the world or in the United States." Hardaway was banned from participating in the NBA All Star weekend by NBA Commissioner David Stern due to his comments, and has since apologized.*:Hardaway feels that professional sports, where men regularly shower together and pat each other on the ass, has absolutely no place for homosexuality.
NO CHILD LEFT ASS BACKWARD
The Kansas State Board of Education voted to overturn classroom standards that deemphasized the teaching of evolution last week. The 6-4 vote, with four moderate Republicans teaming up with two Democrats to form the majority, was the fifth time science standards have changed over the past eight years due to the fluctuating political make-up of those elected to the board. The new guidelines will declare evolution to be accepted science and remove language meant to question its validity. Critics of the previous standards saw them as a thinly veiled attempt to insert religious creationism into public schools, which turned Kansas into a national laughing stock. Proponents of the previous standards argued that evolution has never been proven and alternative theories should be considered.*:Evolution critics were furious over the new standards, which imply that humans descended from apes, then expressed their displeasure by pounding their chests and hurling feces at the school board.
(NON)BIND, TORTURE, KILL
The US House of Representatives approved a non-binding resolution stating opposition to President Bush's proposed troop escalation in Iraq. The vote was 246-182, with 17 Republicans joining the majority Democrats to easily push the bill through. The House fiercely debated the formal but symbolic disapproval of Bush's Iraq policy for four days before passing the resolution. The bill promptly died in the Senate, however, where Republicans are maintaining a filibuster to prevent a vote. Democrats vowed that the non-binding rebuke was merely a first step toward concrete means of ending the Iraq conflict and, led by House Speaker Nancy Pelosi and Rep. Jack Murtha, are now crafting legislation that would curtail Bush's ability to deploy more troops and bring home the troops already on the ground.*:Republicans, in an effort to delay voting on any Iraq legislation, have contacted NASA scientists to explore the possibility of filibustering the very fabric of time and space.
ONE WHITE, AFFLUENT, ENGLISH SPEAKING KANSAN, ONE VOTE
The Kansas Senate approved a Voter ID bill last week would require Kansans to provide proof of identification and citizenship before they could vote, a move that supporters claim will prevent voter fraud. Gov. Kathleen Sebelius, who vetoed a similar bill in 2003, said there has been no evidence of voter fraud in Kansas and that the identification requirements will cause voter frustration and reduce turnout. Opponents also said the bill amounted to a "poll tax" because voters would be required to produce a copy of their birth certificate or passport to show proof of residency to register. A birth certificate costs $12 in Kansas, while a passport is $97. Even though similar legislation has been ruled unconstitutional in other states by the courts, proponents of the Kansas bill say it is necessary to maintain the integrity of the vote.*:Besides a birth certificate or passport, the bill stipulates you can also vote either by 1) Proving you own a copy of Rascal Flatts' last album or 2) Reciting any racist non-sequitur from Larry the Cable Guy.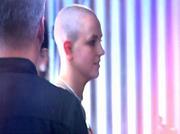 BRITNEY SHEARS? EH? EHHHH?
Pop princess Brittney Spears was caught on tape shaving her head and getting a series of small tattoos last week. The 25-year-old mother of two had recently checked herself out of rehab, and photographers spotted her crying in her car while sitting outside of a closed Los Angeles salon. After successfully pleading with salon workers to let her in after hours, Spears proceeded to shear her own head. Soon after balding herself, Spears went to a tattoo parlor and had some new ink added to her waist and wrist.*:Thanks to photos widely available online and widely discussed on TV talk shows, we now have confirmation that Spears' lack of carpeting matches her lack of drapes.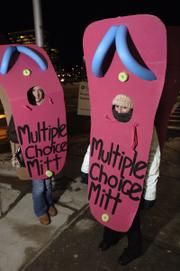 LATE-TERM CONTORTION
Arizona Senator and hopeful Republican presidential nominee John McCain said last week at a rally in South Carolina that Roe v. Wade should be overturned. "I do not support Roe versus Wade. It should be overturned," said McCain of the Supreme Court decision legalizing abortion in the United States. This contradicts what McCain said during his last presidential bid. "[C]ertainly in the short term, or even the long term, I would not support repeal of Roe v. Wade, which would then force X number of women in America to [undergo] illegal and dangerous operations," said McCain in 1999. Former Massachusetts governor Mitt Romney is also being accused of "flip-flopping" by conservative activists on the abortion issue as he seeks the Republican nomination. "Let me make this very clear," Romney said in October 2002. "I will preserve and protect a woman's right to choose." He declared last year: "Roe v. Wade does not serve the country well and is another example of judges making the law instead of interpreting the Constitution" and said in an op-ed "I am pro-life. I believe that abortion is the wrong choice."*:McCain and Romney, as well as sharing the same fluid position on abortion, recently moved into the same spacious condo located deep within Jerry Falwell's ass.