Monday, February 19, 2007
Subscribe to this podcast in iTunes
"You could break a finger, or your wrist, or your ankle or your foot. It was very raw. You could pass out drunk and someone would take advantage of you-and that was if you're a guy."
With that fond recollection, local music promoter Jeff Fortier pretty much sums up the hardcore punk scene in Lawrence back in the '80s. It was a sonic (and sometimes physical) violation of boundaries, but a violation with purpose.
Hardcore-epitomized by national acts like Black Flag, Bad Brains, and the Dead Kennedys-was the second, more galvanized generation of punk that began festering in the underground music scene in the early '80s as a reaction to the corporatization of rock and the conservative cultural climate of Ronald Reagan's America.
"Hardcore was more than music, it was a way of life," says Steven Blush, author of "American Hardcore: A Tribal History." His 2001 book inspired the new documentary film by Paul Rachman, which screens this week in Lawrence.
"Politically, it was about knowing what the f*ck you don't want and standing by that" says Rachman. "It wasn't a sophisticated movement, but it was this conscious battle-cry for sure."
Past Event
Saturday, February 24, 2007, 11 p.m.
Liberty Hall Cinema, 644 Massachussets Street, Lawrence
All ages / Free
That sense of us-against-them was just as prominent, if not more acute, in the Midwest and in Lawrence. "You could get into a fight just walking down Tennessee Street on a Friday night, and that was actually kind of the norm," says Fortier, a former skinhead. "I mean, people threw beer cans at you. It was a really different era:it was a lot more violent and it was a lot more aggressive."
That aggression found an outlet in a cinder block hovel known as the Outhouse, just east of town on 15th Street. Today it's a BYOB strip joint, but its infamy as rock venue/death shanty spread nationwide and put Lawrence on the hardcore map. Though they were natives of East Coast hardcore scenes, the "American Hardcore" collaborators knew about the Outhouse.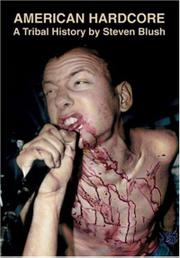 "I went on the road a lot with Gang Green and the Circle Jerks, and I would hook up with those bands on the coasts:everybody was talking about the Outhouse," says Rachman. "These bands would show up from urban areas to this little house in a field, literally, and it was just unforgettable. It totally marked them."
"When you're playing club, club, club, club, cornfield, club, club, club-you almost look forward to that," says Fortier, who used to book many of these bands at the Outhouse.
"One thing about the Outhouse that's really kind of still with me is that you didn't know if you were going to get in a fight, you didn't know if you were going to have the best time of your life, you didn't know if you were going to hook up with a girl-you didn't know what was going to happen," he says.
More than a tour stop for national acts, Blush said Lawrence was also making its own homegrown contribution to the hardcore nation.
"It was definitely a top 10 underground scene in the '80s. KJHK had a lot to do with that, of course. There was a record store called Exile that had a lot to do with what was going on there," says Blush.
"There was a label called Fresh Sounds by this guy, Bill Rich, and he put out the Mortal Micronotz (Lawrence) and the Embarrassment (Wichita). It was really incredible what Lawrence did for itself and the scene. Everybody talked about Lawrence," says Rachman.
Regrettably, Fortier says, that legacy is being left behind to a degree. "I think Lawrence is really gravitating towards being more of a mainstream, sports-orientated town," laments Fortier. "I think that the music and the arts are unfortunately becoming less important to the community."
Rachman says he made "American Hardcore" both as a tribute to that bygone era and also to warn against the apathy that Fortier detects. "You get a feeling in the film of 'Where is the angry youth of today?' It's not really around," he says.
"It's a testament to the power of youth and it's a shout out to kids that you can change your world," says Blush of the documentary. "Those bands did it with nothing:these kids created their own society, and for a short time it was really, really awesome. Our story is a tribute to that era of American sub-culture."
In true nihilistic fashion, the punk historian doesn't foresee anything akin to a hardcore movement in the future-or any future at all. "Reagan comes into power, and we're all coming of age at the time. It just seemed like it was all over," Blush says. "We were right, but we were just 20 years too early."