Monday, February 19, 2007
Rather than resorting to retro reverence, Roman Numerals embrace creative revisionism: the sound of the past informed by the future, as if Big Black had visited early-'80s era Gang of Four in a vision, or if the ghost of Fugazi had haunted Modern English. The Kansas City band is earning a dedicated following thanks to its incendiary live sets, which promise plenty of get-off-yer-seat-and-hustle rock from former members of Season to Risk and Shiner. The foursome sits down at Pierpont's Steakhouse in Union Station for some crÃme brulee and to talk about their new self-titled record, the Record Bar and what they love about Lawrence.
lawrence.com: People in Kansas City are pretty familiar with you guys, but for the people in Lawrence-how did the Roman Numerals come to be and what are some of your influences? I know they kind of go together.
Billy Smith: Me and Pete have been playing together for over a decade in a band called Dirtnap, and in that time we played with Season to Risk, which is Steve Tulipana's band, and we also played with Shiner, which is Shawn Sherrill's old band. We basically got together to do a Joy Division tribute for a Halloween party, and from there we started.
Shawn Sherrill: We've all been listening to music since well before the turn of the century: We all listened to punk rock when we were kids, and we went through our dark wave/new wave Depeche Mode phase, and you know, post punk we listened to. We've all been in noisy bands, we've been in indie rock/emo bands: we've liked it all. The whole time we all, especially Billy, have been DJing dance nights all over town for years. There isn't a whole lot of music we don't like. There's stuff we wouldn't consider remotely trying to play, but it's been a big part of our lives.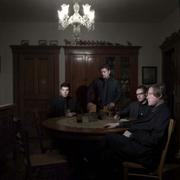 Is it an amalgamation of everything building up or more like a circle?
Shawn: It's both:When we started out playing together it was more about a shared appreciation of the same aesthetic musically. The fact that we were already practicing regularly and were good friends and had mutual respect:. The direction started out more as a process of elimination-we knew more what we didn't want to sound than exactly what we did want to sound like.
What don't you want to sound like?
Shawn: We didn't want to sound like the projects we've been involved in before. We didn't want to sound like Season to Risk, we didn't want to be Dirtnap, we didn't want to sound like Shiner : we definitely didn't want to sound like Interpol. It was easy for us to sort of slip into shoegazer mode.
Past Event
Friday, February 23, 2007, 10 p.m.
Jackpot Music Hall, 943 Mass., Lawrence
18+
Steve Tulipana: There's a dark element to what we're doing, but we still want it to be fun.
Shawn: We still want people to want to see it live. There's tons of bands that I love that I wouldn't necessarily want to see live-unless there's couches involved.
Tell us about the Record Bar.
Shawn: Maybe start more basic. You (gesturing to Steve) and I own it.
Steve: Shawn and I had this name and this idea for years, living together and touring together:
Album Mp3s

Roman Numerals
Predating the band?
Steve: Waaay before that. Years. "Someday we're gonna have:"
Shawn: Lots of drunk talk about the Record Bar.
Steve: :We had this name, I don't know where it came from: and we wanted to have enough room that if a friend of ours was on tour and had a day off and they were like "I need a date in KC on Tuesday" we could set them up in the corner. It was more about music and food. The walls would have records:
Audio clip
Interview with Roman Numerals.
Shawn: We wanted to pull off a small operation where we were the majority of the staff.
How is it-being in a band and owning a venue?
Shawn: :We made a conscious decision that this bar isn't going to be the end of the band. We'll make it work somehow.
Billy: Except for the last two times, I was starting to freak out : I would sit there and count how many people were coming in while I was playing, kind of doing a headcount.
Shawn: We're playing onstage and I'm looking at the bar, making sure people are being served properly and the bartenders don't need anything.
Billy: It's working out pretty damn well.
So you guys aren't moving anywhere, are you?
Steve: Oh no.
Shawn: At least not until our lease runs out.