Monday, February 19, 2007
Photo Gallery
Style scout: Malina "Duchess Cheapie" Heinemann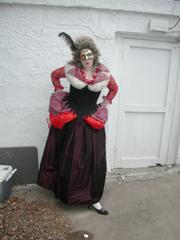 Malina "Duchess Cheapie" Heinemann
Age: 27
Hometown: Born in Concord, MA. Moved my whole life because my dad was in the Special Forces. He likes to jump out of airplanes and bite off chicken necks with his bare teeth.
Time in Lawrence: 4 years
Occupation and/or major: Attended London College of Fashion for Costume Design. Self employed-I am Duchess Cheapie and the Harlequin Armoire. I have my own little store-costume, vintage, and thrift, all three in one. I should have cheeseburgers and fries-that would be a great addition.
Where was/what doing when scouted?
I was at Burger King, dressed in 18th century costume. (Excuse me, why are you wearing a powered wig while eating a Whopper?)
Favorite clothing store?
Uptown Monkey, it's cheap, the way that thrift stores used to be and you find awesome stuff. I like thrift stores a lot. Reruns is awesome, the Warehouse, that's really awesome, he has a great collection-that guy is pretty impressive, he has skill.
Other stores you frequent?
I like Free State beer, but then again so does everybody else. I like antique stores a lot. Boyles Joy Land, its in Top City (Topeka), where singles come to mingle. They have awesome lamps, dishes, random-ass shit. When you walk in there's a dove in a cage and you hear VOOOOOOOO and you look over and there's bird shit everywhere.
How would you describe your style?
Well, whatever decade I'm dressing in has to be period accurate. Can't wear shoes with 1920s heels and a 1940s dress.
Favorite trend for this season?
That's tough, I don't really dress in season-but it will come to be plaid, tartan is the greatest thing ever! I have a ton of plaid skirts. In London right now, tartan is really popular.
Least favorite trend right now?
I like everything, but when you walk down the street and everyone is dressed the same, I don't like that. But I guess that is what a trend is-kinda the way fashion works. Although if uni-tards were in, that would be really awesome-cause you could see everyone's junk.
Where do you get your haircut?
Julie Connolly cuts my hair at Headmasters. Sometimes I go on a sensory journey, sometimes I don't, just depends on what she's teaching.
Favorite coffee shop in Lawrence?
My favorite coffee shop is Starbuck's, I sorta have a connection to Starbuck's, but I'm not going to get into that. I'm a serious caffeine addict, I will go anywhere-but I look at the barista and am like "oh hell no." All coffee shops are cool, buts it's about the coffee, I love coffee so much that I have a bladder infection right now.
Favorite bar in Lawrence? I did like Harbour Lights a lot. Favorite bar is Danny's in KC. New Orleans jazz place-you walk in and it's all middle-aged black men. The great thing about middle-aged black men is that they really know how to compliment a woman. Thank you for complimenting me on my junk! Jazzhaus, Open mic and all different sorts of people, no one person is the same.
Is there anything you'd like to see more of in Lawrence?
I'd like to see a costume shop in Lawrence. A comedy club.
Less of in Lawrence?
Soy Milk, you get gas from it? If you do, it means you are allergic too it. Soymilk makes me farty ass McGee. I want to see less soymilk in Lawrence.
Tell us a secret
I'm a singer. The only way I will do it is if I'm wasted, some people know my secret and will slip me a mickey to get me to do it!
Who's got style?
Princess Di definitely. Prince Charles, hands down. Damn, he looks good there. He just connects with every culture, seriously, look at him in this cowboy picture (as she reads a book on Prince Charles and Princess Di). Alexander McQueen and John Galliano's early work-their theatrical work is awesome, geniuses, all of their avant-garde work. THE ROYAL FAMILY.
Style = ?
Style= History. It's all about history and history's recycling itself.