Monday, February 19, 2007
Photo Gallery
Style scout: Scott Lefler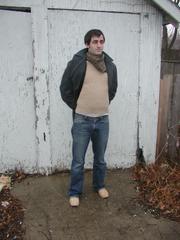 Scott Lefler
Age: 25
Hometown: Born in Parsons, grew up in Lansing
Time in Lawrence: 6 1/2 years
Occupation and/or major: Hospitality Industry
Where was/what doing when scouted?
Giving a piggy back ride to Dor-ow.
Favorite clothing store?
My family's closet-found some good fits there, some nice aged clothes. Wild Man Vintage, they just have a nice selection, they don't have a lot of crap, basically. Random thrift stores.
Other stores you frequent?
The online market place. I find great deals-it's where I buy my music, supplies, music stuff. The Merc-they have the best selection of quality goods. I find good deals on local food, nice artisanal items, sundries. Au Marche, because they have cabreles and gnocchi.
How would you describe your style?
Fairly simple. I like basic and simple, as far as I like more earthy colors. Things that would go well with a lot of other items. Things with the lack of letters, timeless pieces, things you could wear decades apart.
Favorite trend for this season?
I usually don't pay attention season to season. I like girls that dress eclectically and are adventurous.
Least favorite trend right now?
I guess you could say I'm pretty simple. I don't like it when people without fashion credibility break fashion rules, when they don't flaunt their mistakes.
Where do you get your haircut?
Kevin at Static.
Favorite coffee shop in Lawrence?
I don't really drink coffee. I drink tea at my house-I just like to drink matte in the morning at my house. I like water and bat blood.
Favorite bar in Lawrence? I like the Tap Room, the Pig and Pach-they are all one syllable. The Tap can get raucous and I can have good conversations and well-made drinks at the other two.
Is there anything you'd like to see more of in Lawrence?
Two things. The first, I'd like to see more collaboration and opportunity for fine arts students to display their work-this includes instrumental, dance, particularly instrumental-to my taste. More downtown opportunities, mainly for students or freelance. The second-Mormons, in suits and bicycle helmets, jumping sidewalk curbs. Saving our souls.
Less of in Lawrence?
I'm pretty complaisant about things.
Tell us a secret:
How about I tell you about the most frightful experience in my life, when I Nair'ed my ass once. I thought it would make things better for me.
Who's got style?
I think that everybody has style, style is kinda personality. I went to see the Maria Schneider Jazz Orchestra in Lincoln. I was sitting in the second row and one guy had this really eclectic vest with planets on it and a button-up shirt with comets and asteroids, the other was just a well dressed, dressed-up man with starched shirt-you could see the fold lines on it. They both looked valid because people have their own ideas about style, they're just both different about what clothes they put on. Dennis the bike rider, he has killer thighs and shows it off in his cut-off overalls.
Style = ?
Personal fancy.