Photo Gallery
Style Scout: Amber Ashbrook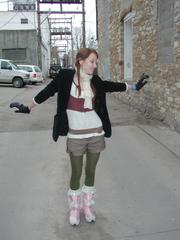 Amber Ashbrook
Age: 24
Hometown: Wichita, KS
Time in Lawrence: 5 1/2 years
Occupation and/or major: KU Art History senior/ manager at the Merc
Where was/what doing when scouted?
Out and about downtown on a freezing day.
Favorite clothing store?
Apollo Braun, in SOHO, NYC. He only carries one-of-a-kind designers from L.A. or New York. Everything is mass-produced these days-it's nearly impossible nowadays to find something unique and handmade that fits your body and your personality. I'd buy all my clothes there if I could, but it's too expensive. In Lawrence, I like Ecoboutiquo for the same reasons.
Other stores you frequent?
I go to Liberty Hall a lot. Half the time, the movies there are obnoxious, like The Queen-but Pan's Labyrinth was amazing. It's probably just my taste.
Wildman Vintage carries a local designer that makes hand-made aprons. I have a collection of about 20 aprons. A couple of them are so nice I'd wear them out as clothing. I like to go to Indo, the Indonesian restaurant next to India Palace. They have a full menu of crepes and bubble tea.
How would you describe your style?
My mom called me a trend-setter, but she was joking. I have a style that's awkwardly hot, I guess.
Favorite trend for this season?
In Europe, they don't wear tennis shoes as often as Americans-they tend towards higher quality shoes. But lately in Lawrence, I've been impressed with the quality of shoes women are wearing. Lawrence ladies are catching on to the nice shoe trend. On men, I like suit jackets or pea coats with a little vest underneath. And I've actually seen straight men accessorize that look with necklaces lately. I like it.
Least favorite trend right now?
I've seen some way-too-skinny girls lately. Skinnier than me. People chide me for being slender, but I eat all day long. Some of these skinny girls, I feel like there is something wrong there. I want to feed and comfort them.
And little kids should be able to dress themselves as they want.
Where do you get your haircut?
Nicolette at Humanature in KC cuts my hair. She's my colorist. I like to dye my hair-red, pink, blonde with a rainbow, brown with white streaks: My natural hair color is ash blonde. Don't like it. My hair is an accessory, an extension of my personality, but it's just hair.
Favorite coffee shop in Lawrence?
I go to the Pig because I usually run into people that spark ideas for me. But for pure coffee-drinking, Vanessa at the Merc makes the perfect soy mocha. It's really hard to foam soy milk right-most people burn it. Usually, at home I drink tea.
Favorite bar in Lawrence?
For dancing, I love the Tap Room basement, especially when there's a bigger crowd. The best nights are when DJs are there-Saturday night, usually. I like to go to shows at the Jackpot. There have been some good shows at the Granada-Jamie Liddell and Peaches were awesome. My goal for this year is to visit every bar in Lawrence. I'd even go to the Crosstown Tavern for one drink. Purely investigative.
Is there anything you'd like to see more of in Lawrence?
More people at the Farmer's Market. More people on bikes instead of in cars. More people using restaurant grease as fuel. For me, compared to Wichita Lawrence really is an oasis. Even if people have really strong opinions-politics for example-they're open-minded enough to have a conversation about it. And I'd like to see more of Justin Roelofs.
Less of in Lawrence?
The flip side of Lawrence's open-mindedness is people who are so wrapped up in themselves that they're confrontational. You can care too much sometimes.
Are you a happy American?
I'm a happy American, but not a satisfied American. I've heard that 70 percent of Americans disapprove of the policies of the current administration. I'm in that percentile. We need to work on foreign policy. And religion is too mixed up with politics. One religion as policy can't serve America's diversity.
Tell us a secret
My fifteen year old sister is my secret hero. Even though I'm the older sibling, I look up to her. It surprises me how humble she is about her talents.
Who's got style?
Barak Obama is pretty much the hottest guy going. I'd vote for him like women voted for JFK. He's straightforward, no tip-toeing around. He's got a lot of charisma. And Mary Kate and Ashley Olsen. I like the whole twin thing. I watched all their movies in high school because of their young and hip style. They're very American. They've built an empire-they're smart. I've been really annoyed with Gwen Stefani lately. Circa 1995-really hot. Now, too played and trashy.
Style = ?
An expression of personality. It's manifested in the way people carry themselves, the way they talk to other people. Clothing is the first impression, style is also about the aura someone puts off.