Monday, February 26, 2007
Photo Gallery
Style Scout: Dayton Segard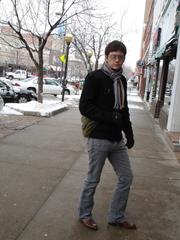 Dayton Segard
Hometown: Wichita KS
Age: 24
Time in Lawrence:5 1/2 years
Occupation and/or major: BGS Film Studies BGS Art History manager at the Community Mercantile
Where was/what doing when scouted?
Buying myself a valentine from GameNut.
Favorite clothing store?
Probably ATC. I like the idea of upgradable fashion. I get tired of clothes that I've had and like that I can trade them in to get new things.
Other stores you frequent?
Liberty Hall for all the browsing. Zen Zero and Indo for tasty treats. Borders for bookworming. Even though I work there, I seem to end up at The Merc even on my days off. And I like target, it's sort of a trashy retreat from the local boutique.
How would you describe your style?
Bi-curious.
(Because you like to wear women's pants?)
Well, it's either that or because I find myself being propositioned by older men.
Favorite trend for this season?
I really like all the coveralls I'm seeing lately. I kind of want a pair, but what I really want is a white jumpsuit. More Top Gun than lumberjack. Hidden accessories are good. You know, wearing an awesome t-shirt no one will see, sewing patches onto the inside of your jacket, fancy undies... things that you wear because they make you happy, not just because you want to flash your bling.
Least favorite trend right now?
Multicolored striped scarves. Every guy I see has one of those ugly scarves on. And iPods are pretty gross. Seriously, I don't really care too much about trends and if something I have is trendy it's probably an accident. I usually look more to style icons: Tom Cruise in Cocktail, Tom Cruise in Risky Business, Tom Cruise in his Scientology outfit. I guess, basically I just look to Tom Cruise for style.
Where do you get your haircut?
For a while I was going to Amyx Barber shop downtown, but recently I got an expensive haircut in Kansas City and I don't think I can go back to my old ways.
Favorite coffee shop in Lawrence?
I don't really drink coffee anymore. And they look at you funny if you just stand around not ordering anything. So I usually just go to the Pig so I can skip straight to the booze. They still look at me funny though. Lately I've become an herbal tea dork so I just stay at home brewing my own little potions. Unfortunately, House of Cha is really the only place in town to get good tea.
Favorite bar in Lawrence?
Teller's is nice for a sophisticated drink, and the Tap Room is really the only place to dance. But my most interesting nights always occur at Henry's Upstairs. Duffy's is my batcave.
Is there anything you'd like to see more of in Lawrence?
I'd like to see more daring in town. I mean truth and daring is fine, but I think that local businesses should take more risks to do things that will make people love them even if it alienates the lowest common denominator. I want to see more midnight monster movies or any midnight movies. I want to see more restaurants feeding us local produce. I want to see local businesses promote bike riding by paying employees a stipend. And I wanna see more guns downtown!
Less of in Lawrence?
Less whitey. Less Jim Ryun. Less Phill Kline. Less Walmart...
Style=
Finding the cheapest, ugliest, but best quality clothes you can and then putting them together in a way that somehow convinces the people around you that you are a literate, sober adult.
Who's got style?
Tom Cruise? No, really I think Brad Pitt in Fight Club encapsulates everything I aspire to in terms of style. Sweat pants with combat boots, c'mon, who can pull that off?
Are you a happy American?
Yes, but I'm probably too happy. Complacency is probably my biggest fault, but I mean, Americans have it so good that it's easy to see why we don't want to sacrifice our comfort. Look at global warming, as long as we Americans are kept happy at a climate controlled 72 degrees, we are not going to care about war in Iraq or melting glaciers.
Tell us a secret.
I get all worked up about good binding.
If you had to choose between food and clothes, which would it be?
Clothes, because the right outfit can get you a free meal. But no one is going to give you a shirt for a tasty dinner.